Preventing the "devastating" overload of hockey players is one way which New Zealand, and Tauranga, can help improve the sport, according to a gold medal-winning coach.
Whilst the Black Sticks Women and the Black Sticks Men both fell short of medals at the Tokyo Olympics last year, one Kiwi did come away from Japan with a gold medal in the sport.
Shane McLeod guided Belgium to the men's gold, a just reward for his six-year journey transforming the unheralded Red Lions into a force in the sport which culminated in Olympic glory.
'You still have waves of thinking about what we achieved," says Shane, calling it a 'fairytale" accolade.
'It is such an amazing feeling and it changes your life. I will always be an Olympic gold medal winning coach.
'It is really special."
Seven months on and Shane, who hails from Hamilton, is currently back in his native New Zealand on what is being called a sabbatical. However, Shane is hardly putting his feet up.
The Olympic champion coach is touring the nation, visiting 12 regions over 24 days, to spread his message with the Coach for Life Foundation, with hopes of impressing his knowledge from years of success in Europe and hoping it leads to changes in his home nation.
One of the key problems Shane sees in New Zealand hockey is that of overload. Players, between their clubs, regions and schools, are playing too much hockey too young when compared to their European counterparts, is Shane's belief.
'It has been quite an eye-opening experience seeing the quantity of work our young athletes are getting through in comparison to what we would be doing in Europe," says Shane.
'I think it is devastating and almost criminal we give our young athletes a load that is above even that of our team, the number one team in the world.
'The numbers simply don't add up. Something has to give."
Not only does that lead to potential physical issues, but increases the likelihood of fringe players dropping out at crucial times in their development.
'What we are then seeing is quite a big drop-off," says Shane.
'Instead of going on through university a lot are stopping around the age your parents stop dropping you off at hockey.
'So that would be one of the things I would suggest could be improved, perhaps by making it a bit simpler."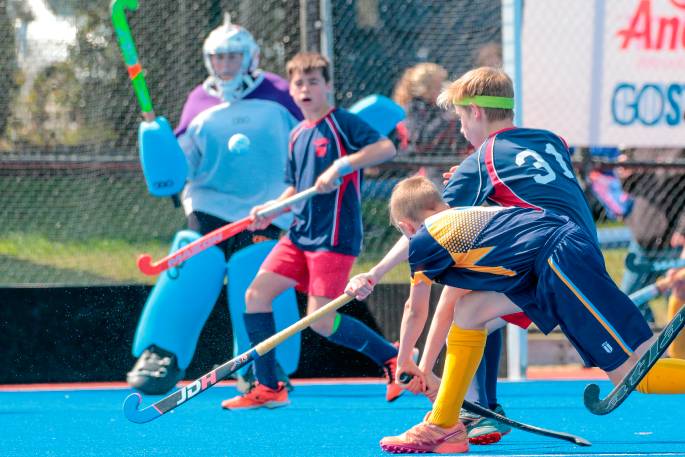 Too heavy a load, too early, is an issue Shane has with hockey in New Zealand at present. File Image. SunLive.
A lot of it, in his opinion, comes down to what New Zealand might see as success for hockey.
'What is success?" he poses. 'Is it just winning competitions for clubs or is it players having such an enjoyable season that they come back again next year?
'That's really the true success and we don't always put enough value on that."
McLeod says that one thing New Zealand does well is implement the infrastructure for the game, including in Tauranga, where he is speaking to SunLive from the facilities at Tauranga Hockey on Kawaka Street in The Mount.
However, Shane believes a difference in culture also benefits the European model.
'There is a bit of a rush in and rush out culture in New Zealand," he explains.
'Developing a sense of belonging to your turf or your venue, making it more social, a safe place and somewhere people belong."
Tauranga Hockey general manager Clinton Butler was clearly honoured to have Shane present at the club.
He is hopeful his message will be impressed on to coaches in the Bay of Plenty, for the benefit of the region and the wider nation.
'It was great to have a coach of Shane's calibre in town for a couple of days to impart his knowledge on our community," says Clinton.
'The experience he has gained through his coaching journey is invaluable and there were some key messages that I'm sure will help our coaches as they prepare for the season ahead."
Judging by the early reviews, many were pleased to have had the chance to hear from Shane.
'We've had some really positive feedback from those that were in attendance with a number now really looking forward to getting the season underway," says Clinton.
'We'd like to thank the Coach for Life Foundation for giving us the opportunity to hear Shane's story and philosophies."
For Shane, reducing what he calls the 'monster" that is the early training load for hockey players in New Zealand and improving the club culture can hopefully not just help performances on the turf, but also build better humans.
'Sport plays such an important role in society and has a ripple effect in so many positive ways," says Shane.
'Things that are going to put a person in a better position later in life.
'We are not going to have them all becoming Black Sticks but we want to develop them as humans in some way or another."