Athletics Tauranga athletes showcased an awesome performance at the NZ U18, U20 Combined Event Championships.
With good weather on both days, both Saskia Rhind and Connor Brown produced stellar performances to medal in their first combined events competition in Auckland at the weekend.
Saskia in the U18 Heptathlon, (seven events), set the tone for her competition with a great first event, 100m Hurdles in 16.13secs.
This was a step up from the 80mH she had run all season. She rose to the challenge of the increased distance between the hurdles and managed the 3 stride pattern the whole way, achieving a great time and scoring 698 points.
This was followed with a solid high jump, 1.54m (666pts), and shot put, 11.55m (631pts).
The last event of Day 1, the 200m, in personal best (PB) of 28.62secs, (583pts).
Leading after the first day, the next day's events were long jump 4.39m (PB) (401pts), javelin, 24.32m (PB) (370pts) and 800m in 2.42.07mins (549pts) – her best run for some years.
Roy Williams presented medals to 1st place, Saskia Rhind, Athletics Tauranga 2nd place, Savannah Atoaga, Papatoetoe 3rd place, Jade Nomani, Papakura.
Saskia was a clear winner of the NZ U18 Heptathlon with 3898 points. Supported by her family and Coach, it was a great first- time performance in this event.
"We have been training for the heptathlon all season but due to Covid limitations, this was her first competition," says coach Val Bromley.
"It was so good to see Saskia rise to the challenge and produce such an amazing result to win the U18 Gold medal – I am so happy for her."
Saskia says she was stoked to make it over all the hurdles at the new distance.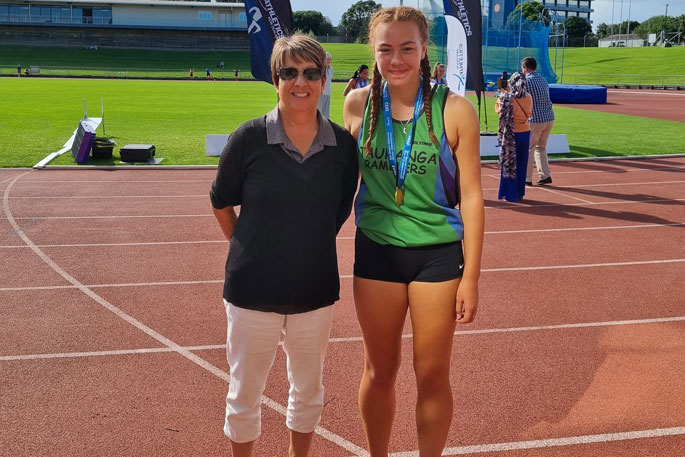 Saskia with Val Bromley after the presentation.
"Once I achieved that I felt relieved and confident for the next three events of Day 1.
"Warming up for Day 2 I felt the usual aches and pains, but my ankle concerned me most in the long jump, but I still managed three good jumps.
"Javelin was next and I had been having difficulties in training with throwing it.
"My first effort was a "no throw" as it landed incorrectly but the next two throws were good. That was a relief.
"I was not looking forward to the 800m but as it was the last event I needed to finish well.
"I was able to run the last 200m of the race well and I was happy with my time. Overall, it was a fun experience and I thank my support team of my family, my coach Val and my massage therapist, Wendy Hill, as I couldn't have done so well without them."
The U18 Decathlon Championship was also Connor Brown's first ever decathlon, (10 events), and to come away with a well-earned Silver medal was so impressive.
Connor also achieved several personal bests (PB) on his way to 5755 points.
His first day's events were 100m 11.42secs (PB) (769pts), long jump 5.94m (574pts), shot put 11.53m (578pts), high jump 1.75m (PB) (585pts), ending with a challenging 400m 55.32secs (586pts).
Another five events on Day 2 beginning with the 110m Hurdles, 14.91secs, (PB) (860pts), discus 41.65m (698pts), followed by Pole Vault.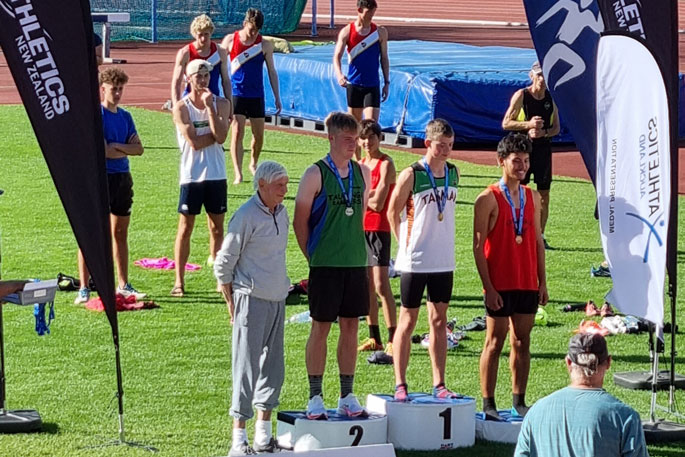 Medals presented by Roy Williams. 1st place, James Hansen, Marlborough Athletics, 2nd place, Connor Brown, Athletics Tauranga 3rd place, Aphicha Khothisen, Lyndale.
In this very challenging event Connor managed 2.50m (PB) (242pts) with limited training and preparation due to the complexities of this event.
Next was the javelin, 38.01m (413pts).
With nine of the 10 events completed and his body feeling the effects of those previous events, the 1500m required Connor to dig deep to complete the last event in 5.20mins (450pts).
He had great support from his family and Coach, Kerry Hill during the competition and his friend and sponsor, Bruce Cortesi of Planwise Ltd, who was unable to attend this event. "The team of Bruce Cortesi's Planwise group, family and Athletics Tauranga have all contributed to supporting Connor through his patient and consistent growth over several years," says coach Kerry Hill.
"He now has a national level experience to build on and he can only profit from the new levels ahead."
"This was my first decathlon and I have been training for this for a long time," says Connor.
"It is not like competing in a single event as the goal is to get as many points as you can from doing well in ten events. I enjoyed the competition very much and winning a silver medal proved to me that all the hard work was worth it. It proved to me that this is what I want."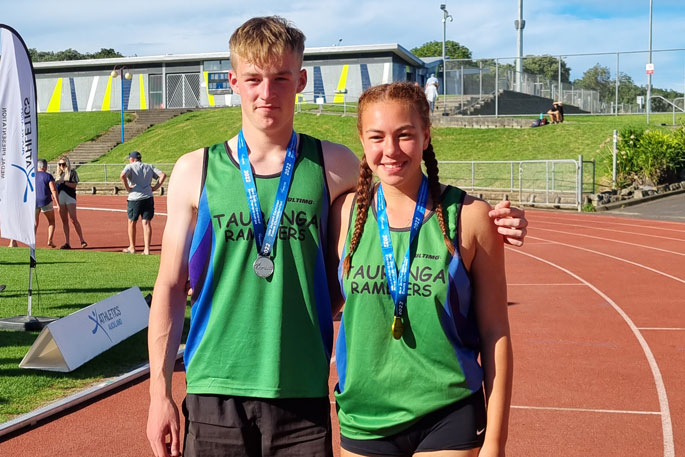 Connor and Saskia.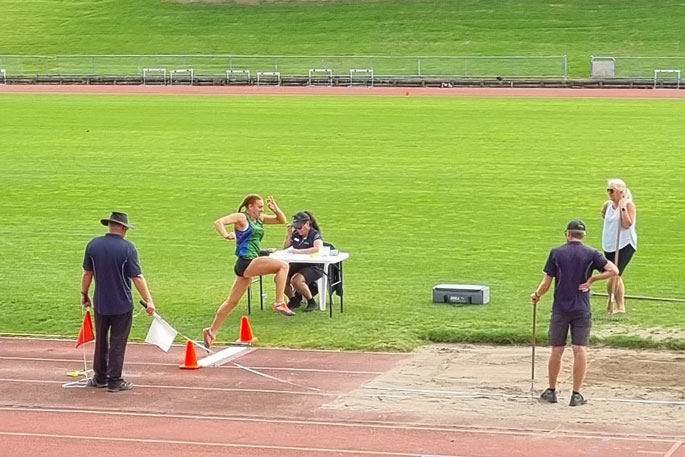 Good take off in long jump.