Tauranga artist Doreen McNeill has a spring in her step as she launches her exhibition on Saturday afternoon at Tauranga Historic Village.
A popular and prolific artist Doreen is opening her exhibition 'Expressions' at The Incubator Creative Hub at 1pm. She is also launching her much-awaited second book.
Nearby, on display and opening today is the 113 Annual Group Show at The People's Gallery - Toi ka rere.
"I like all my paintings to be individual journeys exploring the myriad avenues that can emerge from dabbling with colour shape and lines," says Doreen.
"I enjoy variety and have in the last few years taken to making small works on card and paper as a change from the larger canvases that I love working with. The smaller works come together faster and have a freshness that does not show in the larger canvases that often take many layers of paint, to reach completion.
"For this exhibition I am also proud to be launching my second book which highlights the differences between my large canvases and smaller paper works," says Doreen.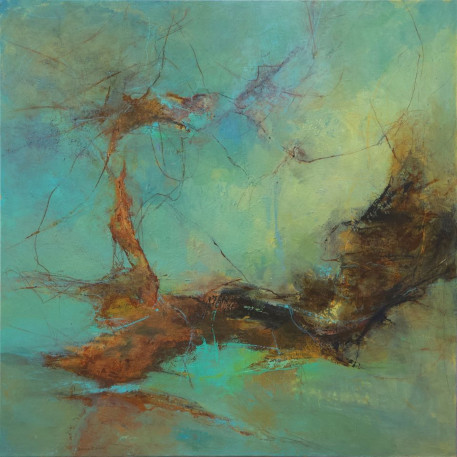 A painting by Doreen McNeill. Photo: Supplied.
113 Annual Group Show
The People's Gallery - Toi ka rere at Tauranga Historic Village also has an opening launch on Saturday afternoon exhibiting works that are 30cm square and all selling for $113 each.
"We opened the People's Gallery four years ago on the 109th anniversary of the building so we called it 109, made all the works the same size (30cm square) and all $109," says The Incubator Creative Hub director Simone Anderson.
"Every year since then it's gone up a dollar and a number so we are at 113 and $113 each."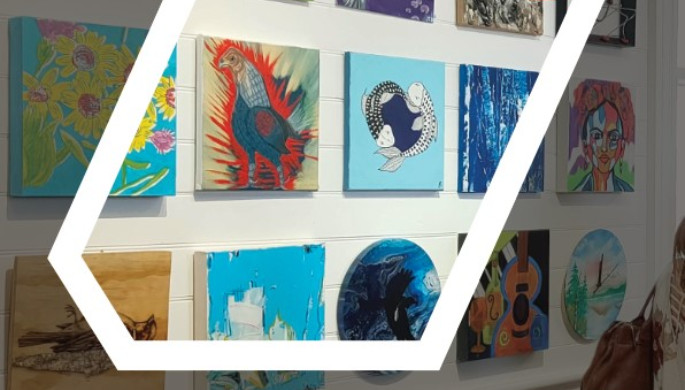 Paintings on display in the 113 group exhibtion. Image: Supplied.
The 113 group show is The Incubator's annual pre-Christmas group exhibition. Simone says it's been "another jam packed successful year for The People's Gallery - Toi ka rere" with the gallery showcasing the art of many people and community groups.
"We continue our BOP People's Gallery tradition of offering an opportunity to artists to submit and a chance to buy a great original and affordable artwork to keep or give away. This exhibition is our annual fundraiser to deliver great community exhibitions in 2022."
Clearly that's Christmas shopping sorted, as how can there possibly be a better gift than art, say the team behind The Incubator Creative Hub.
It's a busy week ahead, as two more galleries are set to open in the village this week, followed on Friday by the Community Christmas Tree launch
Doreen McNeil's exhibition 'Expressions' at The Incubator Creative Hub gallery runs from November 28 – December 22, with the special opening event today Saturday November 27 at 1pm.
The gallery is open from 9am – 4pm weekdays, and from 10am – 2pm on Saturdays and Sundays.
The 113 Annual Group show runs from November 28 – December 20 at The People's Gallery which is open from 10am – 3pm weekdays, and from 10am – 2pm on Saturdays and Sundays.
Gallery staff advise that all alert level safety measures are to be respected including wearing masks, social distancing and scanning in using the Covid app.
Please note - to keep everyone safe during these times the galleries will not be providing drinks or refreshments at the launch event.