Update 10:15am: State Highway 2 is closed after a three car crash near Apata Station Road.
NZ Transport Agency says, due to a multi-vehicle crash, SH2 is closed between Wainui South Road and Esdaile Road.
"Follow detours and expect delays."
The detour for northbound traffic is to turn left onto Esdaile Rd, right onto Wainui South Rd and and left onto SH2.
Southbound traffic should turn right onto Wainui South Road, left onto Esdaile Road and right onto SH2.
"This detour is not suitable for heavy traffic."
Bay of Plenty System Manager Rob Campbell says motorists are encouraged to delay their journeys where possible and to avoid the area.
"Please visit the Transport Agency's Journey Planner website for up-to-date information about the closure and detour."
Earlier: There has been a three car crash on State Highway 2 near Apata Station Road.
A caller to SunLive says there has been a 3 vehicle accident on SH2 on the train over bridge before Apata Station road.
"It's a three car collision, there has been a head on and another car has t-boned from behind.
"The police, ambulance and fire have all arrived.
"It happened about 20 minutes ago and traffic is pretty bad and getting worse."
A police spokesperson says there has been a crash at Whakamarama near Apata Station Rd at 9am.
"Four people have been injured - two have minor injuries, one has moderate injuries, and one has moderate-serious injuries.
"Both lanes are currently blocked and Police is putting traffic management in place."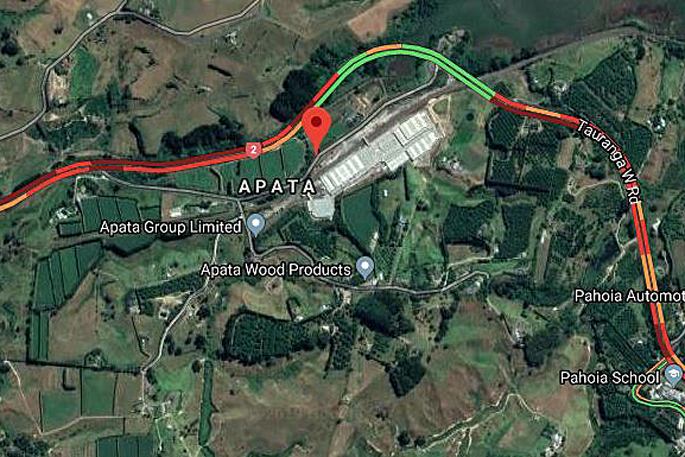 Google Maps is showing heaving traffic in the area. Image: Google Maps.
Another caller to 0800SUNLIVE says they are stuck in traffic in the Apata Curve close to the pack house.
"A fire truck and ambulance have come past.
"Traffic going south towards Tauranga has stopped. Traffic going north appears to be moving slowly.
Another caller says traffic is backed up in both directions.
At the scene? Call 0800 SUNLIVE or email photos to newsroom@thesun.co.nz