The New Zealand U-17 women have fallen to a first defeat of their three-match series in China but coach Leon Birnie says the experience of facing high-quality opposition in an intimidating atmosphere will serve his players well moving forward.
After an impressive performance in a 2-0 triumph over Chile in their opening encounter in Weifang two days ago, Leon and his team were seeking something similar in meeting the hosts.
But they came up against a classy China outfit that is further along in their development and also had to contend with a raucous home crowd of over 10,000 fans at the Weifang Olympic Sports Park Stadium.
That confidence-boosting Chile victory had come courtesy of a bright start that allowed New Zealand to take an early two-goal lead but the boot was on the other foot this time as China raced out of the blocks in front of their rowdy fans.

The New Zealand players appeared to be overawed with the intense atmosphere and struggled to match the tempo China started with, finding themselves 2-0 down in the first nine minutes after the hosts had opened the scoring from the penalty spot early on.

But Leon's young charges soon regained their composure and grew into the match, showing strong character and resilience to enjoy more possession throughout the remainder and not concede again.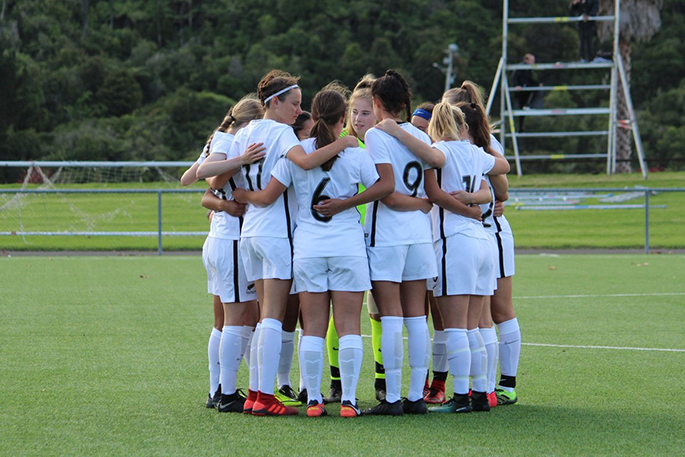 The visit to China has come very early on in New Zealand's preparations for the 2020 FIFA U-17 Women's World Cup and Leon admitted that proved a telling factor in the defeat.

"It was a tough loss and not what we were hoping for but, if I'm honest, I think what you saw out there tonight was two teams who are at different stages of their campaign," says Leon.
"China have been together for quite a while now and we've only had the one camp leading in to this. And you did see that – you could see China had time, they were structurally very good and technically have some very good players which they utilised very well and caused us a lot of problems throughout the game.
"We tried to prepare them as best we could and talked about how to deal with the occasion but I think the crowd and the noise got the better of us in that first ten minutes. We didn't adapt and were on the back foot."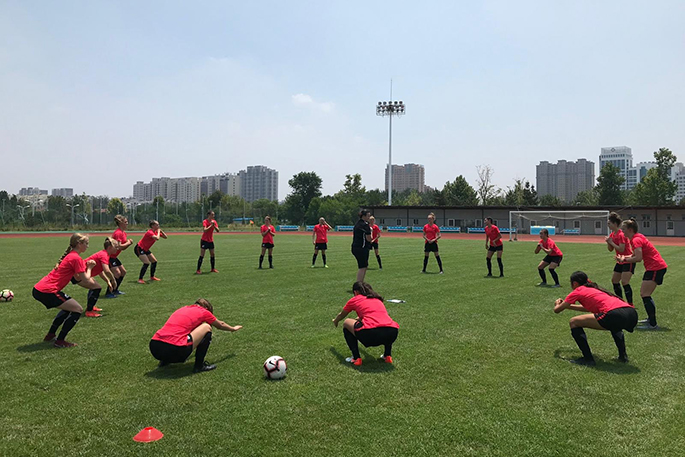 Leon was pleased with how his players responded and believes the experience will hold them in good stead.
"It's a good experience to get so early in the campaign and I think we're going to take a lot of learnings from it. China were the better team but what was really positive to see what that, after the first ten minutes, we bounced back and started to find our feet."
Attention now turns to the remaining match of the tour against Thailand on Sunday with New Zealand again facing a tight turnaround.
"It's going to be a real challenge, both physically and mentally, to get them prepared for this Thailand game. There's some really tired bodies and it's hard just having the one day between fixtures, you saw that out there tonight," says Leon.
"We've picked up a few injuries so we're going to have to monitor those overnight and see how they come through. We'll do everything we can to have them in the best space we can leading into that Thailand game. I know they'll go and give it their best shot and only at the end of that game will we know if that's good enough."

Match Details:
New Zealand 0
China 2
HT: 0-2
New Zealand: 12. Murphy Sheaff (GK), 2. Ella Dorward, 3. Kate Taylor (11. Nina Kondo 70'), 6. Zoe McMeeken (5. Freya Lodge-Whitham 46'), 8. Samantha Senior (c) (7. Alaina Granger 60'), 10. Kate Duncan (9. Alyssa Whinham 46'), 13. Mona Walker, 15. Charlotte Lancaster (4. Claudia Wilson 60'), 16. Ella Russ, 17. Lisa Evans, 18. Alisha Braun (14. Ava Pritchard 23')
Substitutes not used: 1. Ariana Gray (GK)
Coach: Leon Birnie