The MetService are advising of a high risk of thunderstorms over the northern North Island extended eastwards into Taumarunui, Taupo, western Bay of Plenty and Coromandel Peninsula for tonight and the risk of SEVERE thunderstorms from Waitomo northwards has now passed.
An unstable northwesterly airmass will cover northern and central New Zealand today, with bands of rain, heavy showers or thunderstorms affecting many areas.
Over the northern half of the North Island, a front in the north Tasman Sea embedded within this northwest flow will move eastwards across the island this evening. There is a high risk of thunderstorms associated with this front from Waitomo and Taumarunui up to Northland and western Bay of Plenty. Any thunderstorms that develop will be accompanied by localised heavy rain of 10 to 20mm per hour, hail of 5 to 15mm in diameter and possibly squally wind gusts of 90 km/hr. A lower thunderstorm risk covers remaining parts of the northern and central North Island from this evening with the front.
Over the lower North Island, there is a moderate risk of thunderstorms about Kapiti and northern Wellington until later this evening and a lower risk about Manawatu, Horowhenua and southern Wellington. Localised heavy rain and small hail will accompany any thunderstorms that develop in this area.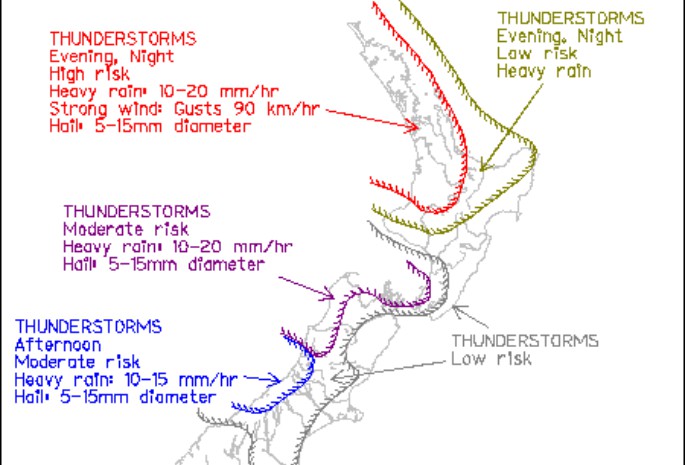 Photo: MetService
In the South Island, the main thunderstorm risk is about Westland until late afternoon and about Buller, western Nelson and the Marlborough Sounds all day. These thunderstorms will be accompanied by localised heavy rain and hail.
A lower risk of thunderstorms covers the remainder of Nelson and northern Marlborough as well as inland Canterbury, as indicated on the chart.
No other thunderstorms or significant convection expected over New Zealand today.