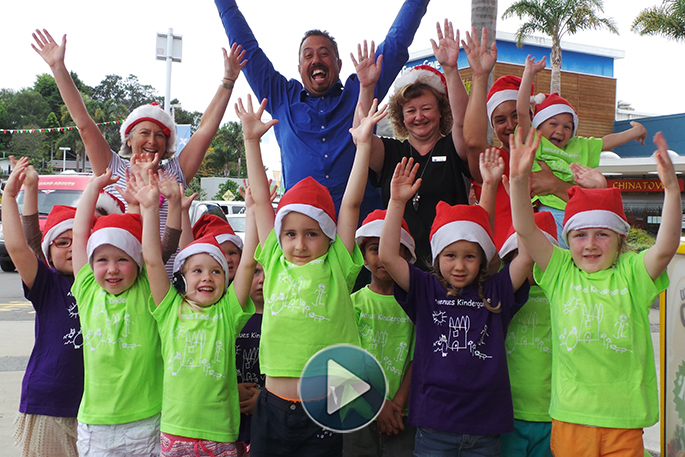 Click the image above to watch the video
The sound of Tauranga kindergarten children serenading and delighting shoppers with Christmas carols down in Fraser Cove made for a merry Thursday morning.
The group from Avenues Kindergarten belted out the hits like 'Pop Bang Crack Goes the Christmas Cracker', 'His Name is Santa Claus', 'Jingle Bells' and many other Christmas favourites.
And by complete coincidence the group of 13 children, aged three and four, also ended up entertaining Kiwi comedian and prominent mental health educator Mike King who stopped by to watch and applaud the kids for their efforts.
Avenues Kindy parent and committee vice president Jo Massey says it's the children's second performance in two days after they serenaded and delighted the residents of aged care facility Hodgson House on Wednesday.
Avenues Kindergarten ' Pop Bang Crack Goes the Christmas Crackers' from Sun Live on Vimeo.
"They love singing carols, they absolutely love it. My son is constantly singing something about a cracker that goes 'pop bang crack' and he's always singing 'Rudolf the Red Nose Reindeer' at home.
"Watching the group sing to the residents of Hodgson House was so cute, and the residents really enjoyed it to, they love the interaction with the kids."
Jo says every fortnight the children from Avenues Kindergarten, formerly known as Botanical Road Kindergarten and Tauranga's first ever kindy, pop next door to Hodgson House to visit the residents and partake in songs, dancing and a tonne of other fun activities with them.
"The residents really enjoy seeing the children and the children really love going down there, we call them the nanas and poppas."