Bay of Plenty Rugby Union under-16 development coach Brendon Phillips is feeling philosophical about yesterday's 52-18 loss against North Harbour.
The two teams met on the rugby field at Greerton Marist Rugby Club at 12.45pm on Saturday.
Brendon described the game as a "pretty tough", with North Harbour leading 26-8 at halftime.
"They [North Harbour] were fairly well-drilled and played good, fast rugby. It was a good day for rugby and they played what was a good game to watch."
However, Brendon is feeling philosophical about the result.
"We're a development team. Our focus is not always on getting a win. Our goals are improving the players and teaching them new skills and to create depth. The wins are harder to come by for us."
Brendon says the team are now preparing to verse King Country in Te Kuiti on Saturday.
"We're targeting a win. They're in a similar phase to us."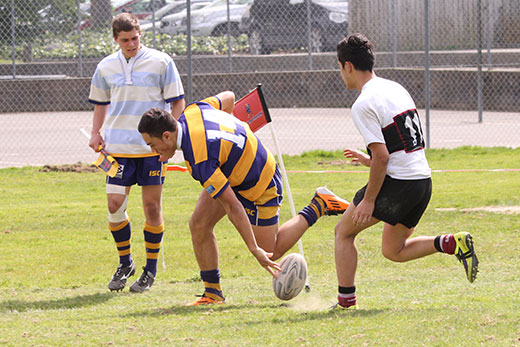 Kiripa Clarke scoring a try in the first half.