About 50 people gathered at Omanu Surf Club to celebrate the launch of the NZ Independent Coalition Party overnight.
Party leader Brendan Horan says the party is the "newest political movement" for "ordinary New Zealanders like you and me".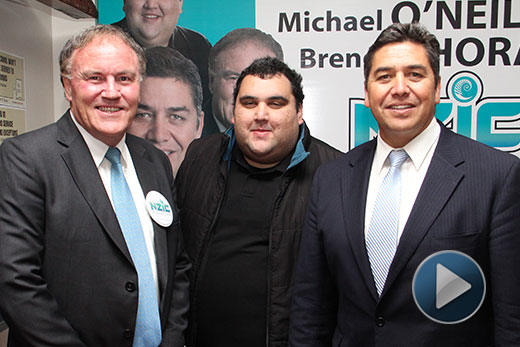 Click the image above to watch the video

SunLive caught up with Michael O'Neill, Pat Spellman and Brendan Horan at last night's launch.

During his speech last night, Brendan spoke about the party's policies which included education, health and a plan to look after seniors.
"NZ Independent Coalition's plan to save the seniors is to boost pensions to a fair wage, show we value our seniors and get our seniors involved in the community by utilising their skills." Brendan also discussed affordable and accessible tertiary education.
"The NZ Independent Coalition's plan provides pathways to prosperity for our young by isolating skills and competencies and directing our children to ongoing and continuous education in those defined areas.
"When major bills are in parliament, NZ Independent Coalition MPs will go to their areas and state whether they believe a bill is good or bad for their area, why that is, and which way they are inclined to vote – and then invite the electorate to go to our site, register and vote."
The party's list MPs were also announced last night.
They are as follows:
Joanne Rye McGregor – List
Michael O'Neil – Tauranga
Pat Spellman – Waiariki
Brendan Horan – Bay of Plenty
Trish Davies – List, Wellington
Wal Gordon – List, Wellington
Karl Barkley – Balclutha/Southland
Rick Pollock – List