Releasing large numbers of an unwanted pest in order to control it might seem counterintuitive – but it's one strategy used in Australia to control Queensland fruit flies.

In Australia, sterile males are bred and released to mate with females, which lay infertile eggs, hopefully minimising numbers of the next generation.

Exports of kiwifruit were unaffected by the discovery of a single fruit fly in Whangarei last month – but had more been found, many countries would have closed their borders to New Zealand horticultural products.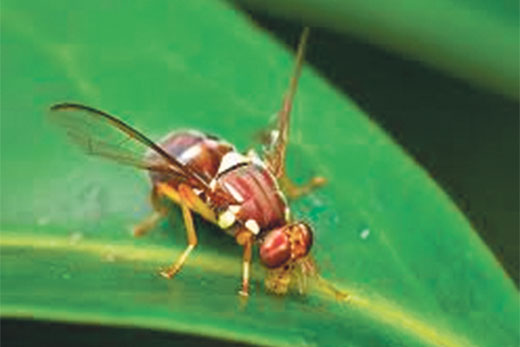 But New Zealand's Ministry for Primary Industries' deputy director-general of compliance and response Andrew Coleman says sterile males are unlikely to be used here.

"The use of sterile males is reserved for situations where large populations are present, as is currently the case in Australia. We are not looking at a situation like this," says Andrew, commenting on the second single male fruit fly find during three months in Whangarei.

The most recent find was in April, and the MPI operation investigating it ended at Easter, after no further Queensland fruit flies were found.

Andrew says MPI's response to finding a Queensland fruit fly in its traps is to run a comprehensive surveillance programme to detect the presence of fruit flies at an early stage before any population can widely establish.

"If further flies are found, indicative of a breeding population, MPI has a range of measures to deploy.

"The first activities would be putting out 'lure and kill' bait traps, which would attract both male and female flies, ground spraying of insecticide to kill any pupae in the soil and spraying host trees with insecticide to kill any adults," says Andrew.

"These sprays, applied from the ground, would be pyrethrum-based products with a similar active ingredient to household fly sprays."

Horticulture NZ and Kiwifruit Vine health are among organisations outspoken in their calls to prevent Queensland fruit flies from establishing in New Zealand, saying this is vital for the future of the country's horticultural industries, which could face losses in the hundreds of millions of dollars from market access restrictions and significant extra costs in growing fruit and vegetables. Should Queensland fruit fly become established in Te Puke kiwifruit orchards, it could cost the industry $430 million each year, according to a February 2007 study commissioned by HortNZ, called 'Fruit fly: Likely impact of an incursion of fruit fly in the Bay of Plenty, Hawke's Bay or Nelson'.

Fruition Horticulture Tauranga's Ruth Underwood carried out the study – but seven years on costs of a breeding population of the insect are likely to be much greater.

Dismay
Kiwifruit Vine Health CEO Barry O'Neil says the industry is dismayed a second male Queensland fruit fly was found in Whangarei in April, less than three months after the first discovery in January.

"If Queensland fruit fly was ever established here it would have a significant impact on our economy. Conservatives estimates are that it costs the Australian horticultural industry $100 million a year," says Barry.

"The greatest cost to the kiwifruit industry would be the restrictions many markets would place on our fruit. The industry needs confidence the borders will keep Queensland fruit fly out of New Zealand and that finds of the insect will be a rare and isolated event."

Barry's sentiments are shared by HortNZ, which states as an organisation it "remains very concerned this was the third QFF detection response in 18 months".

"This is not acceptable to NZ growers or NZ taxpayers. At a cost of roughly $2 million per clean-up, this is not something any of us want to be doing every six months."

HortNZ communications manager Leigh Catley says: "MPI need to – and we will expect them – to take a good hard look at the way things are working at the border".

Queensland fruit fly, Bactrocera tryoni (Froggatt), is considered a serious threat for damage caused to fruit by females and larvae. A female fruit fly pierces maturing fruit and lays a clutch of white, banana-shaped eggs just below the skin surface.

After two-three days, larvae hatch into white maggots, which tunnel into the flesh, carrying bacteria aiding in fruit breakdown. In seven-10 days, during summer months, they leave the fruit, and pupate in soil, emerging as adults within about 10 days. The life-cycle typically takes two-and-a-half weeks during summer.

Adult flies gather around fruit and foliage to feed and mate. Queensland fruit flies can infect up to 100 varieties of fruit and vegetables, including apple, avocado, babaco, capsicum, cherry, citrus, custard apple, granadilla, grape, guava, kiwifruit, mango, nectarine, papaya, passionfruit, peach, pear, persimmon, plum, pomegranate, prune, quince, loquat, tamarillo and tomato.

Queensland fruit flies live in climates ranging from temperate to tropical.

Its a native of Australia, where it's considered to be one of the country's most serious insect pests for fruit and vegetable crops.

The species is found in Queensland's eastern areas and New South Wales and the extreme east of Victoria. Queensland fruit fly has also dispersed into Pacific countries, such as New Caledonia, thanks to human activity.