An Eastern Bay of Plenty couple who have created a business supplying harvested seaweed to Paeroa's Agrisea will feature on tonight's 'Country Calendar' programme.
Paul Houston and Simone Rankin collect and dry seaweed from beaches near their home at Waihau Bay.

Agrisea founder and director Jill Bradley being interviewed by Country Calendar for tonight's episode called 'The Good Weed'.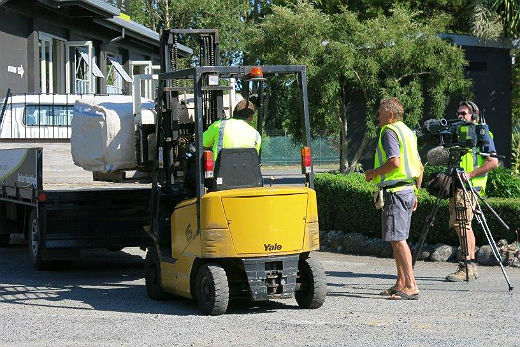 Country Calendar filmed part of tonight's episode on Eastern Bay couple Paul Houston and Simone Rankin's seaweed business, at their supplier, Agrisea, based in Paeroa.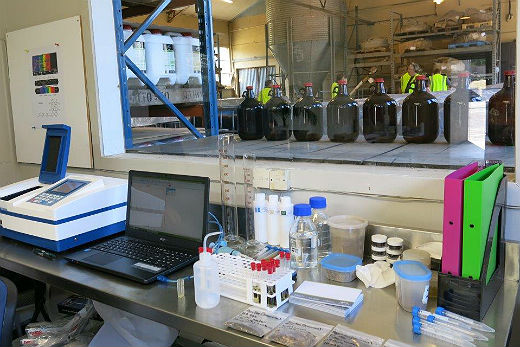 They supply the dried seaweed to Agrisea, who buys it for processing into a liquid concentrate for use on farms, orchards and vineyards.
The couple also organise other locals to gather help them gather the 'beach cast' washing up on shores after storms, generating employment in an area where it is scarce.
Agrisea marketing manager Tane Bradley says the Country Calendar production team spent time filming the episode at the company's headquarters in Paeroa in late-February and also spent much time with the couple at their home in Waihau Bay.
Tane says it is brilliant having Country Calendar highlight seaweed harvesting after Agrisea was first filmed for the programme about eight years ago.
"It is great for us; it creates awareness and gives people other options to choose from."
Tane says Agrisea's suppliers come from throughout New Zealand, but Paul and Simone have been supplying Agrisea for more than a decade.
"They're substantial, they've been doing it for a long time; they'd be one of our oldest pickers."
Tane says the couple's business is going from strength to strength, and has gone onto harvesting kelp directly from the seabed.
Founder and director Jill Bradley says kelp is a nutrient-packed product. "[It] is the equivalent of a smorgasbord feast for soil, plants and animals."
Tane says Agrisea is funding marine scientist Tim Haggitt to help with Paul and Simone's new kelp-harvesting project.
The Ministry for Primary Industries has also given the couple a permit to trial commercial seaweed harvesting between Waihau Bay and Cape Runaway.
But Tane says seaweed harvesting is not just a job for the couple.
"It ['Country Calendar'] also talks about the SANZ [theSeaweed Association of New Zealand] – they're heavily involved in that as well, in making sure the industry is sustainable."
The couple also puts much importance on boosting employment in their area, says Tane.
"They've got other families collecting as well; it's really neat, it's actually quite a community.
"Most of our pickers pick off our permit, but they've got their own; they've really gone and made it their own and created a really neat entrepreneurial effort down there.
"They've given a lot to it."
Being Agrisea's main suppliers in the Bay of Plenty, Tane says the couple are actually quite shy people and the company is grateful they contributed to 'Country Calendar'.
"We had to really ask of them to do it."