A dog that went missing following a vehicle crash on State Highway 29 on the Kaimai Range on Tuesday has been found alive but injured.
A family friend has announced the news on Facebook on Wednesday afternoon.
"Faye has been found injured but alive," writes Brad Crompton on Facebook.
"Found by an amazing lady Brenda Crook who has been searching all day! We can't thank you enough, you are a blessing during a terrifying time."
Earlier the dog was seen running into the Kauri track on the Kaimai range.
"We have searched and searched and left some food, owners clothing and her dog blanket at the sign," wrote Brad earlier in the day. "Hopefully she finds it and someone spots her."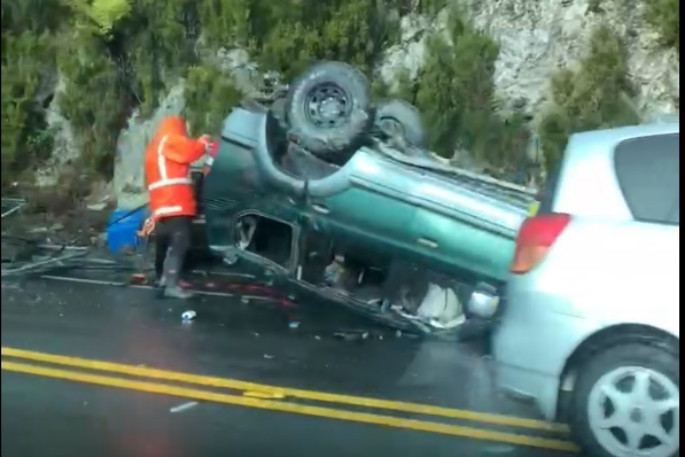 The overturned vehicle on SH29.Photo: Supplied.
Brad and friends of the family that experienced a vehicle crash on the Kaimai Range on State Highway 2 on Tuesday afternoon put out the plea across social media to help find the family dog that went missing after the crash.
"[They} have just rolled their truck down the Kaimai Range on their way home from holiday, their family dog was thrown from the vehicle while rolling and is missing somewhere in the ranges," writes Brad on his Facebook page.
"Everyone's alright and on route to Tauranga Hospital but If people could please share her photo to local groups in case she is spotted I'll call the local pound etc down that way also.
Emergency services attended the scene of a vehicle crash which happened about 3.40pm on Tuesday. A car with a trailer attached ended up on its roof half way down the Kaimai Range on the Matamata side.
Brad has shared the family's thanks and delight at Faye being found by Brenda Crook.