Several hundred people gathered at Memorial Park in Tauranga on Saturday morning to protest the government's mandates.
From 11.59pm on December 2, New Zealand adopted the Covid-19 Protection Framework, also known as the traffic lights. While this new approach introduces more freedoms for vaccinated New Zealanders, it also means new requirements for those who are not vaccinated.
Protesters, organised by The Freedoms & Rights Coalition of New Zealand, lined up on the footpath and grass verge along 11th Ave outside the Queen Elizabeth Youth Centre, mixed in with traders selling Christmas trees, fresh honey comb and gift packs.
Many signs were provided from Voices for Freedom with messages such as 'This ends where we say No', 'We are Mothers Hear us Roar', 'We Call the Shots', 'Use Cash Support Local', 'This is not our New Zealand,' 'First do no harm', 'We are Voices for Freedom', 'Keep Hugging it's Healthy', 'Scan scan scan scan away your freedom', 'Stand up speak out, 'Follow the Money', 'I'm vaxxed and pro freedom of Choice', 'Choose freedom over fear', 'We stand with teachers', 'I am not your experiment', 'Questioning vaccine safety doesn't make you an anti-vaxxer' and 'Coercion is not consent'.
Other signs on yellow backgrounds had 'The Media is the virus', 'Main Stream Media suppress the Truth' and 'Say no to no jab no job'.
Homemade signs also included a witch riding a broomstick with the words 'No Jacinda no jabs no lockdowns no masks'.
The event follows on the heels of a previous gathering held at Coronation Park at Mount Maunganui on Super Saturday October 16 where about 450 people attended, and another gathering at Memorial Park on October 30 which attracted thousands of people.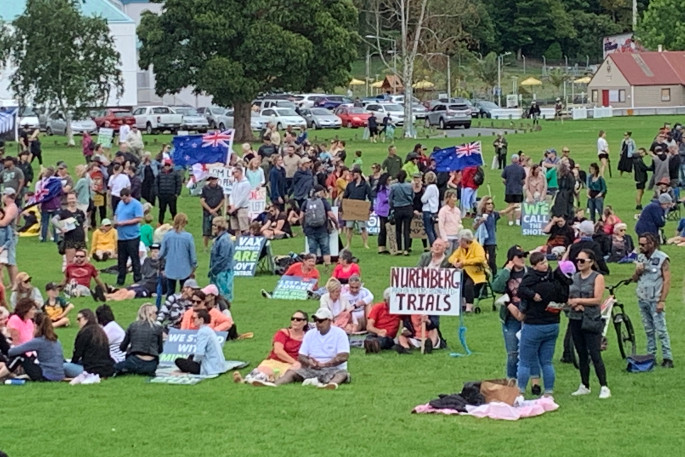 The crowd gathering at Memorial Park.
The atmosphere in the park as people gathered on Saturday December 4 was relaxed and friendly with music playing. Flags were flying including the New Zealand flag, the United Tribes flag and the Tino Rangatiratanga flag.
The National anthem was sung followed by speeches.
"We have had our livelihoods stripped away, had businesses forced to close, had our hearts torn to bits, but our heart still goes out to those affected by these pointless mandates and these apartheid policies," says one of the organisers.
"Now today is to acknowledge the many who have suffered severe adverse reactions from the vaccine. We are also here to acknowledge the many who have passed away after taking the vaccine. For many of these cases we are still waiting the coroner's report."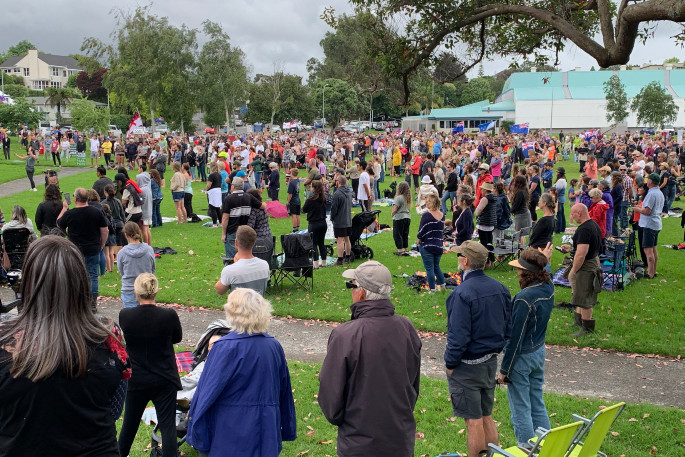 Singing the NZ National Anthem.
Speakers followed who told first-hand accounts of how they or family members had adverse reactions following having received the Pfizer vaccine. One speaker told how her sister reacted immediately with heart racing, and passed away some days afterwards.
"One of her symptoms was she was constantly cold, she couldn't warm up, she was sleeping by the fire, she was with my mum, and my mum was looking after her. On the Saturday she asked my mum to give her a bath because she couldn't warm up, even with sleeping with the electric blanket on. On Saturday night she went to sleep and she never woke up. She passed away in the night. My mum found her the next morning. One of the biggest things I am thankful for is she did go in her sleep."
The speaker told how her family is waiting on the autopsy report, and have been told there were clots in her sister's lungs and heart.
"We have had a pathologist review her case and confirm to us that the clots were fresh. They weren't in her system beforehand, they were a few days old."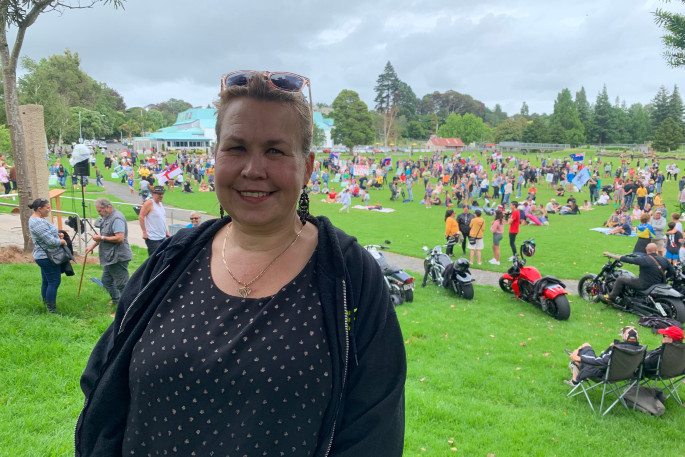 Rozanne de Wild.
Rozanne de Wild also spoke about her reaction to the vaccine, how she now isn't allowed to have a second dose, and about her ongoing fight to have an exemption from having the vaccine. Despite meeting the criteria, this last week she has been denied an exemption, and is supporting others who are also experiencing similar.
"I have lost my income, I have had medical bills and suffered so much," says Rozanne. "This government is not standing up and supporting us."
The organisers spoke about job losses, mandates, businesses closing and injustice and referenced one of Martin Luther King's speech.
"You can be discriminated against because of your gender, your race, your religious beliefs. That's not in question here today. What is in question? Our freedoms, our choices."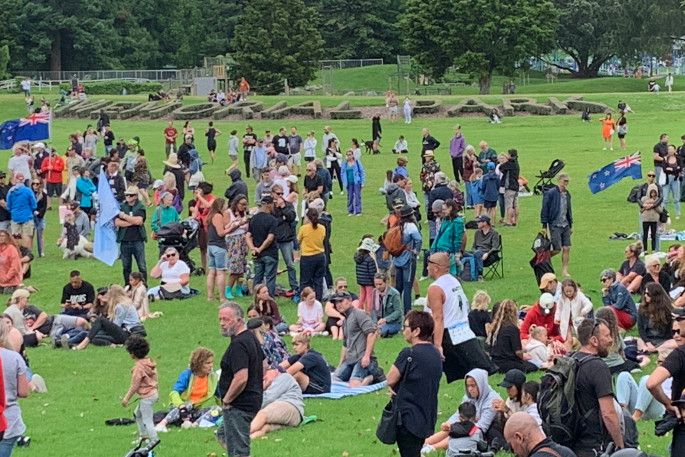 The group left Memorial Park, reassembling on the Tauranga waterfront, where the organisers spoke again to the crowd.
"On December 16 at 12pm we are descending on capitol hill," says the one of the organisers. "We need to go down there to the steps of Parliament. We need to dispossess this government and the evil apartheid policies it schemes.
"We must act now as a nation to stop this tyranny, to stop this control, to stop this cruelty, to stop this carnage. It's time for us go and disestablish this Government. It's time for the people to take back our nation.
"So, a reminder to every able body that's here, gather up your people because we need to mobilise as one and gather as one on the steps of Parliament that they will see that we are not a minority. They have always said that we are a minority but no we are going to be large in number and large in voice. We need that solidarity, we need that unity, we need that oneness, we need that one accord and agreement.
Following the speech a group with some wearing 'Not my Aunty' tee shirts ended the public gathering with a haka.
From December 15, people travelling out of Auckland will need to be fully vaccinated, or have a negative Covid-19 test administered no more than 72 hours before departure, to leave Auckland and visit other parts of the country. This requirement will remain in place until January 17 2022.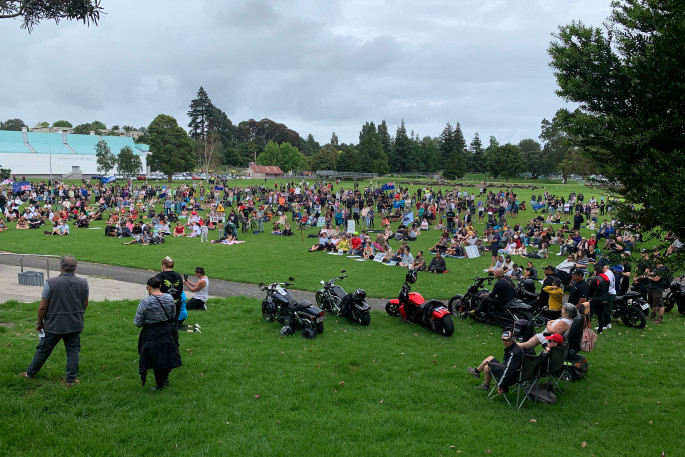 The crowd at Memorial Park.
There are six new cases of Covid-19 reported in the Western Bay of Plenty today. All are contacts of existing cases. One case is receiving care in Tauranga Hospital.
For updated locations of Interest please click here