Thousands of people have gathered at Memorial Park on Saturday to make a stand about freedoms in New Zealand.
Promoted as a peaceful protest/Freedoms Picnic via social media by The Freedoms & Rights Coalition of New Zealand, the gathering which began at 11am was planned to be 'a peaceful stand for all those concerned with the state of our nation'.
The crowd that gathered stood quietly, listening to speakers, and joining in singing together.
The event follows on the heels of a previous gathering held at Coronation Park at Mount Maunganui on Super Saturday October 16 where about 450 people attended.
Some promoted today's gathering as a 'Tauranga protest' and encouraged their social media followers to 'fight for your freedom' by coming along to Tauranga Memorial Park.
A gypsy fair being held concurrently in another area of the park also meant that numbers of people in the park swelled further. There were hundreds at the gypsy fair, despite a sign saying only 100 were allowed to be there at one time.
James, a Tauranga resident, says the peaceful gathering at Memorial Park was "to discuss the freedoms that are rapidly being taken away from NZ citizens".
"Amongst those freedoms is the proposed Water Reform, which is going to affect all Tauranga and Bay of Plenty ratepayers. The Government has announced that it is happening with or without local Council and ratepayer consent. Does this sound democratic to you?
"The other main reason kiwis of all backgrounds gathered was because the Government has been set on tearing us apart for too long," says James.
"The recent announcement by the Prime Minister to divide the population into two classes is nothing if not medical apartheid. Apartheid. Segregation. Two classes, those with rights and those without."
James say this should be of deep concern for everyone, and people should reflect on these matters and ask themselves if it feels right.
"A lot of the country are very fearful right now and families are being torn apart. Is this moral, ethical, democratic?"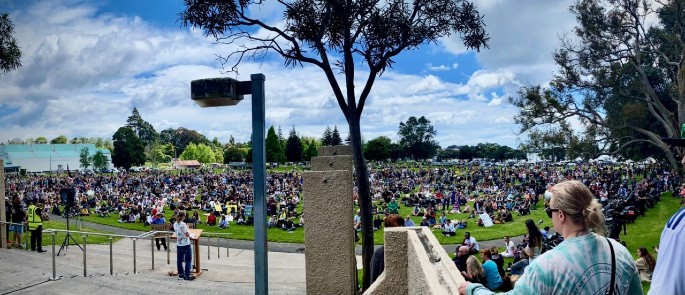 Memorial Park gathering on Saturday. Photo: Supplied.
On Tuesday Prime Minister Jacinda Ardern announced a Covid-19 vaccination mandate for businesses in which vaccine certificates are set to be needed for entry. This includes hospitality, events, gyms and hairdressers and barbers – classed as close contact workplaces.
Workplace Relations and Safety Minister Michael Wood announced that vaccination will be required for all workers at businesses where customers need to show Covid-19 Vaccination Certificates, such as hospitality and close-contact businesses.
Overall, Wood suggests, combined with the border, healthcare and education workers already mandated, it will equate to 40 per cent of the New Zealand workforce. Non-vaccinated workers in roles requiring vaccination will be given a new four-week notice period to get vaccinated before employment can be terminated.
A Tauranga resident who works for a mental health organization says that some of her colleagues are having to leave their jobs after many years' service, having received a 'no jab no job' letter from their employer this week.
"I think that many people who have been vaccinated think that those here at the park today are all anti-vax. I'm not anti-vax, I'm pro-choice. I've just received my second vaccination today. But we are going to lose so many top staff with years of experience working in mental health because of the mandate about vaccinations."
Some people at the park had signs showing their stance on Covid vaccinations or told stories of family members who had experienced adverse reactions.
The New Zealand National Anthem was sung with people standing quietly across the park, some with picnic blankets, and some waving the NZ flag and other flags above them.
Words in the anthem were resonating with many - 'in the bonds of love we meet', 'hear our voices', and 'God defend our free land' stirring the crowd as they joined in singing the first verse.
"We are not a team of five million anymore," says one attendee, referring to the vaccination 'no jab no job' mandate. "We are two teams now."
Despite the numbers of COVID-19 community cases rising, with the highest daily total ever recorded in NZ of 160 new community cases, and the spread now extending to Canterbury, the majority of people present were not wearing masks.
The event had been promoted as a picnic with the suggestion that people sit in small groups of under ten people and bring their picnic basket. Although some people spread out a picnic blanket the majority of people present were standing to listen to the speakers who talked of freedoms, rights and vaccination.
A haka performed at the front of the crowd towards the end of the gathering brought applause.
A Tauranga man was arrested on Thursday, and police are not ruling out further charges, in relation to the previous gathering at Coronation Park which Police state was in alleged breach of Covid-19 restrictions..
Police say a 43-year-old man was arrested and was charged with failing to comply with an order, under Covid-19 regulations.
After that event, a group of Bay of Plenty doctors made contact with SunLive, concerned with a speech made at the gathering which contained misinformation about the Covid-19 vaccination.
A post following the Memorial Park gathering on The Freedoms & Rights Coalition – Tauranga Facebook page states that there will be a convoy going to Wellington on November 9 to protest to the NZ Government.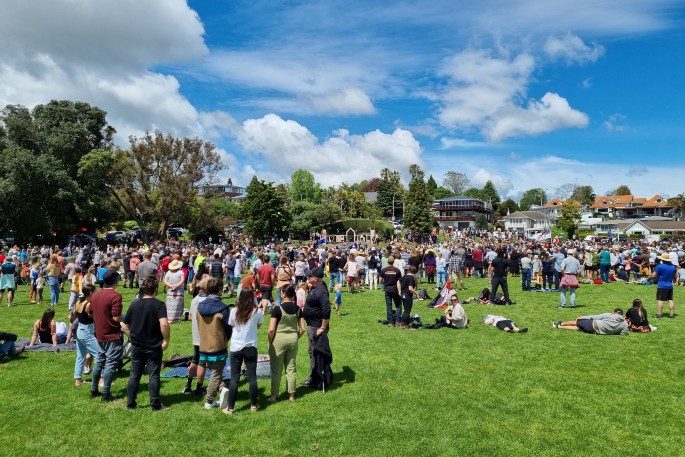 The gathering at Memorial Park. Photo: Daniel Stuart-Menzies.