Organised by the Freedoms & Rights Coalition, the purpose of the gathering was to provide opportunity for people to make a stand for their rights to choose and for the freedom of choice.
Organisers promoted the event, held at Alert Level 2, as a picnic encouraging people to bring refreshments and enjoy the day with friends and family.
"We want the freedom to enjoy food and festivities with our families and friends, and to go on long summer roadtrips across New Zealand. No more lockdowns. No more restrictions. No more mandates. No more regional borders. No more control."
Many brought blankets and spread out across the grass with some holding large signs.
'Coercion is not consent', 'taking things away from people until they say yes is not a choice', 'vaccine passport = apartheid', 'free to choose', 'free to parent' and 'tanked economies ruin lives' were some of the messages written on placards.
"We are standing for our nation," says one of the speakers. "I'm standing because of my rights, I'm standing because of the freedoms, I'm standing for the future, I'm standing for my family, I'm standing for every business,"
Keynote speakers at the event also included Nelson lawyer Sue Grey, who was a drawcard for many attending.
"The starting point is that the Government has forgotten that their job is to represent us," says Sue. "Their job is not to introduce an agenda that they want to introduce. They have one duty and it is to us.
"We are not their slaves. We have our own values, our own choices and our own freedoms. We are being told that there is only one source of truth. There is never only once source of truth It is up to us to stand up for what we believe in and be heard.
"It is only people like you turning up today that is sending a massive message to our Government and good on you and I hope they listen."
Sue spoke about speaking to the Government's Select Committee on the Covid Health Response bill.
"And what a disrespectful group they were," says Sue. "Their job is to listen to our submissions. They gave us two days to prepare.....clearly they didn't want too many submissions.
"We have to keep having our voice, and making our voice louder and louder until they start to listen to us.
"We're in the High Court this coming Thursday and Friday challenging this 'no jab no job' law. "
Sue says the 'no jab no job' challenge, initially started because of port workers, will also apply to teachers and health workers.
"And to students who are being told after two and a half years of courses they can't complete their courses unless they get jabbed. What a load of nonsense that is."
The event organisers had previously stipulated on their Facebook page that at all the Freedoms & Rights Coalition events around NZ, they would "repeatedly encourage" the wearing of masks, social distancing and "remaining in your bubble", as well as saying they would make hand sanitising stations available
"If you're wondering why we as a Freedoms movement are advocating for these protocols – please understand that this is about your safety, and to help you avoid unwanted police and/or media attention. Again, we don't advocate this for control, but to help you avoid unnecessary problems for yourselves. This is a peaceful family event to express our freedoms and rights.
At Coronation Park most people present were not wearing masks, however attendees spaced out across the park.
The crowd was encouraged to shout "I am hōhā'"---which means "I am frustrated'.
The NZ National Anthem was sung and the event ended with a group performing an impromptu haka.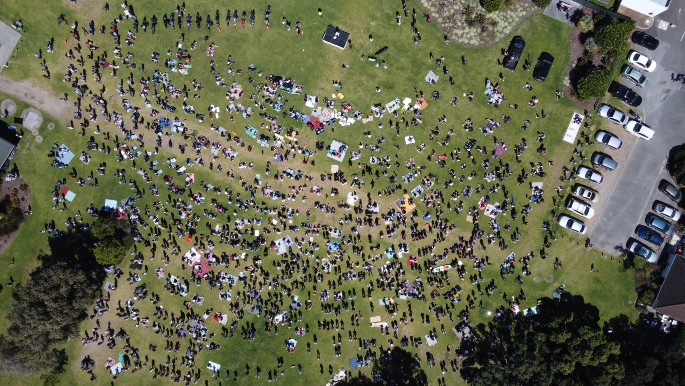 Aerial view of the protest at Coronation Park. Photo: Supplied.
These nationwide protests took part on Super Saturday, a day set aside to encourage increased Covid-19 vaccinations amongst New Zealand's eligible population as a defence against the virus.
The Ministry of Health reported 41 new cases of the Delta variant in the community on Satuday. Read more here.
Click here for more information about Super Saturday.
People who want to recieve their vaccine, but are unsure how, can follow the below information:
To book a vaccination, go to Bookmyvaccine.nz, or call the Covid Vaccine Healthline on 0800 28 29 26.
For more information about Super Saturday events, go to the Unite Against Covid website.