Mount Maunganui's Georgia Lines has performed on a different stage tonight, singing New Zealand's national anthem at Eden Park in Auckland before the All Blacks game against Australia.
Rugby fan and keen All Blacks supporter, Georgia is an experienced live performer and has sung the anthem many times before, but never to this scale. Eden Park has a crowd capacity of 50,000.
She had a practice run on Friday,
"I had a rehearsal yesterday on the pitch, which was pretty cool. Such a crazy feeling walking out into that stadium."
She has a plan to handle any nerves.
"I will have a cup of tea before hand, take some big breaths and try and enjoy the moment. Depending on how nervous I am... I might even just pick one face in the crowd to sing to and pretend like everyone else isn't there."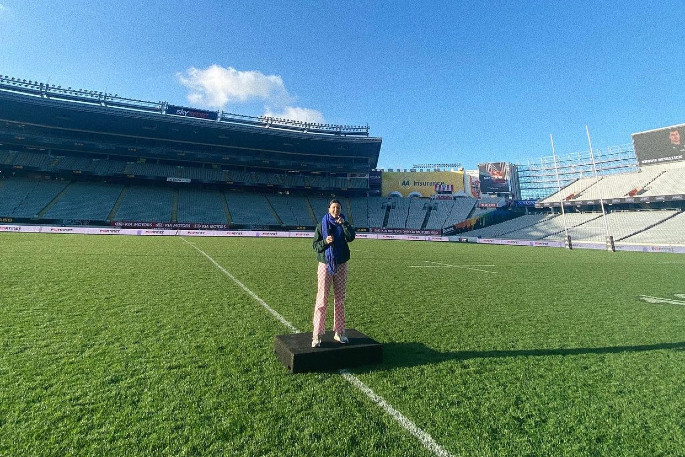 Georgia Lines rehearsing at Eden Park, ahead of tonight's All Blacks game against Australia. Photo: Supplied.
Her husband is with her this evening for support along with her manager Mike Carpinter.
"I have so many family and friends watching the game and supporting me."
Her outfit of course - is all black.
"I am wearing a beautiful black dress made for me by an incredible designer and friend, Olivia Cashmore and depending on how cold it is, I'll also wear one of her "shakets" - which is like a shirt/jacket . I'm still deciding on the shoes, but I have two options - both by Mount designer Chaos & Harmony."
Georgia heard about the opportunity when she was stranded at Christchurch airport due to the weather, but she had to send a video of herself singing the anthem that same day. She had no option other than to record it at the airport.
"I ended up finding a lovely lady who worked for Air New Zealand and she let me use her office to record the video! Then it all unfolded from there."
Georgia, now 24, grew up busking in the Mount over the weekends and summer holidays. She won the Smokefree Rockquest in 2014 when she was at Bethlehem College. She works as a private music teacher when she is not writing and recording.
Drawn to music as the "universal language" to connect with people, she describes her style as "pop mixed with both 80's and 90's inspired sounds, but also with RnB/soul inspired elements in there too."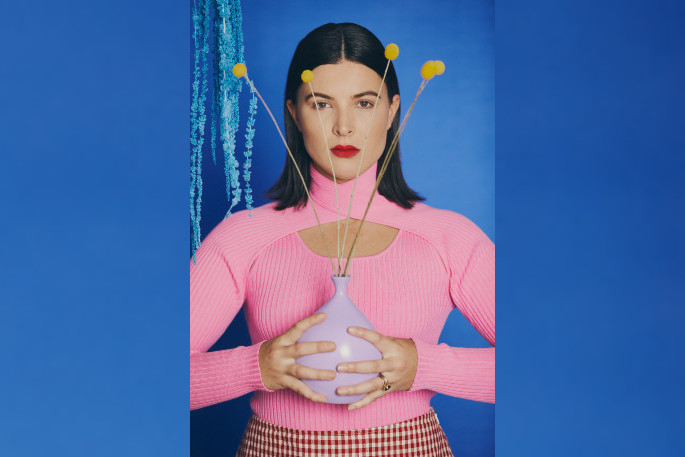 Georgia Lines. Photo: Supplied.
An experienced live performer, last month she opened for Foley, has appeared at Rhythm & Vines and supported Hollie Smith, Tiki Taane and Avalanche City. She has toured this year with pop act LAIIKA consisting of best friends Grace Moller and Heidi Simpson.
She is currently on the Kinship tour with music legend 2021 Silver Scroll nominee Deva Mahal. This tour includes a show at Totara Street in Mount Maunganui on Friday August 20.
"It has been such a fun tour so far and the shows have been absolutely incredible.
"I'm so looking forward to Friday night! because it's my hometown. I have so many people from Tauranga who have been supporting me all the way from the beginning. It will be an incredible evening."
For tickets to see Georgia Lines and Deva Mahal at Totara Street this Friday, see devamahal.com