A wig, rotten food, a full butane canister, skin cream, pill packets, broken glass and tampon applicators.
None of these items are recyclable yet they were found in a recent audit of Whakatane's public recycling bins.
On Friday, Whakatane District Council staff and elected members got down and dirty and rummaged through the contents of the town's public recycling bins to see how well the community is recycling.
In short, not that good.
The audit found that nearly 40 per cent of the items found in the bins were not recyclable.
The worst three bins were outside the iSite, ASB on The Strand and at Mahy Reserve.
The iSite bin was full of KFC packaging, which is mostly not recyclable due to the plastic coating on the boxes.
The bin outside ASB on The Strand contained a lot of general rubbish, including a blonde wig. What was recyclable had been contaminated with what smelled like rotten strawberry milkshake.
The bin at Mahy Reserve had takeaway food containers that contained a lot of rotting food, Chux cleaning cloths and broken glass.
The best bin was the one at West End, which mostly contained drink cans and plastic bottles.
Council solid waste manager Nigel Clarke says he's not surprised at the result as the level of contamination was similar to the council's kerbside audit of home recycling bins.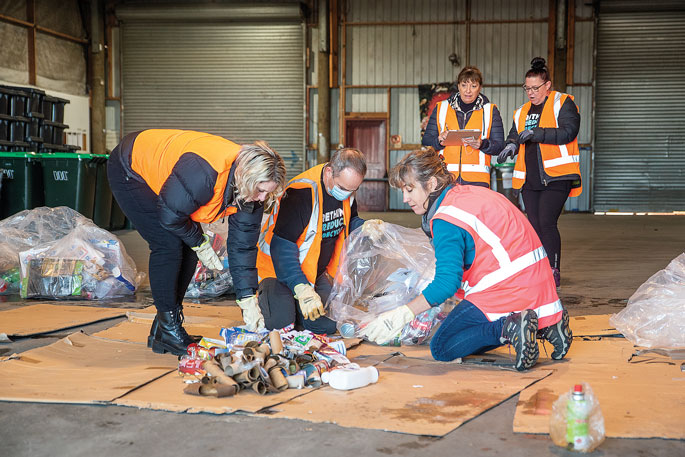 Whakatane District Councillor Julie Jukes, solid waste manager Nigel Clarke and Whakatane Ohope Community Board member Carolyn Hamill have successfully sorted recyclable items from rubbish to send a good load to the recycling plant.
Clarke says if the public didn't give the council recycling free of contamination to send on to the recycling plant, everything is sent to landfill – including recyclable items.
"We're just not getting better at recycling," says Mr Clarke.
"There's a small minority ruining it for the majority."
Clarke says it's also important to remember all recycling is sorted by hand, so when people throw dangerous or gross items in their recycling bin, a person on the other end has to deal with that personally.
He says the full butane canister is concerning as it could easily explode during the sorting process and injure people or damage machinery.
"We only need a few to let us down and have the recycling plant reject our product," says Clarke.
The council is planning to put stickers on all recycling bins to clearly show what can be recycled and what can't. There will also be a detailed leaflet included with the next rates bill.
It's also been lobbying the Government to introduce packaging changes such as removing plastic numbering and replacing it with the Australian way of only having one symbol to indicate whether plastic is recyclable or not.
The Government has already moved to ban single-use plastic and polystyrene packaging within the next three years.
However, until producers are forced to take accountability for their packaging, Clarke says waste reduction and recycling started at home.
"Households can look at what they are purchasing and make the choice to either not buy it or swap it for a more environmentally friendly alternative," he says.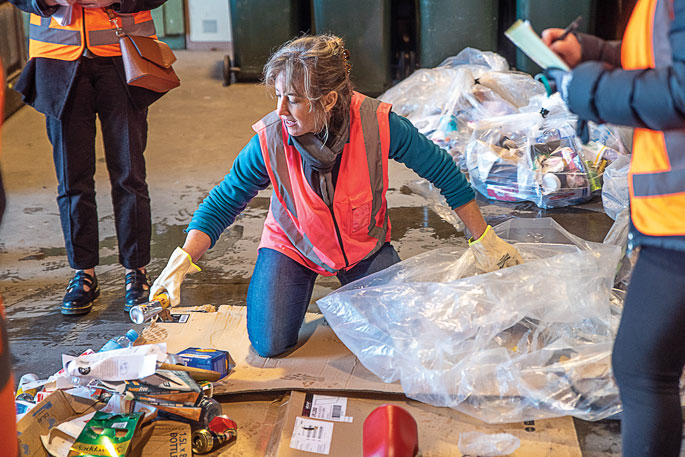 Whakatane Ohope Community Board member Carolyn Hamill sorts through the contents of the bin at West End. Most items in this bin were recyclable except for some Up & Go containers and a big bottle of tomato sauce. The sauce bottle would have been recyclable had it not been still half full of sauce.
Councillors Lesley Immink and Julie Jukes and Whakatane Ohope Community Board member Carolyn Hamill helped council staff audit the recycling bins.
The three were surprised at how many items seemed recyclable but were not and Immink says it's clear there needs to be more education on the issue.
Some items which at first glance seemed recyclable but weren't, were a Tongariro 2 litre water bottle, sushi plastic packaging, Up & Go packaging, receipts, and a plastic-lined cardboard Earthcare tissue box.
Hamill describes that last one as an example of "greenwashing" where a company strives to present an environmentally friendly image but isn't.
Immink says she's disappointed to see New Zealand made products lacking recycling labelling.
"I did get a little cross at some of the items that were put in the recycling that clearly weren't recyclable," she says.
Jukes says she's surprised and a little disappointed at the results but felt most people were making the effort and those that weren't were doing it because of miseducation rather than laziness.
Items like the butane canister, paint and batteries can be brought to the council's transfer station for disposal. Paint can be collected and re-used by others in the community.
What can you recycle?
Plastics 1 & 2
Cans
Cardboard
Tins
Paper