Update 1.46pm: A woman's body has been found by police investigating this week's double homicide in Tauranga.
The body was found on Friday when police were called to a home in Lynwood Place says District Commander Superintendent Andy McGregor.
"Police were called to the address yesterday and upon arrival a woman was found deceased," says District Commander Superintendent Andy McGregor.
"We believe she may have been dead for a couple of days. At this stage it's believed the death was a domestic incident."
"Police is not seeking anyone else in relation to this sudden death at this stage."
Update on double homicide in Omanawa:
Police also report they are making good progress in the investigation into the double homicide in Omanawa and the events following in Tauranga.
"Based on information available, the incidents appear to be unrelated to gang conflict although Police is aware the incidents have involved gang members," says Andy.
A 25-year-old Bay of Plenty man arrested yesterday in Christchurch has been charged with the murders of two men at the Omanawa property on Tuesday February 11.
His arrest was made at a property in New Brighton, and followed a homicide investigation into two men at an Ormsby Lane address in Omanawa on Tuesday.
The heavily tattooed 25-year-old appeared in the Christchurch District Court before Judge Tony Couch this morning, facing two charges of murder for the two victims who police have said were known to each other.
His lawyer, Moana Cole, sought an interim name suppression order for him claiming it was a "high-profile case" and said there was a risk of retaliation. Judge Couch granted the interim suppression order.
Police also sought an interim order suppressing the names of both victims and the summary of facts, which was also granted by Judge Couch.
The 25-year-old was remanded in custody to appear in the Tauranga District Court on February 26.
On Thursday Police attempted to stop a vehicle at 7.46pm on Carmichael Rd in Bethlehem. It was reported to have left from the Brookfield area, was driven along Carmichael Rd, and then fled along SH2 towards Tauranga city.
The vehicle failed to stop on Carmichael Rd and a firearm was shot at police. The vehicle stopped along SH2 just beyond the Cambridge Rd off-ramp and an occupant continued to discharge the firearm.
Police report that they returned fire and in the exchange the offender was fatally wounded.
Road closures were put in place while scene examination was undertaken.
Police are yet to formally identify the deceased and a post mortem is expected to be carried out today.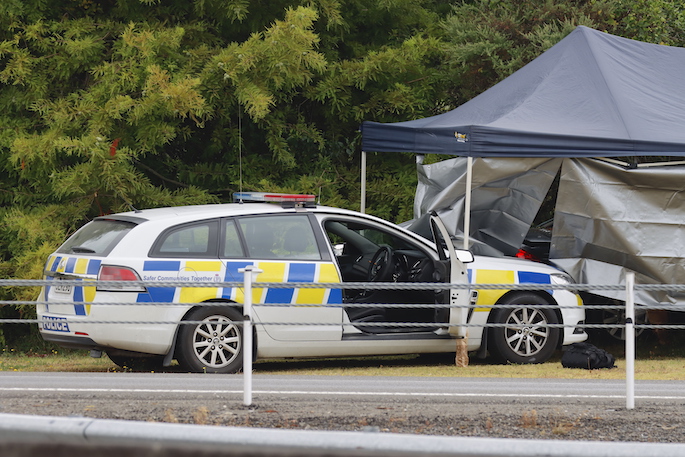 Site investigation at the scene on SH2 on Friday. Photo: Daniel Hines/SunLive
Earlier, 10.15am:
Some Otumoetai residents are reporting the presence of armed Police who appear to be guarding a property in Brookfield.
SunLive received calls from nearby neighbours that Police have been at the property overnight and are still there this morning.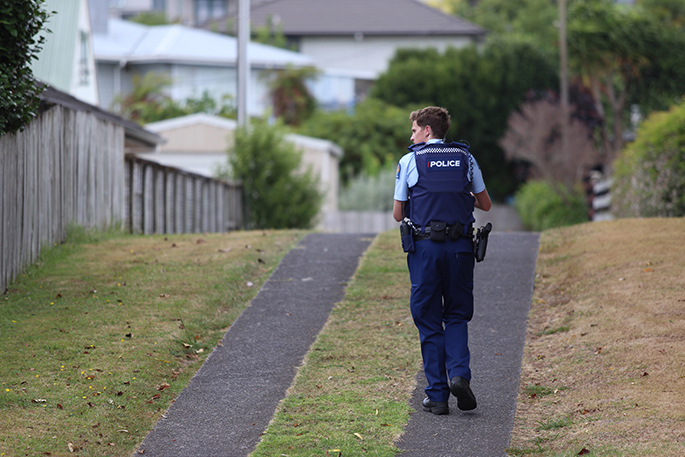 "There is one Police car backed down the driveway, a Police wagon out front, and two armed officers standing in the driveway," says one resident.
"They've been there overnight. There told us that there had been an incident and that there was nothing to worry about."
SunLive will have further information once it is available.