Investigations are underway into retaining a pedestrian and cycle underpass at Bayfair.
Tauranga City Council is working with Waka Kotahi NZ Transport Agency on the investigations to retain an underpass linking Matapihi and Bayfair beneath SH2.
The council recognises the importance to the community of a grade-separated pedestrian and cycle link between Bayfair and Matapihi and has approved a contribution of $2 million towards the investigations, Mayor Tenby Powell says.
The council had previously agreed to contribute $1 million towards an underpass – sourced from Cycle Plan capital funding – but that was put on hold when the NZTA cancelled the underpass project, due to an escalation in the estimated construction cost.
Originally the NTZA was going to cancel the underpass after cost of replacing the underpass blew out from $13 million to $33 million as part of the Bayfair to Baypark link project.
"Following an engagement process with council, key stakeholders and the wider community, the transport agency is revisiting the underpass and investigating alternative options," Tenby says.
"Council wants to do all it can to support that work and decided at an in-confidence meeting in December last year that it would be appropriate to increase the planned contribution, to demonstrate the community's commitment to the project."
NZTA portfolio manager Darryl Coalter acknowledges the time it has taken to do the feasibility work.
"This process has identified issues requiring more time to work through relating to the ground conditions surrounding the underpass and the complex design work for extending the spans of the bridge overhead.
"We are committed to doing what we can to make this option achievable and expect to have an update in early March,"
Council is confident in the process being followed and looks forward to receiving an update on the investigation work in early-March, Tenby says.
Once a decision on the underpass has been confirmed, the relevant council report and resolutions will be moved into the public arena.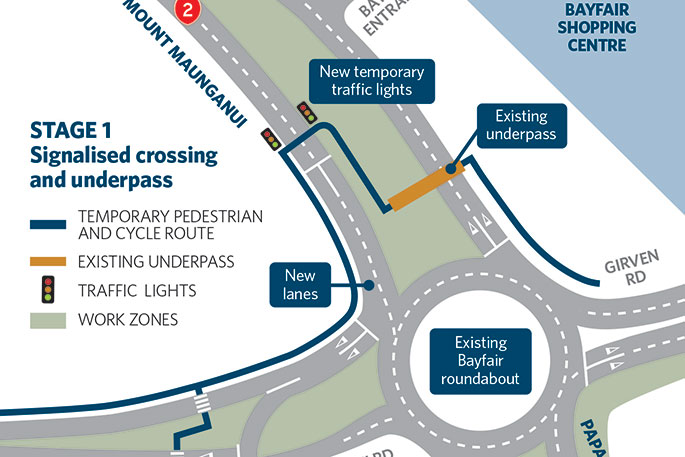 The first phase of the new temporary crossing went live this morning, as well as the new larger Bayfair roundabout.
Currently pedestrians and cyclists are using a combination of traffic lights and the existing underpass, which remains open.
Temporary traffic lights are in operation on the city-bound lanes north of the Bayfair roundabout on SH2.
The temporary signalised crossing enables pedestrians and cyclists to cross between Bayfair Shopping Centre and Matapihi Road while construction continues in the centre of the road.
Phase 2 of the crossing, the temporary closure of the underpass, is on-hold pending the decision on the overall design.