Tauranga City Council have removed what they deemed to be a 'hazard' from a roundabout in Windermere.
Images sent to SunLive shows a toilet had been placed in the middle of the roundabout, at the intersection with Lagoon Place.
Council's team leader for network operations Phil Consedine says they found out about the toilet being on the roundabout on Monday morning.
"The hazard was first noticed after a site inspection, and it was removed immediately."
Phil says feedback regarding the newly installed roundabout has been mixed, with concerns regarding the reasons for the work, the time taken and the extent of the work.
Residents have also been concerned about the project going over budget.
The budget for the project was $321k, with the estimated final cost being $335k.
Phil says the reasons for going over budget was due to service relocations and associated traffic management costs.
"Reason for delays included wet weather and service relocations.
"The scope of this project consisted of upgrading the bus stops outside the Toi Ohomai Campus and to provide a safe turning area for buses by means of installing a new roundabout at the intersection of Lagoon Place/Windermere Drive.
"Existing bus stops have been disestablished further up Windermere Drive as a result of changes to local bus services."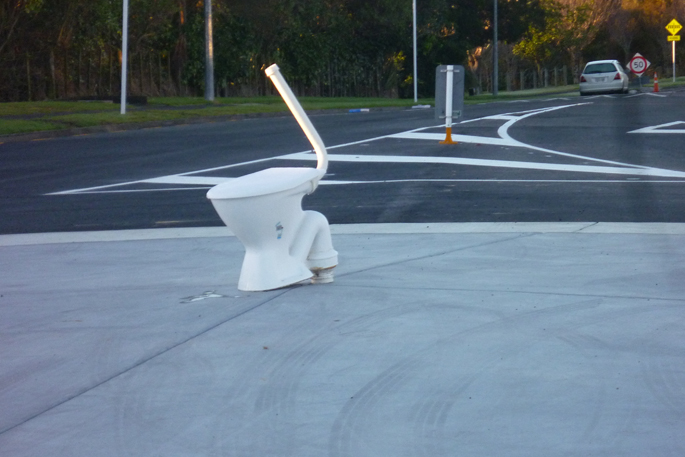 Residents are also concerned about rumours that the roundabout will have to have repairs done to it this summer.
"Investigations are ongoing regarding a review of the quality expectations of the pavement construction," says Phil.
"The contractor is providing additional information regarding this for council acceptance. Depending on the testing there is a possibility that some of the pavement may need to be replaced."