"Sheer recklessness." This is how witnesses described a crash in Papamoa.
On Saturday, about 11.15pm, a car speeding along Karewa Parade smashed into another car and a caravan parked along the road.
"Our caravan is a right off," says Tracy Rolfe, owner of the caravan involved in the smash. "But at least we have insurance and no one was in it."
The car that was hit was pushed up onto the footpath.
"The driver had no regard for anyone," says a Karewa Parade resident who reviewed his CTV footage afterwards. "Sheer recklessness."
He says the footage, which has been handed to police, clearly shows the car at speed along the 50km/h road.
"He sped up the road and we heard that and we just thought 'who was that, that idiot'. I didn't hear the wheel spins, but I heard him flying back down a couple of minutes later.
"He went up on to Karewa Parade a bit further up, 50 yards up on the left hand side. There's the beach access set off the road, and that's where you can walk down, there's car parking there for about 10 cars. He went into that and was spinning in there.
"Then he flew out of there, that's why when you see the video of him coming up the road, you can hear the roar of the engine, but when he went past my house he slowed down a bit, because he was looking for the turning to go into that area.
"I know the police will be able to use the video, because it gives the context. The guy can't say 'yeah I lost control of the car', or 'my foot slipped on the accelerator rather than the brake'. He can't do that now, because you can clearly hear the wheel spins of him taking off out of that car park, and then you can see him flying past the house. Before that you can see him flying up the road. So he can't weasel out of it. He can't say anything like there was something wrong with the car and that's how he crashed.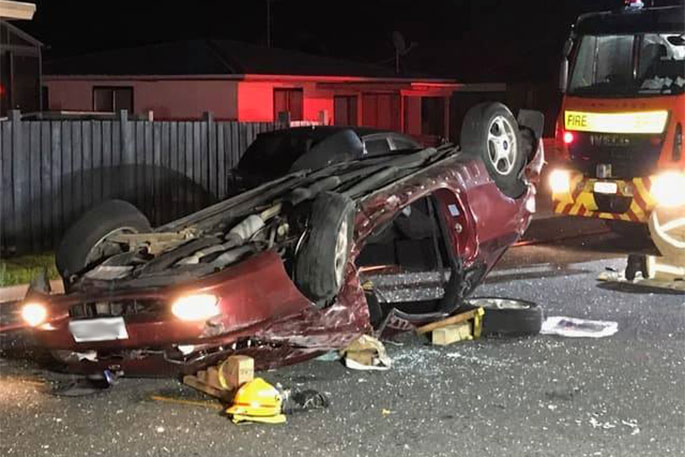 "The camera picked up the wheel spinning that far up the road. We were at the front of the house and we didn't hear it. I heard the bang, but I didn't hear it to the detail that the microphone picked it up to."
NZ Police reported that the driver of the vehicle received an injured leg and was taken to hospital in a stable condition.
"We can confirm that there was a vehicle crash on Karewa Parade, Papamoa Beach, Tauranga. This crash occurred at about 11.15pm," says a police spokesperson.
"According to initial reports, a car collided with a caravan. The driver of the vehicle received an injured leg and was taken to hospital in a stable condition."