Two new bridges that link up the walk and cycleway loop around the Kopurererua Valley officially opened this morning.
Among others, Tauranga Mayor Greg Brownless and Rotary Centennial Trust's chairman Mark Dean attending the formal opening near the Faulkner St access to Kopurererua Valley, at 11am.
The bridges are part of a project to restore the 350 hectares block of low-lying wetlands in Tauranga South that's being carried out by the Tauranga City Council in partnership with its Project Tauranga partners, the Tauranga Energy Consumer Trust and Kopurererua Valley Rotary Centennial Trust.
Project Tauranga manager Michael Vujnovich says the bridges will contribute to both increasing access to the Kopurererua Valley and linking up commuter connections across the city.
"These bridges are an excellent addition to Kopurererua Valley and a terrific asset to the city, we're well chuffed.
"The valley is a rich wetland, and while there's another 50 years of work left to do, it's well on its way to being converted into a recreational place for people and a natural habitat for wildlife."
As part of the project, 20ha of weed-infested land has been cleared, 15ha replanted with 220,000 native trees and plants, the Kopurererua Stream has been realigned to provide additional wetlands and habitat for aquatic life, and 15km of boardwalks and walkways have been built since 2000.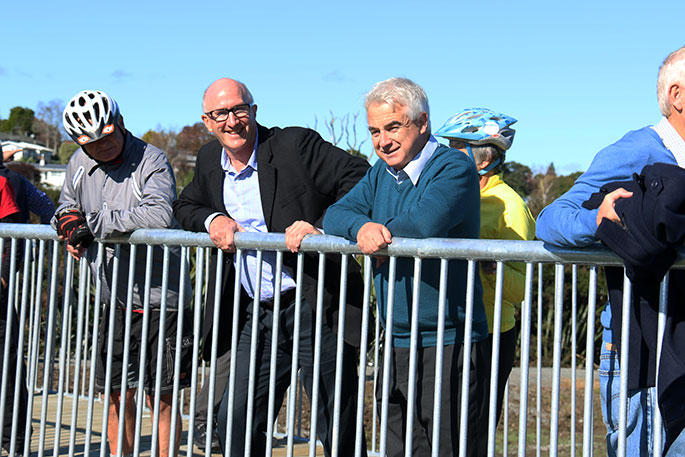 ECT Chairperson Bill Holland and Tauranga City Mayor Greg Brownless.
While in November 2015, TECT granted $175,000 to the Kopurererua Valley Rotary Centennial Trust for the project, which paid for the bridges and installation of directional signage throughout the valley.
Chairman Mark Dean says for 13 now the Rotary Centennial Trust has been committed to restoring and developing the Kopurererua Valley and the bridges are a key milestone of the project.
"The ongoing restoration of this wetland has been a lot of hard work, by our Rotarians and the council team, and the results are starting to show with the return of wildlife to this increasingly beautiful and suitable habitat.
"It was $175,000 of TECT funds, so quite a lot of money thanks to the folks at TECT; and we know the job of getting the bridges installed was complex and threw up a variety of challenges, so well done to the team at council for their sterling efforts."