The voyaging waka Hine Moana is to be lifted out of the water at Hutcheson's boat yard and repaired and refurbished for a new life operating semi-commercially out of Auckland.
The waka, one of a fleet of seven, has been bought by a trust asociated with Ngati Kahungunu iwi which already operates the waka Te Matau A Maui, based in Napier.

The waka Uto Ni Yala (left) and Hine Moana at Tauranga Bridge Marina this week.
"I don't like saying this, but it's going to be like Spirit of Adventure," says skipper Rai Tipoki. "Ten-day voyages for 16 to 18-year-olds in the Hauraki Gulf.
"They are a platform for education in possibly its widest sense. We think we can do the whole school curriculum, navigation, sciences and resource management.
"The movements of the planets and astronomy, all sorts of stuff. We teach traditional navigation but we also teach contemporary navigation which is really important - the kids get to learn how to use a chart, learning latitude and longitude."
The fleet of seven solar powered waka were built by Salthouse Boatbuilders in 2010 for a voyage across the Pacific the following year. Many of the island nations of the Pacific were represented with each supplying waka crews.
They were paid for by German philanthropist Dieter Paulmann, whose foundation Okeanos for the Sea was searching for the best way to convey an urgent message of marine protection.
The waka fleet sailed from Aotearoa to Hawai'i, then to the West Coast of the United States, completing their journey in July 2012 at the Festival of Pacific Arts in the Solomon Islands after visiting San Diego, Cocos Islands, Galapagos, Tahiti, Cook Islands, Samoa, Fiji and Vanuatu.
The voyage, known as 'Te Mana O Te Moana' (The Spirit of the Ocean), was intended to reconnect with the traditions, with Pacific communities and with the ocean to spread the message of ocean protection.
With the voyage over, Hine Moana was picked up for $500,000.
"This one was the Pan Pacific one. She had a whole lot of different nations on her so she never really had a destination," says Rai.
"So when the funder Dieter was thinking about shipping Hine Moana to Germany, we said 'no' we were keen for her to stay in the Pacific with her brothers and sisters.
"So we put a bid in to buy her that was successful. Now it's up to us to put in place a programme that is robust and sustainable."
It's three years since Hine Moana was last hauled says Rai, but in her new commercial life it will be an annual event.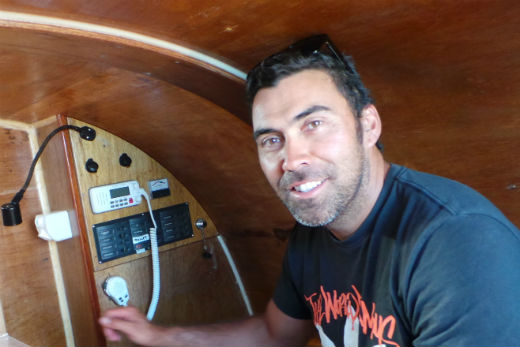 Rai Tipaki.
The waka are a 21st Century expression of an ancient design.
The hulls are built of resin infused foam core fibreglass, lashed together in the traditional manner. They have retractable centre boards and solar powered electric motors.
They are intended, in part, to be platforms for teaching Polynesian navigation, without charts or a compass.
"We have modern nav gear, GPS and charts is really all you need. But these days they have got those smart phone navigation apps that are just as good as any fishing boat – that's what I have been told," says Rai.
Picking up the rudiments of traditional navigation can take a couple of years, that's if you are at sea 24/7, but the actual process is more informal.
He adds: "You can sit down with someone and they can say learn this, and this, and this and you can go away for weeks, and then have a bit of time on the water so you get used to looking at different things.
"Sailing in general - voyaging in general - is going against society, deadlines, timelines and all those sort of things.
"You have got to let all that stuff go when you become a sailor. The new ones are asking 'how long is it going to take?' We don't know how long it's going to take. It might take one day, it could take a week.
"When you are at the whim of nature it's so different to what we are used to. We are used to being in control all of the time.
"When you become a sailor, a voyager or a navigator it's not you. You are not the boss. You are at the bottom of the food chain and you have to get to grips with that."
The Hine Moana was ferried down from Auckland with help from the crew on board the Fijian waka Uto Ni Yala. That waka departed for Auckland this week. Through Rai they extend their thanks to Tauranga Bridge Marina staff for their help during their stay.