Taking pride of place at Otumoetai Intermediate, the Prime Minister's Supreme Award now has a little brother or sister after making a special 444km journey from the far north.
For the next six months, the Prime Minister's Excellence in Teaching and Learning Award (Atatu Award) joins the supreme award at the Tauranga school, capping off what Otumoetai Intermediate School principal Henk Popping describes as a "tremendous year".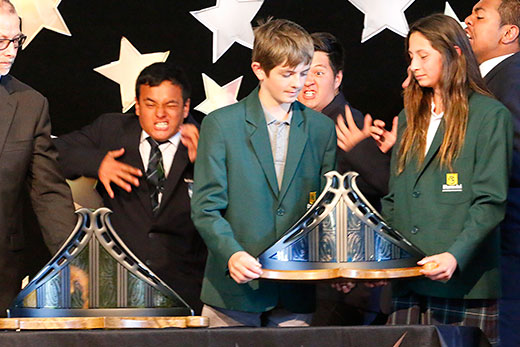 Otumoetai Intermediate School leaders Luke Rush and Abbie Mortimer with the Atatu Award. Photo: Bruce Barnard.
This morning the school held a powhiri for Kerikeri High School representatives handing over the Atatu Award - an award the two schools jointly won at the inaugural Education Excellence Awards in Wellington.
The group of around 17, including Nga Puhi representatives, Kerikeri High School principal Elizabeth Forgie and senior students, made the lengthy hikoi between the two schools this weekend.
In June the Tauranga intermediate also claimed the Prime Minister's Supreme Award (Takiri ko te ata).
The school was a finalist in three categories - Excellence in Engaging, Excellence in Teaching and Learning and Excellence in Governing.
Co-winning the Atatu Award saw Kerikeri High School given the impressive trophy for the first six months of the tenure, with today's powhiri marking the award's changing of hands.
Henk says when Kerikeri High School principal Elizabeth Forgie contacted him about plans for a hikoi he was thrilled.
He has been told it is unlikely that there will ever be a joint winner again of these awards so this is a unique occasion.
"It's been an absolutely tremendous year for both our schools," he says. "It's been a real thrill for us as a school to share this award with you.
"It's such a sought-after award that it could be a long time before we get to see it again."
Nga Puhi representative Taua Kemp says the far north community were not content on posting the trophy rather respecting cultural values and personally accompanying it down.
"This was not to be put on a courier van and bought in a lonely manner," says Taua.
Kerikeri High School principal Elizabeth Forgie says the 1480 strong school, from year 7 to 13, thoroughly enjoyed having the award, but it is now time for the Atatu Award to sit with its tukana, big brother or sister.
Tauranga and Bay of Plenty MP's Simon Bridges and Todd Muller were invited but were unable to attend.