A new event showcasing live outdoors jazz in all its glory at Mount Maunganui – with a line-up of 'groove-meister' musicians – will make every body want to move this Matariki Friday, June 24.
The day-long free event – 'Jazz at the Mount' – has been added to this month's 59th Port of Tauranga National Jazz Festival courtesy of Mount Mainstreet.
Mount Mainstreet's Claudia West says the business association is excited about their new partnership with the Jazz Society, to bring some of the iconic flavour of the National Jazz Festival over to the Mount.
"We think it will be awesome to bring part of that jazz vibe to the Mount – so our businesses, locals and visitors can enjoy it here too."
Claudia says if June 24 is fine the Mount will deliver a stunning backdrop to enjoy Matariki and the music. "We hope people will relish the jazz, stay longer and enjoy all the Mount has to offer.
"Obviously there's always risk holding an outdoor event in June but we have a back-up plan to disperse the music into local hospitality venues if need be."
From 9.30am-5pm musicians will take over Te Papa O Ngā Manu Porotakataka, playing music for everyone to enjoy. In the thick of it will be Japanese-born Kiwi jazz artist Miho Wada performing with her band Miho's Jazz Orchestra.
Miho – an upbeat, lively, colourful presence onstage that masterfully delivers delicious, twist-turning instrumental jazz that you get caught up in without realising it – is ready to jam.
"I love it – it's probably my favourite jazz festival," says Miho, whose MJO is a five-time returning National Jazz Festival band. "It's so nice that people can walk past, hear music and be drawn into it – the whole festival has such a good vibe."
MJO revels in playing feel-good jazz, offering grooving, surprising, playful, sophisticated, cheeky music – full of style, skill, instrumental prowess – with an addictive characteristic.
"I write all the music," says Miho, who plays flute and saxophone. "I like to go back to the roots of how jazz started. It was popular tunes that everyone can sing to…but back then all the songs were so short, so they made instrumental versions so people could dance."
"We'll play mostly instrumental songs, we have a few songs with vocals – but mostly music people can move their whole bodies to. It's about feeling good, moving and putting smiles on faces."
MJO will also play at the Hurricane Party at Totara Street that night, June 24. Doors open 8pm. This year's party is back in full swing with quality 'groove-meisters' to get everyone dancing!
Also performing is six-piece upbeat jazz-funk band, Spiral Collective, original music-telling stories and uplifting messages.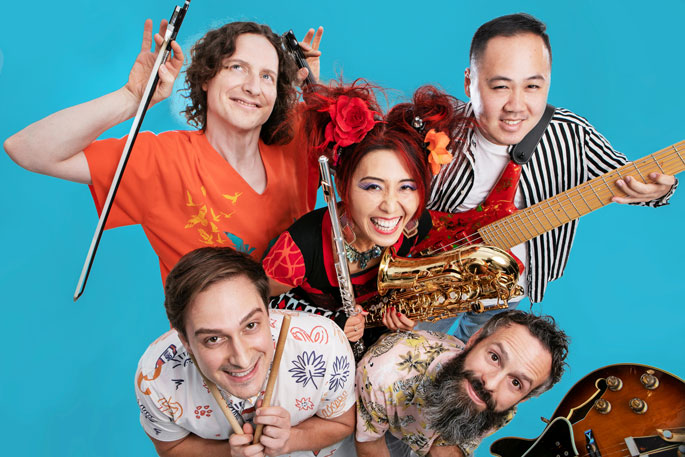 Big Tasty at the Hurricane Party at Totara Street on June 24. Photo: Supplied.
And funky, 'never fail to get people dancing' Big Tasty – led by diminutive powerhouse frontwoman Manuela Ovalle Herrera backed by a full horn section.
Whether you want to move to the groove during the day or night – hit the Mount to devour the jazz this Matariki, Friday June 24. You won't regret it!