We have all heard complaints about roads in the Bay of Plenty being crap but that literally became the case for a brief period this week.
Police were called to the scene of a spillage along State Highway 2 on Thursday afternoon to assist with the clear-up of what they are calling "stock effluent".
But one eyewitness who was driving through shortly after the spillage was in no doubt as to what the substance was.
"It was a big pile of s**t," he says.
"You could tell from the smell, let me tell you that.
"I know s**t when I smell it."
The eyewitness says the spillage was along SH2 "by the railway line".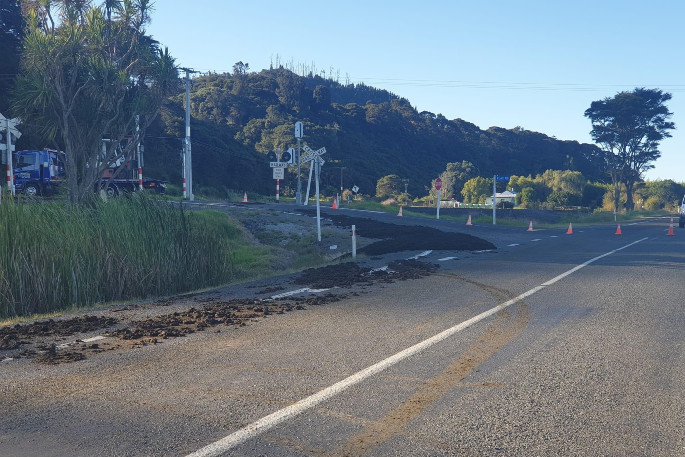 Stock effluent across the road near Matata. Photo: Matata Volunteer Fire Brigade.
Police confirm they attended the incident, near Flax Road, between Matata and Awakaponga.
"A truck's tailgate has reportedly opened while driving depositing what's been reported as stock effluent on the road," says a police spokesperson.
Road crews were requested for clearing and police were called in to assist with traffic control whilst the road was "washed down", the spokesperson confirms.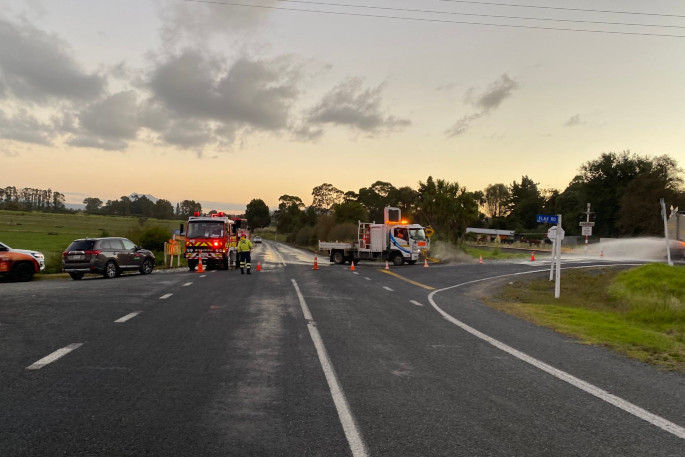 Fire fighter crew and contractors cleaning up the mess. Photo: Matata Volunteer Fire Brigade.
Police could not give an estimate on the size of the dropped load.
However, NZTA put the road under traffic management shortly after 5pm and later established a temporary 70km limit between Caverhill Road and Manawahe Road due to a "spillage" across both lanes.
"Take care when travelling through the area," was the advice from NZTA.
Volunteer fire fighters from the Matata Volunteer Fire Brigade also attended the scene, posting an account of the unusual event to their Facebook page later.
"We were initially directed down Arawa Street but police radio traffic told us it was actually by Flax Road so we swung around and headed to the scene," says a Matata Volunteer Fire Brigade spokesperson.
"It was quickly apparent that this was not a job for a few fire fighters with shovels and a 2000 litre tank. Story goes that a truck, laden with this stinky stuff had a locking pin come away and boom, a beautifull spread mess.
"One lane of the highway was up to 30cm thick in effluent for over 300m. 'Gonna be a big job' said our OIC.
"We called for contractor assistance and set up diversions down Manawahe Road and awaited assistance. Thanks to a big roadworks job at the time and a shortage of people at work due to Covid, it was going to be a while," says the Matata volunteer fire fighter.
"Eventually a tractor and bucket came and scooped up the majority then our truck, a water truck and two sweepers set to work pushing the rest into drains until a full clean up tomorrow.
"In the meantime, traffic signs were put out to slow people down and we finally were home, with one very stinky truck and crew, at 9pm. A truly BIG S#@% JOB."
The job was the 26th callout for the fire crew for 2022, which includes 17 medical calls, one fire call, five motor vehicle accidents, two storm related incidents and one which they have classified as 'other'.
The witness says a police officer was on the scene and all parties were doing a good job of managing traffic.
"The officer seemed to see the funny side of it," he says.
The road user, who does not want to be named as he was supposed to be at work, admits being fortunate to be in a 4x4 that could "plough through the dirt." He has no doubt what the blockage was.
"There was crap all over the road," he says. "Heaps of the stuff.
"I was lucky in my truck but I wouldn't want to go through that in a little Suzuki Swift or something like that."
NZTA advise that the traffic management incident is now resolved, as of 11.21am today.
As for our eyewitness, he has one top tip for anyone who finds themselves in a similarly messy situation.
"Windows up! For sure!"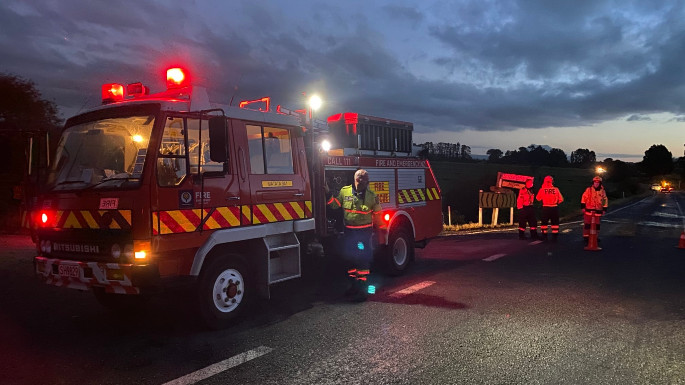 On the scene at the clean up. Photo: Matata Volunteer Fire Brigade.