It's first light on Waihi Beach and Verity Thom is out the back of the waves on her Stand Up Paddleboard.
She pauses for a moment to take in her environment.
"For me being out here is essential," says the 60-year-old, who is a relationship and sex therapist.
"It's my spirituality. My solace. My joy. It's playful. My happy place."
When Covid-19 hit New Zealand in 2020, Verity and her husband Nic Beets moved from Auckland to Waihi Beach so they could surf and SUP every day.
"It's the centre of our life here. Getting out for a SUP is the best way to start a day. There's nowhere else I'd rather be."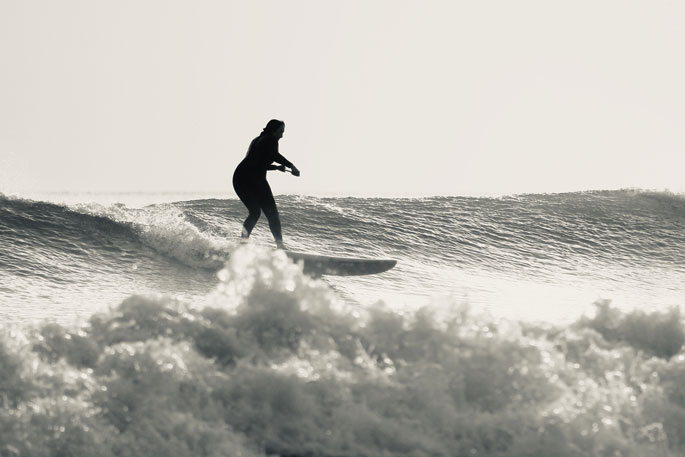 These days, Verity doesn't take being out in the waves for granted.
In the summer of 2016/2017 she suffered an injury in the surf at Pakiri Beach that could have been fatal.
"Being in the water is good for my soul… but the risk is always there. I have learned to treat the ocean with great respect.
"I was too greedy and wanted one more wave"
On New Year's Eve in 2016, Verity went out for an afternoon surf on Pakiri Beach.
She had just bought a new carbon-fibre SUP board and she was excited to try it out.
"It was light and manoeuvrable. I remember thinking 'This is the best thing I have ever owned'.
"It was like driving a Porsche after driving a V-Dub all your life."
Verity says Pakiri Beach is not always suited for beginners.
She considered herself to be an advanced beginner and that day felt comfortable in the conditions.
"We had been out there for a while and were having a really great time and then the wind picked up," she says.
"We should have come back 10 minutes earlier.
"I was greedy and thinking 'One more wave, one more wave' but I hadn't recognised the danger."
As Verity came into the beach she was knocked about by the waves. She came off her board and stood in chest-deep water.
"Another wave picked up my board and the wind caught it. The board went straight up in the air and then the tail came down onto my forehead.
"It hit me with incredible force. Nic was on the beach and he said he heard a ring like a bell.
"I have never been clonked on the head like this before. I knew I was in big trouble."
The impact caved in the rear corner of her carbon-fibre board.
Later when Nic took the board to a repair shop, the man told Verity "From that impact, she should be dead."
"It could have been a fatal event."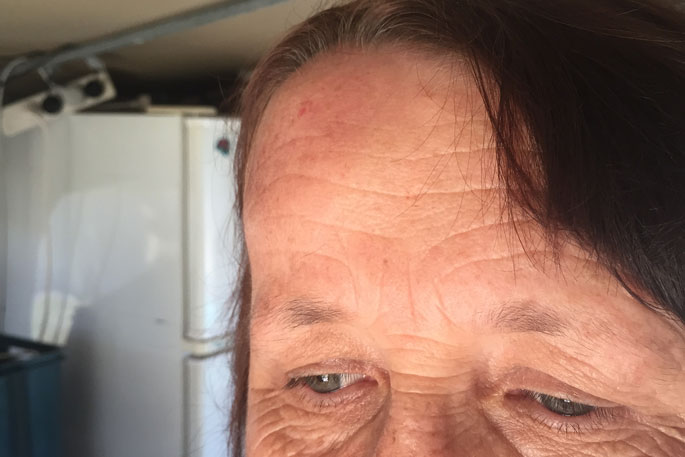 A massive egg appeared instantly on Verity's forehead. She walked up the beach to the campground where they had a permanent site.
They later went to the Wellsford Doctor to get it checked out.
"I wasn't concussed," she says. "I am not sure how, but I had just suffered a bad impact injury."
Verity ended up with haematomas under both her eyes. Her face was covered in colourful bruising which extended down her neck.
"I've never had an injury that looked so dramatic," she says.
"Nic got dirty looks at the supermarket. For three or four weeks, my face was covered in bruises."
Verity says that ACC covered her medical expenses and "have always supported me for a number of surfing injuries over the years".
"It was a horrible time to have an accident," she says.
"Just when you're looking to kick back and party with your friends. It messed up our holiday and it took me some time to get back out on the board."
Verity knows that she was lucky that she did not suffer a major injury.
"I could've easily fractured my skull. It could have been a fatal event. I learnt some valuable lessons that day."
The cost of water-related injuries
Verity is not alone.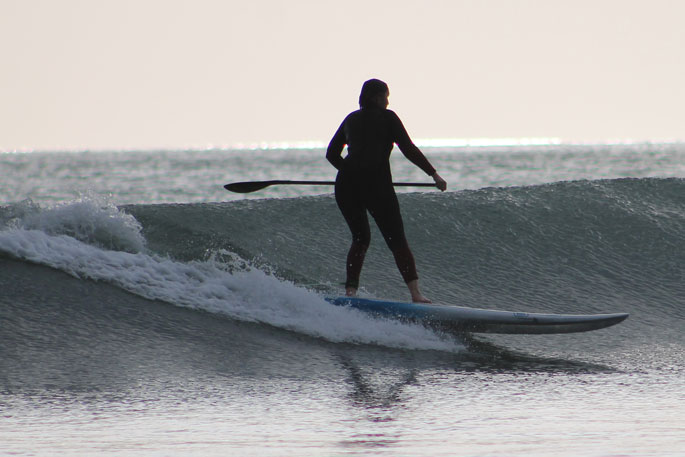 In the 2020/21 financial year, there were 31,635 new claims accepted for water-related injuries, the highest in three years.
The cost of water-related injuries in 2020/21 was over $83m, the highest cost over the past five years.
In 2021/21 there were 6,100 surfing injury claims accepted. The highest for the past five years.
"As surfers we have to respect the ocean and acknowledge that our sport is an extreme sport and does have its dangers," says Lee Ryan, the development manager at Surfing New Zealand.
"It's just knowing how to minimise the risks and that comes with experience."
ACC Injury Prevention leader James Whitaker says it's the Kiwi way of life to be in and around the water.
"We're huge supporters of people getting out and following their passion, whether that's time with the whānau by the beach or fishing at their favourite spot on the river," says Whitaker.
"We want people to enjoy life knowing that ACC is supporting them to stay injury free and to get back to everyday life when things go wrong."
Drowning is the leading cause of recreational death in Aotearoa. It's the third-highest cause of accidental death, with 74 preventable fatalities in 2020.
James says underestimating the risks and overestimating ability are the biggest mistakes people make when they're in the water.
"Most drownings and water-related injuries are preventable if we all take a moment to consider the risks."
"I'll always remember that day"
When she's surfing these days, Verity has her injury at the front of her mind.
She says her injury was preventable. Verity has three points of advice for any surfers or SUP boarders this summer.
"The first is 'Don't Be Greedy'. Every surfer always wants one more wave. The moment you are starting to get tired – come in then. Don't go for two or three more," she says.
"The second is keep an eye on the conditions – watch for the wind and if it picks up recognise that danger with a lighter board.
"And thirdly, my husband and I have recently completely a Surfers Rescue Course run by Surf New Zealand.
"Surfers are so often the first responders to drownings or accident on the beach. So it's important they have the right skills to be able to help. I would urge any surfer to do that course. It was empowering and could give you the skills to save someone's life."
Advice from Surfing NZ
Surf within your skill level – if in doubt, don't paddle out
Use the correct surfboard for your ability and the conditions
Make sure you keep your equipment in good condition – any open dings can cause injury. Check your leash for cuts and check the leash string where it goes into your deck plug to make sure it is not worn.
Never ditch your board – your board is a floatation device and it will bring you back to the surface.
If you are a novice get a lesson from a Surfing New Zealand approved surf school or qualified surf coach – it's the fastest and safest way to improve your surfing.
A list of Approved Surf Schools can be found here