A campervan has been blown over on its side on State Highway 5.
There are also reports of trees down in the Bay of Plenty after a blast of wind and rain came through the region on Sunday afternoon.
Police are advising road users using SH5, between Taupo and Hawkes' Bay to take care as high winds are affecting the area.
The campervan is on its side blocking the southbound lane approximately 2 km south of Te Haroto.
There were no reported injuries.
This partial blockage may remain for some time until the winds subside and the campervan can be removed. Police and contractors are on site to ensure safety for road users.
Motorists especially those with high-sided vehicles, including caravans and campervans are advised to exercise extreme caution while driving in the area that's commonly known as the "Windy Gap".
Meanwhile the MetService is reporting that an active front, preceded by strong to gale north to northwest winds, is moving east across the North Island today, bringing periods of rain to many places. Warnings and Watches for heavy rain and severe gale north to northwest winds are in force for many parts of central and northern New Zealand.
There are reports of trees having come down due to wind gusts and rain during a one hour period on Sunday afternoon, near Rotoma School, Te Puke near No 3 Rd, and in the lower Kaimais near Kaimai School on SH29.
More rain and westerlies are expected later this afternoon.
People are advised to keep up to date with the latest forecasts in case any changes are made or more areas are added to the Warnings and Watches.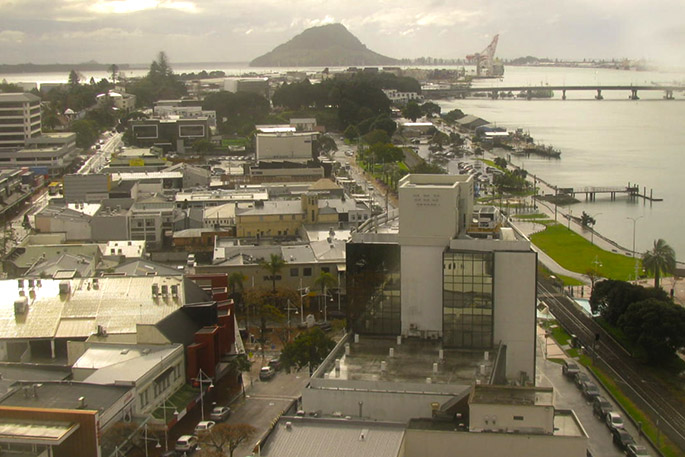 Tauranga weather camera view at 1.50pm, Sunday July 14.