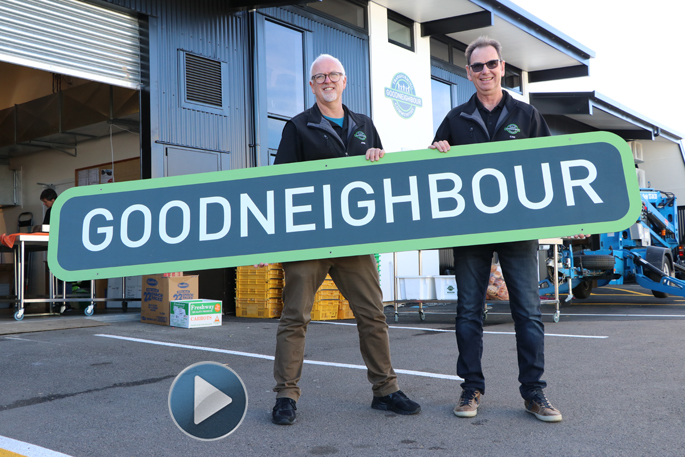 Click the image above to watch the video
Good Neighbour is celebrating the revamp of its headquarters on Burrows Street this evening.
The renovations made to the organisation's facility enables food to be distributed throughout the community more efficiently, as they now have additional space to store and sort through donated food.
Food coordinator Jackie Paine says the inclusion of a new commercial kitchen in the facility is what Good Neighbour staff members are most excited about.
"It has been a dream of Good Neighbour for about three years to have a kitchen, we already run the food rescue service and we are putting through about two tonne of food a day from local suppliers and supermarkets, food that's good enough to eat but not good enough to sell anymore.
"The kitchen is going to be a training centre for people into further education and employment, it's also going to be a social enterprise, so we do corporate platters, we cater events.
"It's also further using the waste that we have in food rescue."
Kitchen consultant and teacher Lee Pearce says working in the kitchen is a very rewarding experience, as he can share his cooking knowledge with students, as well as producing delicious food for the catering company.
"Everyone here is volunteering, so they come with willing hearts and they want to learn something, and they also want to give.
"We give something back to them in terms of the learning, and we make some products out of it."
Glen Rogers is one of Lee's students in the Good Neighbour kitchen. Glen says Good Neighbour have given him incredible opportunities, allowing him to change his life around.
"Being with these guys helped me get back on my feet because I sort of fell out of society, and these guys have accepted me for who and what I am and helped me to get things together again in practical terms and socialising.
"I've been experimenting with food since I was a lad, took a while to get into the industry. I've had all sorts of hiccups with my food career, and this is my opportunity to start from scratch and get things right."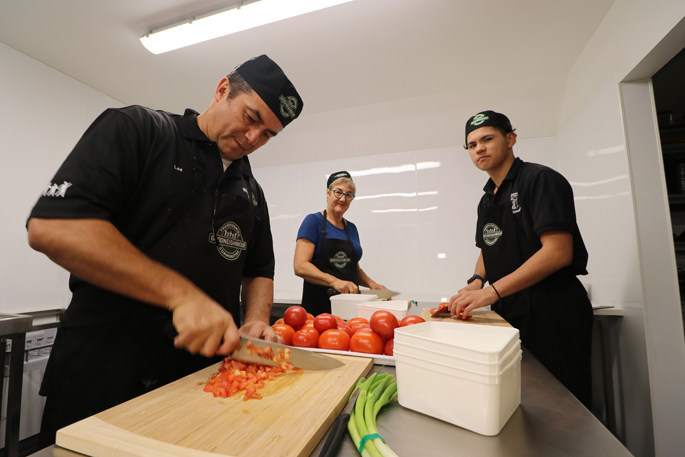 Lee Pearce preparing for the dinner service. Photo: Daniel Hines/SunLive.
Not only are Good Neighbour a food rescue organisation.
Volunteers and students go out into the community to work on neighbourhood projects, such as their community gardens.
Project Manager Todd Rowling says they get referrals from the agencies food rescue work with, and they help families who are struggling.
"We might do their outside, care for their property.
"Our job is to just go and give them a hand, give them some hope in their situation and a little bit of encouragement."
Community Impact Director Cam Hill and Food Impact Director John Paine are overwhelmed with the efforts of their staff and volunteers.
"It's wonderful to have these people come down and to give back and serve in our community," says Cam.
"We take away some rubbish, clean up backyards, a lot of these things might be small things, but they add up.
"A backyard for example could lead to an eviction, which could lead to homelessness. By coming in, it just takes the weight off that family."
The success of the Good Neighbour comes down to collaboration, says John.
"Collaboration is one of our core values, and we believe that when you come together, everyone giving their small bit, the output and what you can achieve is so so much more.
"That's what we're seeing, when we can get corporates, we get volunteers, we get old, we get young, and everyone's got their little bit.
"The outcome from that is just wonderful."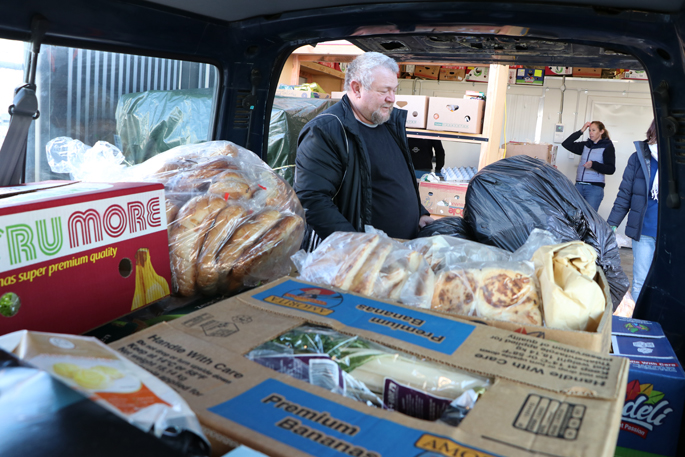 Food rescue items are distributed throughout the community daily. Photo: Daniel Hines/SunLive.