A student at the University of Waikato's Tauranga Campus is standing up for her peers, as they plan to graduate in a few weeks.
Jessie Elvy says she and other fellow graduating students are frustrated by the organisation of the event.
Following the opening of the new campus in the CBD in April, University of Waikato has decided to host the graduation ceremony in one of the lecture theatres, rather than in a local venue such as Baycourt or the Trustpower Arena.
"The graduation process this year changed for us. We were meant to be sent automatic invites once our grades had been received, and then we were told to accept the invite before a certain date. Except me and a whole lot of other students didn't receive them, even though we had finished our qualification.
"So we had to chase this up. It took about three phone calls, a couple of emails, and then my last resort was an angry message to the Waikato University Facebook page to get an invite, which I finally got."
Jessie says it wasn't until Monday, May 20, that she received further information on the graduation, two weeks out before the ceremony.
"We all thought we could purchase tickets as we thought it would be at the Trustpower Arena like the Toi Ohomai graduation was, or at the Holy Trinity Church. We were told it's going to be at our new facility in a lecture theatre, where there will be about 30 seats.
"That's why we are only allowed two guests, and our other guests will go into a room for it to be live streamed.
"Our graduation is at 12.30pm and the next ceremony is at 2.30pm, so it doesn't give us very long."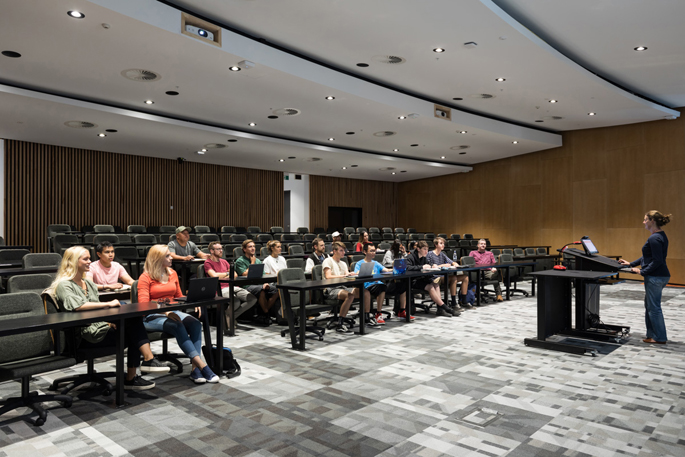 One of the lecture theatres on campus. Photo: John Borren/SunLive.
With students contacting the university complaining in regard to lack of family allowed into the ceremony, Jessie says a few extra tickets have been made available.
She says if people are flying over to be at the ceremony in support of a graduate, it's classified as a special circumstance, where they can have another ticket.
"If everyone is having people flying over, how are they going to fit in the lecture theatre?"
Jessie says the university has not confirmed the final graduation information with the students.
"We have had bits and pieces, I had no idea what time our ceremony was until another girl said it is at 12.30pm. Nothing has been sent out."
SunLive have contacted the University of Waikato's Tauranga campus and are still waiting for a response.