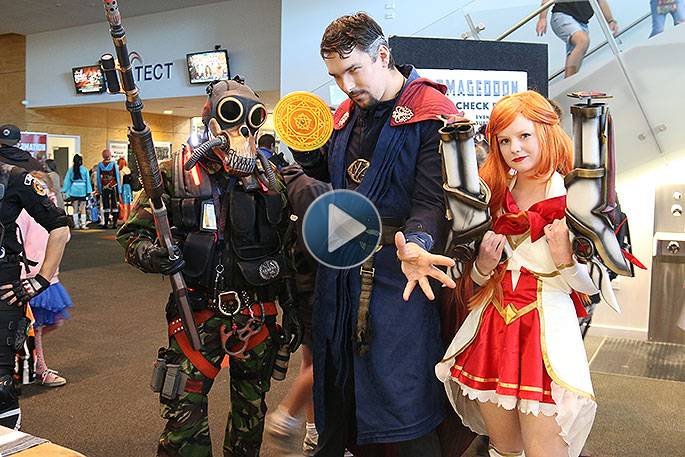 Click the image above to watch the video
Returning for its third year in a row, Armageddon Expo is back in Tauranga this June 8 and 9, once again transforming Baypark Arena into pop culture wonderland.
Armageddon is New Zealand's largest entertainment event and one with something for everyone. Fans of comics, gaming, anime, cosplay, film and television will be spoilt for choice.
'#BAYOFGEDDON' 2019 features a chance to meet celebrity guests from Lucifer, Outlander, Shadowhunters, Teen Wolf, The Hobbit and so many more from the worlds of film and TV, animation, comics and beyond.
"Celebrity guests are available for public panels, photograph and autograph sessions throughout the weekend," say the organisers of the popular event.
"Event attendees will also be able to enjoy a huge range of in-show events including; the famous Armageddon Cosplay Contest and Parade, a Dragon Ball Kamehameha Contest and Chilli Eating Contest with the chance to win free power from Electric Kiwi, animation screenings from Madman Entertainment, live wrestling from IPW, trading card tournaments from Card Merchant, Virtual Reality experiences and e-sports gaming from The Cave and Omen by HP as well as lasertag from Megazone.
"Come dressed up as your favourite character and experience the joy in spotting others dressed as characters you know and love!
"Get your photo professionally snapped at the Hewlett Packard Photo Wall or come dressed in your best X-Men Cosplay and snap a photo with the X-Men Dark Phoenix display to be in to win a $1000. Watch robots battle each other in the Stupid Robot Fighting League or figure out your escape from Escape Rooms Tauranga. There really is something for the whole family!"
Plus, those attending can browse a huge range of geeky merchandise from handcrafted NZ art to popular NZ and global companies including Mighty Ape, Hewlett Packard, Hobby Zone, Arkham City Comics, Millennium Collectables and so many others.
Tauranga Armageddon is set to be a massive weekend, do not miss it, say organisers.
Tickets are available at the door and online now at www.iticket.co.nz
SunLive has three double passes to giveaway to Armageddon in June. Enter the competition here.
Make sure you entries are received by May 30.