Three students from Papamoa College have earned 'bragging rights' after becoming the fastest team to convert a standard mountain bike into an electric bike.
Several groups at last Friday's launch of the EVolocity programme into the Bay of Plenty entered the competition, armed with a bike and a simple tool kit.
The teams were provided with a battery and an electric motor, a set of instructions and lots of duct tape. At one point a call came out to see if anyone had a hammer… a chain needed shortening.
Despite wiring, re-wiring, trial and error, the students took to the task with gusto.
Parents, teachers and sponsors, as well as EVolocity National Programme Manager, Les Black, were on hand to sort out tricky stuff and even let a hand.
Flight Lt, Aaron Hills, willingly shared his electrical and engineering knowledge with the teams, wishing NZ Defence Force had sponsored the programme years earlier.
"We have several roles that entirely link to the thinking and skills learned through EVolocity, and we see our investment is for the future."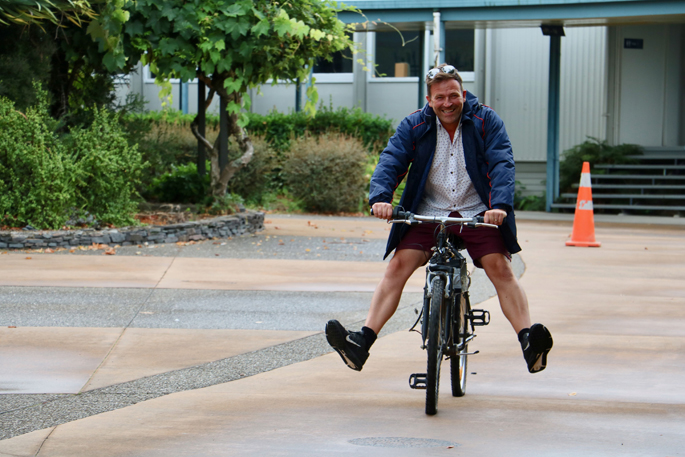 Papamoa College's Teacher of Technology Mike Wright taking the e-bike for a spin.
Keen interest from local secondary schools has driven charitable trust EVolocity to establish its Build-an-Electric-Vehicle challenge programme in the Bay of Plenty, bringing in inline with over 100 schools in central regions around New Zealand.
During the year, with tutoring assistance and facilities kindly made available at Toi Ohomai, as well as trades training partners, community and industry experts, the teams design and build their two or three-wheeled electric vehicles culminating in a series of highly competitive regional and national finals.
Friday's event is a precursor to the programme starting with secondary schools in Tauranga and Katikati this year. Without founding BOP sponsors, Tauranga Energy Consumer Trust and Bay Trust, the EVolocity plan would not have gained traction in the region.
TECT board member, Mark Arundel, believes EVolocity met the criteria for TECT sponsorship with its sustainability, education and innovative aspects. The programme presents a range of skills, making it attractive to a diverse group of learners.
"Strong team skills makes it vital to succeed in the workplace, and I hope to see more young women take up the challenge here in the Bay as they have in other regions."
Bay Trust's Kenneth Brown says EVolocity's outcomes align with the priorities of Bay Trust and believes the Bay needs to be leading the world by using engineering skills and innovation for environmental changes towards a more sustainable future.
"We are investing in future engineers by supporting EVolocity."
A shout of excitement and the first bike if off on its wobbly test run, sounding a little clunky (something to do with the motor sprocket struggling to align with the rear wheel sprocket) and there was no escaping the proud smiles on the faces of the winners.