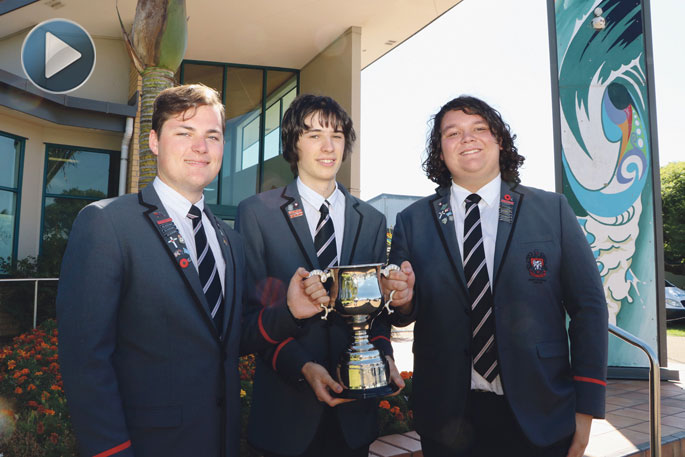 Click the image above to watch the video
You need to choose your words carefully when you are the best debaters in the Bay.
Mount Maunganui College's senior debating team took out top honours at the recent Bay of Plenty Regional Debating Competition, and The Weekend Sun caught up with them to find out what it takes to win an argument.
Year 13 students Louis Donovan, Jonathan Tomlinson and Samuel Taylor are all keen fans of politics, and they like nothing better than a "lively" debate with their peers and teachers.
"We have some lively discussions," Jonathan says, "not so much at home but amongst our peer groups. We have some of our best debates and discussions with teachers as well. We talk it out with them."
But what about when the conversation turns to more unfamiliar subjects?
"We debate some quite random things," Louis says.
"Last weekend we started off with education and then gangs. The one we most disliked was when we had to argue to ban all contact sports.
"You have got what you might say are not the most sporty kids debating about rugby, but then the next one was on politics, so finally we had something we could relate to."
With Louis and Samuel now making up two-thirds of the Bay of Plenty team that will contest the national finals in Wellington at the end of May, and with Jonathan on the reserves bench, it is time to get serious.
Not a huge amount of preparation went into the regional contest, but things have stepped up a notch since then.
Samuel and Louis will head north next weekend to spend time with their two coaches – a pair of Auckland lawyers.
"We have four weekends of debating against other teams and against senior professionals," says Louis. "It'll be baptism by fire, but it should be fun. Lots of preparation goes into it."
Their English teacher, Nick Lyon, is pretty proud of his charges and says it bodes well for the next generation coming through.
He said they have a lot of Year 9 students who have taken an interest in debating, so there should be a strong team for the next few years at least.