One of the hidden pleasures of living in the Bay of Plenty is visiting the Oropi Sunday Market, which is on today from 9am to 1pm.
One Sunday morning before Christmas I found myself on a mission to buy a unique baby shower gift for my niece, who was expecting her second child.
I decided to motor up through the Oropi countryside to the Oropi Sunday Market, to see if I could find a 'one-off' or something a bit 'arty'.
It was a lovely drive, rising through the hills overlooking Tauranga and past the golf course, the popular petrol station, the turnoff to Oropi hot pools, Somerfield's Berry Farm and, finally, past Oropi Cemetery.
My father is buried there, next to paddocks with horses and tall trees, and I know that Mark Dean from Omahanui and others in the local community take turns mowing the grounds. Somehow this makes me feel even more connected to the folk who live along this road.
I carry on, around the next corner, and pull up into a very full Oropi Memorial Hall car park.
This country boutique market, held on the last Sunday of every month, attracts around 30 stall holders, and it's easy to see why.
It's busy and bustling.
From the moment I walk in past the extraordinary Plankenstein-graced entranceway, I find myself fascinated with the interesting array of products and stalls.
"Our stallholders come from Oropi, Welcome Bay, Ohauiti, Papamoa, and even Waihi," says market co-organiser Suzy Cels. "We try and have a variety of different things.
"The marketeers really enjoy coming and say it's the nicest one around. We try to look after them and create a nice family feel."
I look around. There's Bronwyn Double with her Whacky Whistles making enchantingly realistic bird sounds. The smell of fresh bread from baker Anna McLiver wafts across the hall, as does the fragrance of Somerfield roses, sold by Moana Bianchin as a hall fundraiser.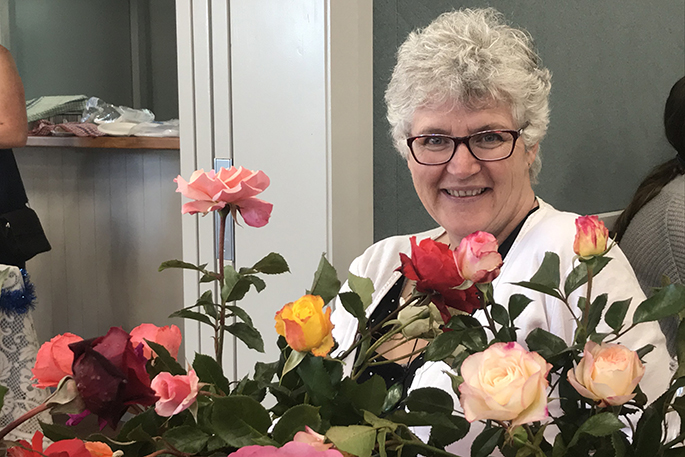 Moana Bianchin with Somerfield roses
Steve and Treve Murray smile and greet visitors to their painted stone stall, Suzy Cels has her paintings on display, and there are vegetables, jams, toys and much more. Eventually I wind my way outside to the deck area where people and children are enjoying food, drink, the playground and the pastoral view of cows and paddocks.
"When the hall was refurbished, they raised more money to help with that by running a market," says Suzy. "I went to that and offered to keep it going with Bronwyn."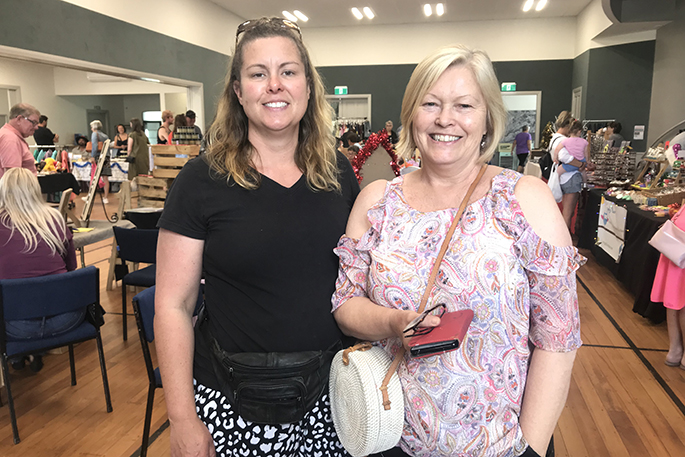 Oropi Sunday Market organisers Bronwyn Double and Suzy Cels
With years of experience as a market stallholder in Australia, Suzy also felt Bronwyn's desktop publishing skills would make them a great team.
"We both enjoy people, and wanted to make it a really nice community thing."
The pair run the market as volunteers, with all funds raised going to the hall.
At that moment I spot Trish Dawick with her creative toys. Most of them are made of wood with no batteries. I love 'old school' toys, so I select one for the baby shower. Perfect!
You can check out the Oropi Sunday Market on Facebook www.facebook.com/oropisundaymarket, or better yet, go for a drive this morning!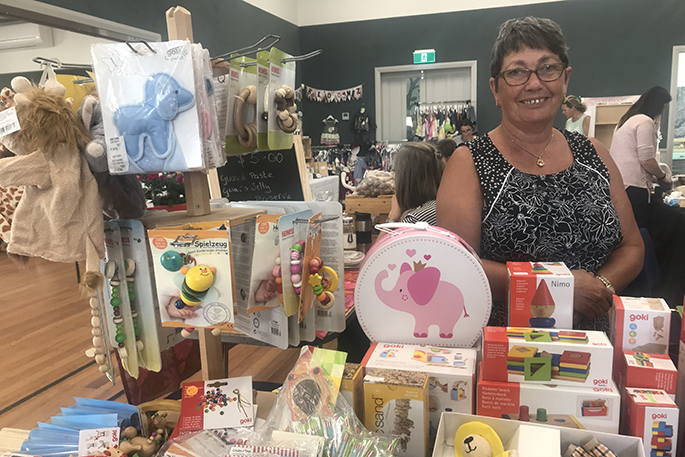 Trish Dawick