Following the success of last year's competition, Chorus together with Keep New Zealand Beautiful, the Creative Bay of Plenty and the Breeze radio, recently relaunched the cabinet art competition in Tauranga.
Already five outstanding submissions have been selected to embellish telecommunications cabinets which otherwise often fall victim to tagging and graffiti.
Chorus Senior Communications specialist Holly Cushen says they found, through its cabinet art programme which began in 2010, that would-be taggers are far less likely to vandalise cabinets with murals on them, out of respect for the artwork.
"Winning designs by artists Alex McLeod, Elise Perie, James Robertson and Shane Walker were chosen for their close connection to the competition theme, 'Under the Sea'.
"Alex Mcleod submitted two wining designs, 'Crayfish' and 'School of Sushi Soy Sauce'. These two pieces will emerge on cabinets located on Fraser Street and on Eighteenth Avenue."
Elise Perie submitted her design titled 'Kina'. She says she feels that this competition aims to highlight the many species of the sea such as the Kina which is native to New Zealand.
Locals can expect to see this one appear at the corner of Courtney Road and 22nd Ave.
James Roberton's 'Deep blue dog' was inspired by the photography of Seth Casteel where dogs are photographed diving into the water chasing down a thrown tennis ball.
"I wanted to create something that's attractive, fun for all ages, refreshing and simple," says James.
He hopes children and parents alike will admire it when it is complete on a cabinet located at the corner of Fraser Street and 18th Ave, close by to Tauranga Intermediate.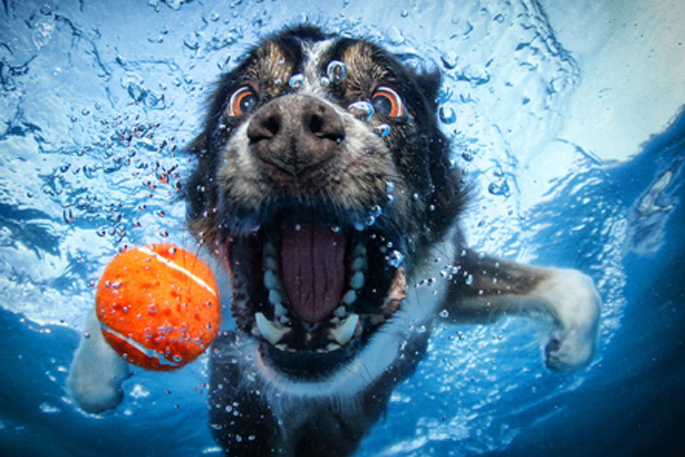 James Roberton's 'Deep blue dog'
Shane Walker has named his piece 'Captain Johnny'.
"Johnny is a salty sea dog covered from dorsal to tail in sea creature tattoos, has broken off the hook and is on the look-out for the next live bait," says Shane.
Shane's sketch will soon be found on Marsh Street.
Shane's piece from last year depicting Mt Maunganui and Matakana Island is situated on the corner of Valley and Golf Roads and earnt the front cover position on Chorus' annual cabinet art calendar.
These works of art will come to life over the next couple of months, and locals are encouraged to visit the cabinet locations and see the works unfold.
Holly says Chours' programme partner, Keep New Zealand Beautiful, is a charity dedicated to keeping communities clean, safe and beautiful.
"Along with tackling litter, the organisation now implements a range of initiatives, including waste minimisation and recycling, community beautification and clean-up events, tree and garden plantings, waterway and highway restoration, sustainability programmes in schools, graffiti removal and reduction.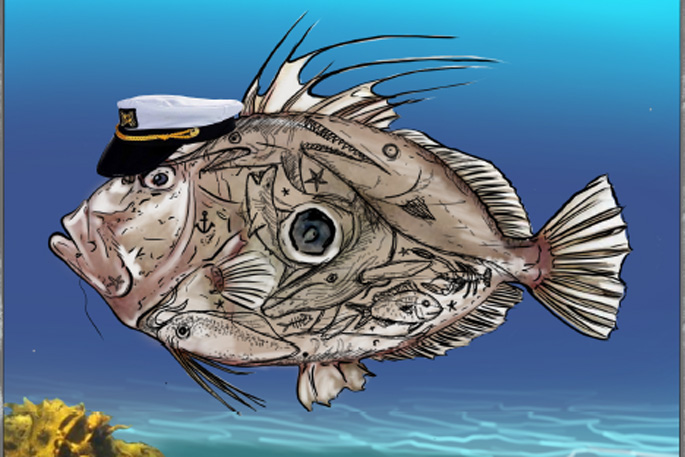 Shane Walker's piece 'Captain Johnny'.
For more information on how you can be involved in the Chorus cabinet art programme, visit www.knzb.org.nz/chorus
To view more of the cabinet art works, visit: https://blog.chorus.co.nz/cabinet-art-gallery/