The Bay of Plenty's biggest musical festival has come to a close for another year.
Heat, traffic and last minute cancellations are just some of the obstacles which have been identified by both its organisers and festival goers following the sold-out gig.
Temperatures rose to nearly 30 degrees for most of the day on Wednesday, which meant long waits for water and tough competition to secure any spot of shade.
Four stages were set up across the sprawl of Trustpower Baypark Stadium and Arena and the layout included a number of food stalls, bars, water stations, arts and rides and medical stations.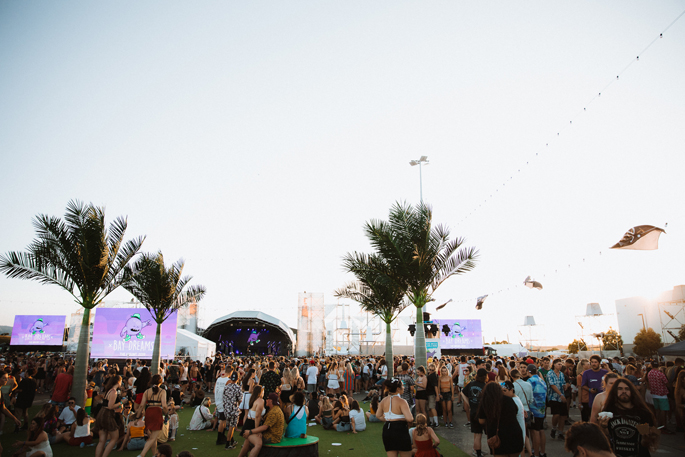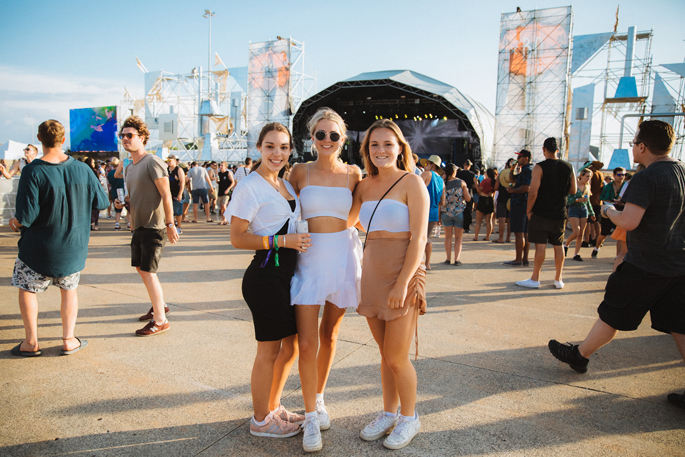 Crowds enjoying the festival.
Near the main stage, layers of people swarmed the two water tanks for most of the day.
The festival featured some of the hottest names in music, including international superstar Cardi B who performed her first of two New Zealand shows at the Mount Maunganui festival.
Other artists included Shapeshifter, Tash Sultana, Sticky Fingers, Peking Duk, $uicideboy$, Macky Gee, Pnau, Katchafire, and many other acts.
American rapper Rich The Kid was one of two last-minute no shows. On social media, he said he had missed his plane to New Zealand.
He had been brought in to replace Migos, after the hip-hop trio pulled out of the festival.
German DJ Virtual Riot, who was to perform one of the final shows on the bass stage, also pulled out of the festival after failing to make it into New Zealand.
"His slightly damaged passport was declined at the gate and he was unable to board his plane," Bay Dreams said in a statement.
Traffic was another speed bump for many too, with all of the main highways gridlocked throughout the city.
A number of motorists who contacted SunLive reported heavy traffic across the city, with wait times of up to an hour or more in certain areas.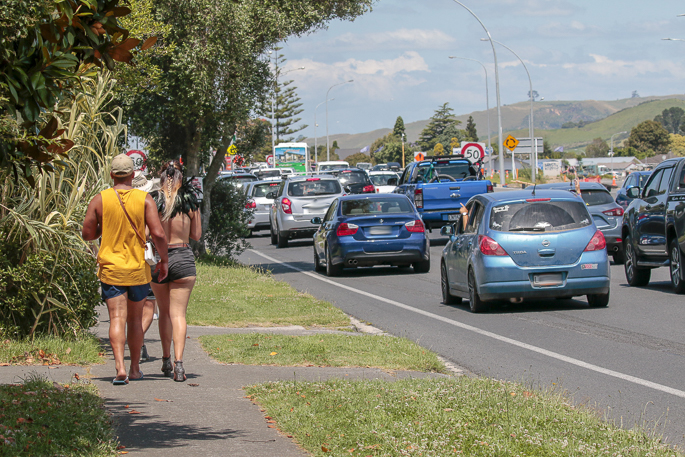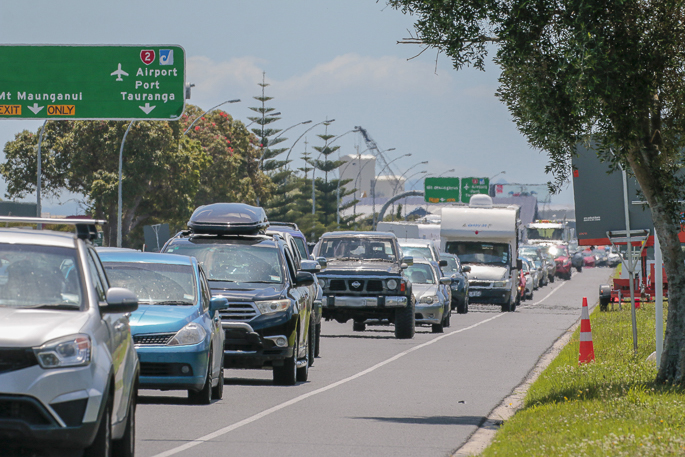 Traffic backing up near Bayfair on Wednesday afternoon. Photos: Bruce Barnard.
Organisers of the event implemented a comprehensive traffic management plan into the festival plans.
This meant a partial road closure of Truman Lane and delayed traffic near Maunganui Road and Te Maunga intersection.
Traffic control was also in place with Stop/Go management on highway crossings.
Area Prevention Manager Inspector Zane Smith says overall the festival was tame.
"Two people were arrested at the Bay Dreams event and several others were removed due to disorderly behaviour.
"Generally, the crowd was well-behaved.
"There was significant disruption to traffic throughout the day, with three reported collisions between vehicles and pedestrians, and one serious nose-to-tail."
His comments are in line with those made by co-organiser Mitch Lowe who says despite some hurdles he's proud of how the event ran.
"Easily my favourite festival set up, brilliant flow of people around the site, and multiple themed stages kept the element of adventure alive.
"There were a few hurdles with demand for buses and a big influx at the entry gate mid-afternoon, these things are to be expected when dealing with record breaking numbers but overall I'm proud of our team for handling it the best we could."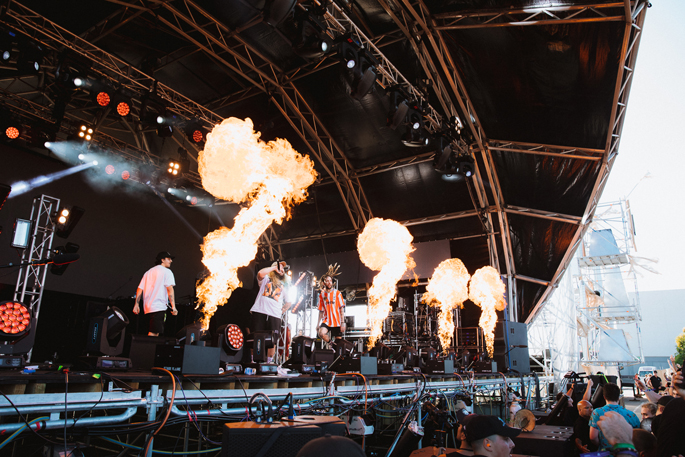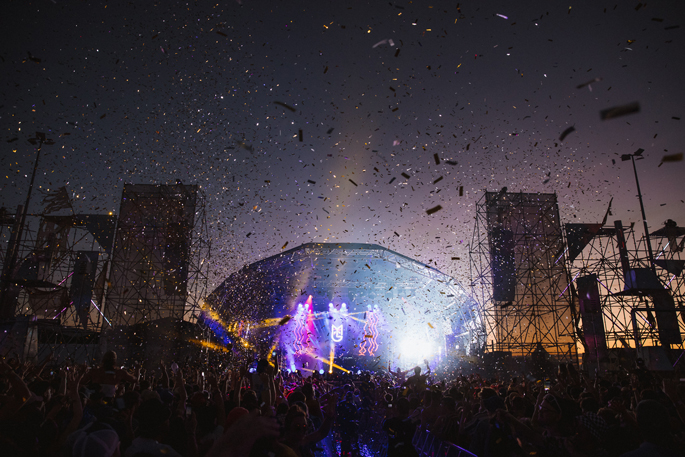 The festival saw 30,000 tickets sell-out within the space of just three weeks.
Mitch says the festival was bigger and better than the last.
"For me the highlight was seeing the themes come to life, we paid a lot more attention to detail on the site this year.
"Alice in Wonderland and Mad Max were great concepts to base the main stages off. I was also really impressed with the flow and short walk times from stage to stage."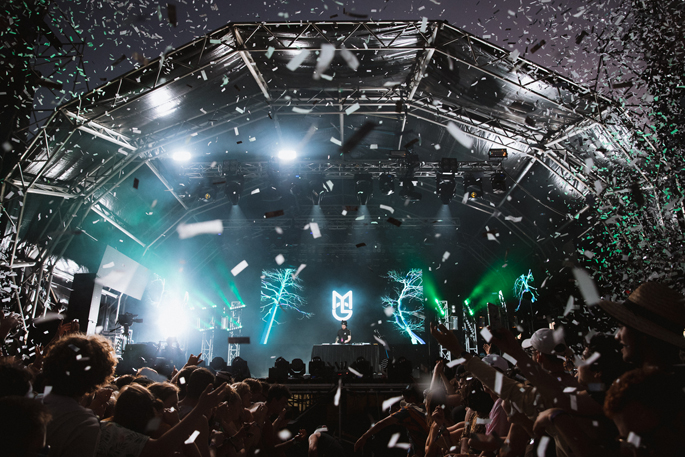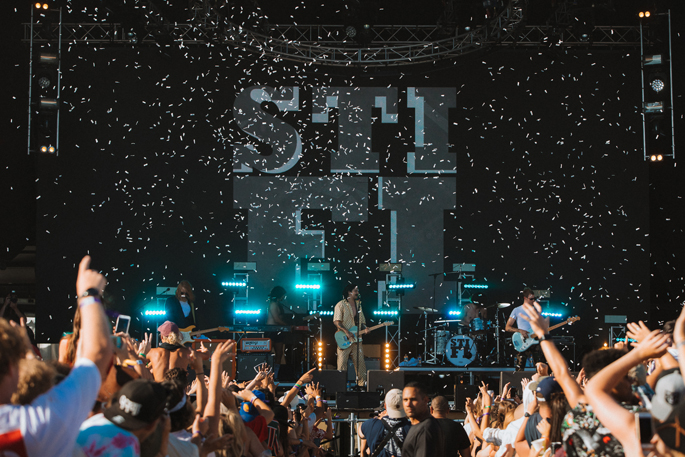 More emphasis has been put into stage design, says organiser Mitch Lowe.
He says the crowd was respectful and positive.
"I'm yet to receive any significant or detailed feedback on crowd behaviour but overall everyone seemed to be in great spirits."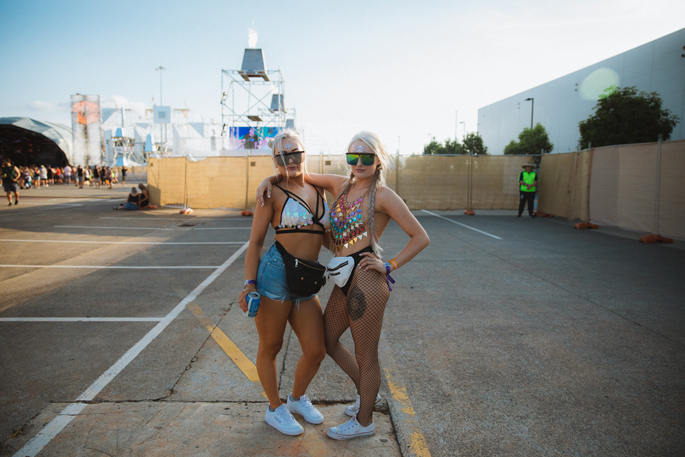 The show was also enjoyed by its performers.
"Almost all artists, including Cardi, said how much they loved New Zealand and how 'beautiful' it looked from the stage."
Mitch says there's still plenty to improve on for next year too.
"This is a growing beast and something we work year round on. We stand proud on what worked well and we can't wait to improve the rest."
Within the crowd were festival goers Yasmin Wilson and Jessie McDonald.
"I liked the general vibe of it, we ended up going a bit later to try and avoid the crowds so the acts I saw were Tash Sultana who was amazing, Sticky Fingers and Cardi B," says Yasmin.
"The music was pretty good, despite some acts not being able to make it and Cardi B isn't really my thing, but she put on a good show.
"Most people seemed to be friendly and I didn't see many people who were drunk or causing carnage," says Jessie.
Both agree while the event was good the wait times were difficult to withstand.
"The lines coming in were long, we got to Baypark at 3.30pm and didn't get inside till 4.15."
Yasmin says further lines to check wristbands and bags and load credit onto the bands meant long wait times in the sun.
"I feel it's one of those things where you will always think about going to so may as well go, but now that I've been I probably won't be going back."
Another woman, Nadia Mantell, says the event was a great experience for her.
"The music was really good, I was able to see three of my favourite acts which was amazing.
"I think the organisation of the festival itself was really well done. There was lots of free water and sunblock which saved my life."
-Additional reporting Stuff.co.nz/Glenn McConnell