Warm wet weather could be on the way for Bay of Plenty, as a severe thunderstorm watch is placed over the region until later this evening.
The watch applies to Bay of Plenty, Rotorua, Waikato, Coromandel Peninsula and Auckland.
"Warm and moist conditions at the surface and sea level convergence are likely to trigger frequent showers," says MetService meteorologist Hordur Thordarson.
"Some of these may be slow moving and thundery, and could bring localised downpours to some areas.
"Rainfall intensities could reach 25 to 40mm per hour with showers expected to ease gradually this evening.
"Rainfall of this intensity can cause flash flooding, especially about low-lying areas such as streams, rivers or narrow valleys, and may also lead to slips.
"Driving conditions will also be hazardous with surface flooding and poor visibility in heavy rain and motorists are advised to take care if travelling."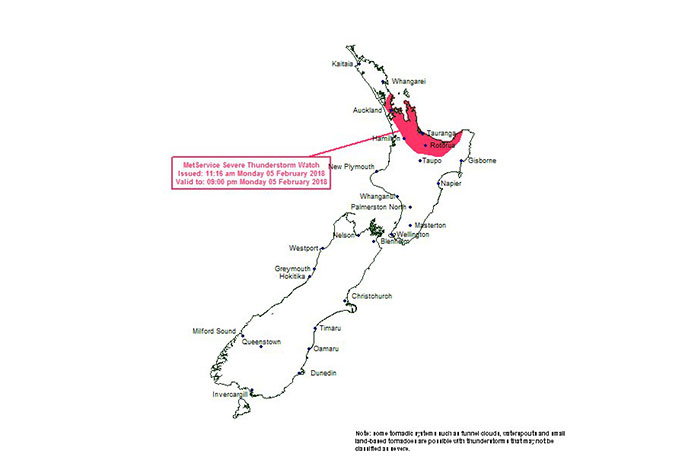 He says people in affected areas should be on the lookout for threatening weather conditions and monitor for possible severe thunderstorm warnings.
For information on preparing for and keeping safe during a storm, see the Civil Defence Get Ready Get Thru website.