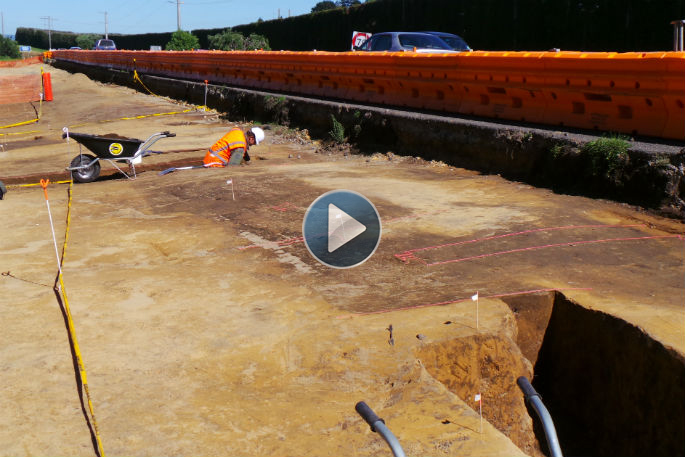 Click the image above to watch the video
Work on the shoulder widening project at Matapihi is expected to be on hold for at least another week as archaeologists complete a quick dig into the past on the Matapihi Peninsula.
A 40m long firing trench is being carefully unearthed within metres of SH29A.
Lead archaeologist Sian Keith believes there may be more under the road.
Covering it over was an option discussed with the New Zealand Transport Agency, Heritage NZ and local hapu representatives before deciding to go ahead.
Kumara pits were expected in the location, a square sunken floored structure with a roof over the top, -but a 40 metre line of post holes wasn't.
"We started to see kumara pits, which was normal," says Sian. "Then we saw a long line of kumara pits, like posts in a long line one after the other.
"Almost undoubtedly it's a Maori trench. By its location and the fact we are not getting the depth of artifacts from a British military style fortification.
"It's not full of beer bottles."
In fact the artefact are few and small. Each wheelbarrow load is sieved to locate small bits and pieces discarded or lost in the bottom of the trench before it was backfilled.
These include part of a slate pencil, some musket balls, and flakes of obsidian.
Sian is hanging out for one of the team to find some ceramics, broken pottery that help narrow down the date.
The trench dates from the mid-19th Century, and its layout reveals it was dug for fighting with firearms, so it could be musket wars or Maori land wars.
The team of about six archaeologists are excavating around undisturbed buttresses jutting from the front and back of the trench.
The buttresses are a clear sign the trench was intended for fighting with firearms says Sian. The buttresses stop someone jumping into one end of the trench and firing at other people along the length of it.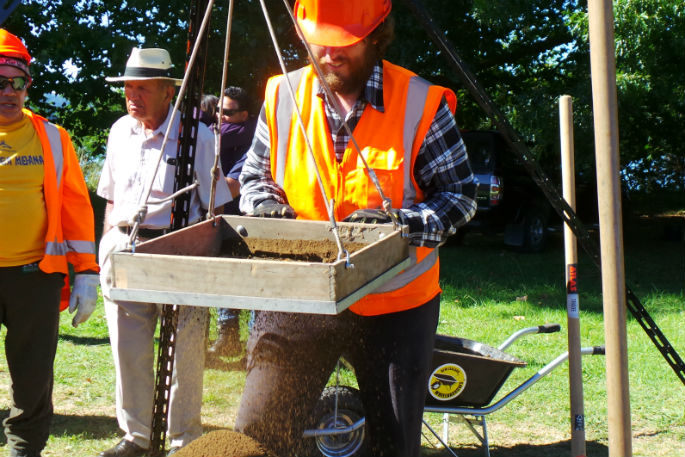 All the earth from the trench is being sieved.
The trench lies between two of the three pa sites along the southern side of Matapihi says Ngati Tapu spokesman Puhirake Ihaka; Oruamatua on the eastern point in Rangataua Bay, Puwharariki in the middle and Te Ngaio at the nearer the causeway.
The three main hapu on the peninsula; Ngai Tukairangi, Ngatoi Tapu and Ngati He, would have built the defensive trench against the tribes across the bay, says Puhirake.
"Like the Scots, they were always fighting each other," says Puhirake.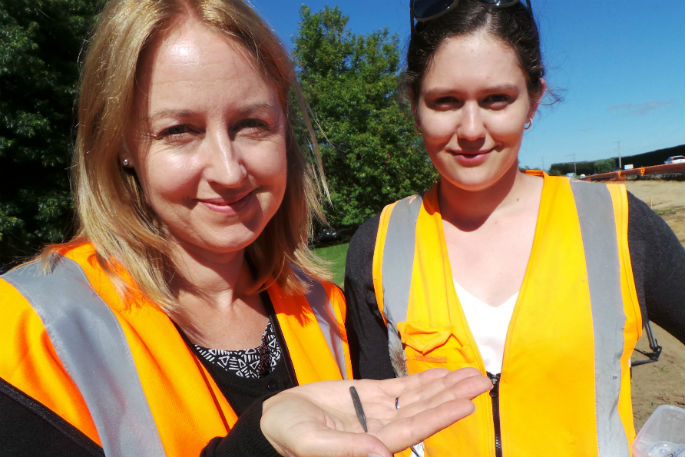 Archaeologists Dr Rachel Darmody and Eleanor Sturroch with a broken piece of slate pencil.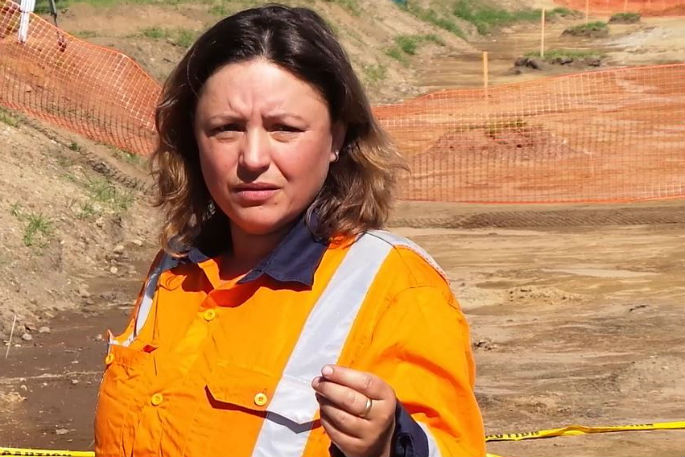 Lead archaeologist Sian Keith.