A family of six, including a baby, are coming to terms with health issues they say they have accrued from three years of unknowingly living in a Tauranga house used to manufacture methamphetamine.
The Pauls moved out after Methsafe inspected the property in early January and found it was still heavily contaminated from more than three years ago, when former tenants were arrested on drugs charges.
Police raided the James Cook Drive property in November 2012, suspecting a meth lab was operating there.

In a media statement, Police say swabs were taken but results weren't returned to them from Institute of Environmental Science and Research until July 2013.

Because of the delay, the information wasn't passed to property owner David McQuoid or Tauranga City Council.

Ngere and her husband Ryan, Ngere's father Tai and three children including the baby girl, who was born while the family was living in the house, are all suffering from health issues, says Ngere.

The now one-year-old was recently in hospital with a severe skin rash across her back, which doctors are unsure how to treat.

The baby used to lie on the contaminated flooring of the house.

"The whole time we were there we had skin rashes, breathing problems, but our baby - who was born at the house - and my dad were the ones we were really concerned about.

"That's why we did the meth test," says Ngere.

"Our baby, one of her rashes just turned into blisters and spread really quickly all over her back and up her neck. We ended up going to doctors and to A&E in Rotorua.

"They were saying it could be chicken pox, it could be shingles. 'We don't know what it is go and see your GP'.

The antibiotic didn't work, and doctors at Tauranga Hospital also didn't know how to treat her, says Ngere. "It's spread that bad and it's eaten away at her skin."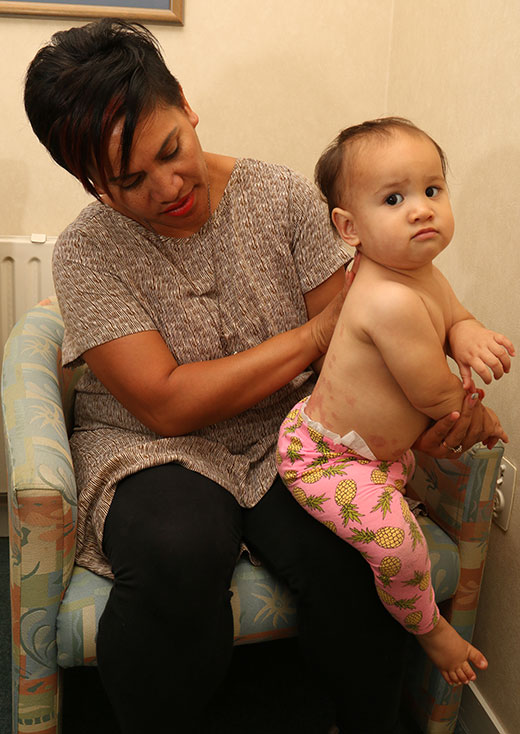 The 11-month-old's back from lying on the flooring of the former P lab.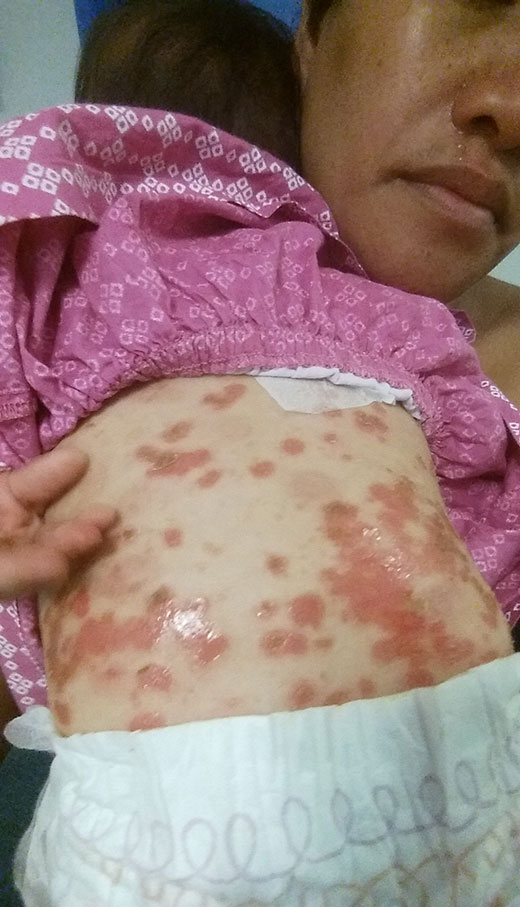 "What's frustrating me is every time we talked to a doctor, or even a nurse prior to coming into Tauranga Hospital their reaction, is 'Oh we are really sorry to hear that you have been through that, but we can't really be certain if this is from that'.

"It looks like the whole attitude towards it has been really blasé. People don't know what it is. Everything in my gut and my husband's gut is, it is that house. Five doctors have never seen anything like it. They are told it might be a rare form of eczema," says Ngere.

"We know eczema. Our four-year-old has suffered back eczema since she was six-months-old. We know what eczema looks like and this is not it."

She says they had Methsafe test the house after repeated requests to their landlord David McQuoid failed.

David says the first indication he had of the house's toxicity is when Methsafe conducted tests in January 2016 at the tenants' request, and they were positive.

"Methsafe rang up to say 'We have done a test on your property – and it came up positive'."

Police told him previous tenants were arrested as a result of the 2012 raid, and they said there was drugs, but he didn't hear anything else, says David.

"And we found out a week ago that police did do a test but their administration team failed to let us know the response of the test," says David. "We found that out, it was the beginning of February or end of January this year."

Ngere says David did know about the house's P-lab history because she confronted him about it upon signing the lease. When she asked him if the house had been professionally decontaminated, he said it had been.

Methsafe director Jess Hall says David was told by police the P-lab was in the house when they raided the property in 2012.

The law is landlords are obliged to provide a clean property to tenants. If landlords rent out a property that is contaminated by 'P', they are breaching their obligations under the Residential Tenancies Act 1986, as well as other legislation such as the Building Act and the Health Act.

"The tenant called me because she asked the owner to get it tested because her family was getting sick," says Jess.

"All the health problems she (Ngere) pushed aside, because she thought it had been cleaned," says Jess.

Doctors believe the ongoing health issues with the young family is a mystery virus. After three years the tenants paid for the testing themselves, which is not a cheap process.

"It had never been cleaned," says Jess. "I did have that conversation with the owner that Ngere was under the impression that it had been professionally cleaned."

Jess says the house is now condemned, and the family have lost all their possessions which after three years are also contaminated.

The James Cook Drive house is the highest level of contamination the insurance company has seen, says Jess.

"That's because the house was left uncleaned for about four years. In those four years, it (the contamination) spread throughout the house.

"When you go through the list of what you experience from a meth lab, they have got everything ticked."

Jess maintains the responsibility remains with the property owner, as he is required by law to rent a healthy building.

"There's no excuses even, if the council didn't tell him," says Jess.

While police didn't pass on the information to the council, it's not a legally required process. It's not included in the bylaw, says Jess.

The Welcome Bay property first became the subject of police interest in 2012, when it was suspected that methamphetamine was being manufactured there, says a statement from Police National Headquarters.

A subsequent search warrant executed in November 2012 resulted in swabs being sent for ESR analysis, with results coming back in July 2013 confirming that was the case.

A joint investigation by the New Zealand Police Clan Lab Response Team and Tauranga Police subsequently resulted in a number of people being charged and prosecuted for various drug offences.

Those involved in the offending have no connection to the current tenants or owners of the property.

Though not a legal requirement, Detective Senior Sergeant John Brunton, manager of national clan lab response, says once the ESR analysis had confirmed the property had been used as the site of methamphetamine manufacture, the City Council and property owner should have been formally notified as a courtesy of its status in the interests of health and safety.

"Unfortunately, due to the length of time between the property first being assessed and then finally being confirmed as being used for meth manufacture, the normal notifications that should take place as a courtesy to the owner and local council were overlooked by police. We have since written to all parties and have apologised for our error.

"We are focused on making sure our administrative processes are more robust in future to ensure that this does not reoccur," says John.