Prime Minister John Key has got his Tauranga visit off to a positive start with an impromptu political poll from college students favouring him to retain his seat as Prime Minister.
In front of about 450 Year 13 students from both Tauranga Boys' and Girls' Colleges, John Key this morning heard how 49 per cent of the boys and 59 per cent of the girls would vote in his favour at this year's general election.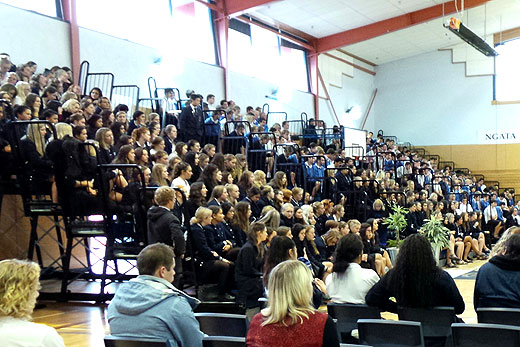 A combined assembly of Tauranga Boys' and Girls' College students listened to John Key this morning.
Tauranga Boys' College principal Robert Mangan says the results come from a poll asking students 'if there was an election today, who would win?' and 'who is your preferred Prime Minister?' - undertaken prior to the assembly.
Boys' College students gave 39 per cent of the party vote to the National Party, followed by Mana-Internet and then Labour and the Green Party.
Tauranga Girls' College students voted 49 per cent for National, 20 per cent for the Greens, and 16.7 per cent for Labour.
The special assembly is part of John Key's day-long visit to the city where the Prime Minister is meeting with different city groups before visiting a childcare centre in Bethlehem.
At the joint assembly today the Prime Minister told students they face a bright future thanks to the internet and a highly competitive, multicultural society offering endless opportunities.
"The best years are still ahead of New Zealand because of a massive explosion of middle income wealth in Asia. It's going to create the biggest transformation of wealth in the region and obviously New Zealand is set to reap the benefits from this."
"The internet is transforming New Zealand and the great thing about it, is you can have a career and run it from Tauranga, Queenstown or Invercargill, wherever you are and you can connect with the rest of the world."
He then had a quick fire question and answer session fielding student questions on the GCSB, tertiary education and student loans, housing and youthful voting.