This Sunday, Myles Darrell and members of Tauranga Disc Golf are offering a chance to have a go at the low-key sport, which combines elements of Frisbee-throwing and golf.
Disc golf, often called frisbee golf, is a fun activity ideal for all ages, requiring participants to get their disc through a basket attached to a tree as they walk through the course.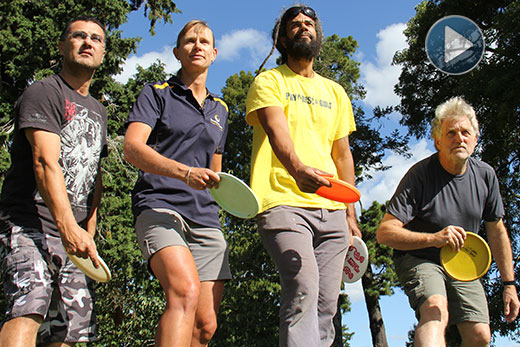 Click the image above to watch the video
New Zealand 2011 champion Dean Marshall, Sport BOP recreation advisor Jen Riley, and local disc golf players Myles Darrell and John Lee practising their throws. Photo: Tracy Hardy.
Similar to golf, players aim to get the disc from the tee to the basket in the least amount of throws.
Myles, the event organiser, says there has been major growth in the sport's popularity in recent years and he would love to hear from others interested in getting involved.
The game is mainly played informally around the Western Bay, while group members also meet monthly for an organised weekend game at Ohauiti Park, Yatton Park or McLaren Falls Park.
The open day is at Yatton Park from 10am-4pm, with those taking part encouraged to bring a Frisbee.
Entry is gold coin donation, for details call Myles on 021 921 417.