Rocket Lab director of communications Morgan Bailey. says there was an overwhelming feeling of joy, excitement and relief amongst Rocket Lab staff on Tuesday following the launch of CAPSTONE as it was by far the most complex mission they had undertaken.
"Huge team effort, so much work, so much new technology, so everyone quite literally is over the Moon," says Morgan.
On Monday July 4, as early as 3am EDT or 7pm NZ time, Rocket Lab's Lunar Photon spacecraft will perform a final engine burn to set the CAPSTONE satellite on course to the Moon for NASA.
The company launched Nasa's Capstone micro-satellite spacecraft from the Māhia Peninsula in Hawke's Bay at 9.55pm on June 28 in what is the first step in Nasa's mission to send humans back to the moon.
"This is a globally significant moment for space exploration," says Morgan.
"CAPSTONE is the first mission launched in support NASA's Artemis program – the agency's program to return humans to the surface of the Moon."
The Cislunar Autonomous Positioning System Technology Operations and Navigation Experiment – CAPSTONE - will be the very first spacecraft to test the Near Rectilinear Halo Orbit – NRHO - around the Moon.
This is the same orbit intended for NASA's Gateway, a Moon-orbiting outpost that will provide essential support for long-term astronaut lunar missions as part of Artemis.
CAPSTONE was initially launched to low Earth orbit by Rocket Lab's Electron launch vehicle on June 28. A webcast of this is here.
Morgan says the launch went flawlessly.
The mission had been two years in the making and was the most complex they had carried out to date, she says.
The track it will take for orbiting the moon has never been flown before.
Rocket Lab says there is still much to learn from the Moon 50 years after humans last stepped foot on it.
Morgan says the Moon had its heyday in the 1960s and 1970s and we have not been back there in 53 years.
"A lot of people ask well why go back to the Moon, haven't we been there already? But we have so much more still to learn about the Moon."
Morgan says they are hoping to use the Moon as a base to explore further into the solar system and beyond.
"But in order to do that we're going to have to relearn about how to go back to the Moon, and so Capstone, the spacecraft that we launched last night, is going to test a ... very unique kind of orbit around the Moon, one that's never been flown before," says Morgan.
"It's the same orbit that Nasa hopes to use with Gateway which is a Moon orbiting outpost that astronauts will travel to and then descend down to the lunar surface to do science."
Capstone cost less than US$10 million which was a very inexpensive mission as far as interplanetary launches go, Morgan says.
"When you put that into perspective against lunar missions in days gone by that took decades and were billions of dollars, you can see how it starts to be possible to do much more science with much smaller rockets."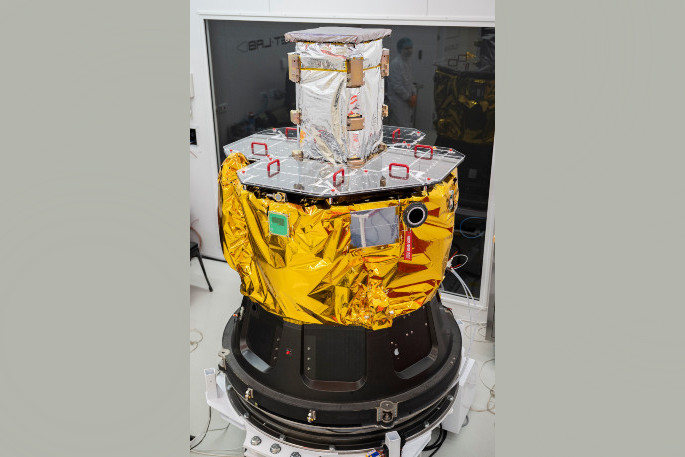 Rocket Lab Lunar Photon Spacecraft with CAPSTONE Satellite integrated. Photo: Rocket Lab.
Systems had been developed to get the spacecraft from Earth to the Moon using less fuel which involved doing it more slowly, Morgan says.
"Photon attached to the Capstone spacecraft does lots and lots of orbits of Earth and every time it does an orbit of Earth it gets a little bit faster to try and push it further and further away from Earth."
It has a small engine which gets it further away from Earth every time it fires, she says.
About six days after the launch something called a trans-lunar injection takes place, she says.
"So a final burn of that engine which will then set Capstone off on a very far distant course."
At that point Capstone will be travelling about 40,000 km per hour and the spacecraft overshoots the Moon, but the Sun's and the Moon's gravity are used to bring it back within lunar orbit, Morgan says.
Since the launch, Rocket Lab's Lunar Photon spacecraft has provided in-space transportation, power, and communications to CAPSTONE.
On July 4, after several days of orbit-raising burns, Rocket Lab's Lunar Photon will carry out one final burn and release CAPSTONE on its ballistic lunar transfer trajectory for a solo journey the Moon.
Rocket Lab will be live streaming this burn and moment of separation from Mission Control via www.rocketlabusa.com/live-stream.
"This has been, by a long way, Rocket Lab's most complex mission yet and demonstrates our capabilities beyond launch and into spacecraft design, build, and operation," says Morgan.
The CAPSTONE mission was Rocket Lab's 27th Electron launch, but it also featured several significant technological firsts for the company's space systems capabilities, including:
First use of Lunar Photon, a high energy variant of the Rocket Lab designed and built Photon spacecraft. (Rocket Lab previously launched and continues to operate two low Earth orbit variants of the Photon spacecraft)

First mission beyond low Earth orbit. (A typical Rocket Lab mission deploys satellites to around 500 km from Earth. Lunar Photon will deploy CAPSTONE to around 1.3 million km from Earth)

First use of the HyperCurie 3D printed engine, designed and built by Rocket Lab, to provide in-space propulsion

First collaborative mission between Rocket Lab and Advanced Solutions Inc, a Colorado-based flight-software company acquired by Rocket Lab in late 2021

First time using the FR-lite satellite radio, a near and deep space capable small spacecraft telemetry and control radio technology that Rocket Lab has an exclusive license agreement with Johns Hopkins University Applied Physics Laboratory to manufacture.

First time a Rocket Lab Electron second stage has deorbited and reentered Earth's atmosphere the same day as launch, leaving behind no space debris.

First time planning and executing lunar trajectories