Sara Hughes has positively transformed the Willow St bus shelter area through the creativity and vibrant light of her art installation, 'Midnight Sun'.

Renowned for her immersive public works, Sara begun developing Midnight Sun in early-2021 after she was approached by Sonya Korohin, who is director of Supercut Projects – a Tauranga-based company that works with the creative and heritage sectors.

Midnight Sun's intention is to "bring change to a site which has become run down through colour and light – I want to bring an optimistic glow to the area," says Sara.

"[Willow Street] is a site that has a number of social issues which is really important for me-to create a work that brings a lot of positivity to the site," says Sara, who felt unsafe at the shelter when she visited Tauranga on a trip years ago.

Sara says the essence of her work is about sunset and capturing the light, colour, and affirmative feelings that are gained from the natural occurrence.

Amidst the art

The artwork is no small feat either – with Midnight Sun incorporating 96 glass panels.

"Most of them are about three metres long so they're quite sizeable pieces of glass," says Sara. The total canopy of glass that the installation creates is approximately 80 metres and the large scale allows ample audience interaction.

"My aim is that it is an artwork you can walk under and view as you walk past. This experience is really important – you're in the work really, and the colours reflect around you and are cast onto the pavement."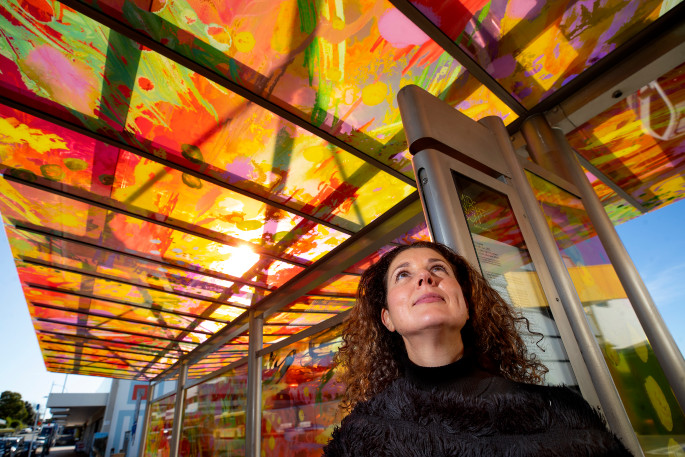 Artist Sara Hughes, who has a special knack for public works, has created 'Midnight Sun' to bring positive light to the Willow St bus shelter area. Photo: John Borren.

Walking within the sunset glow of the corridor, Sara says: "You'll see glimpses of photographic imagery with painted imagery. It's very layered so you have to look quite carefully".

Having collaborated with local photographer Anne Shirley, who photographed every Tauranga sunset of June last year, the work beautifully intertwines Sara's colourful paintings with photographs upon the work's glass.

Round the clock

The installation can be enjoyed with its 'round the clock' presence – by day the piece will be illuminated by natural light and by night it will glow with "sunset temperature" lighting.

"[That's] the idea of the work Midnight Sun – it's a sun that doesn't set, you can see it at day or night," says Sara.

Midnight Sun was unveiled on June 21, the Winter Solstice, to acknowledge "the importance of Matariki and the idea of the light rising again".