Two Bay of Plenty artists have made the finals of a nation-wide art competition.
Tauranga's Anne-Marie Simon and Whakatane's Lea-Anne Sheather have both recently been named finalists for the 2022 Parkin Drawing Prize - New Zealand's premier award for drawing.
The competition attracted an impressive 589 entries, making it the highest number of entries since 2014 – a year after the prize launched. Of those entries, a short-list of 76 works have been selected for the national drawing competition.
Attracting a major prize of $25,000, 10 highly commended prizes of $500 will also be awarded.
This year marks the 10th anniversary of the award which was founded and donated by arts patron Chris Parkin since 2013.
"It's quite humbling to see such a strong number of entries for our 10th anniversary," says Chris Parkin.
"It goes to show that in the face of adversity, creativity in all its forms seems to thrive, and the human spirit shines through."
An advisory panel, consisting of leading painter John Walsh of Aitanga a Hauiti/ New Zealand Irish descent, contemporary ceramics artist Virginia Leonard, and New Zealand artist Matt Gauldie, spent hours assessing hundreds of entries before coming up with the short-list.
The works will be showcased at the Parkin Drawing Prize exhibition at the NZ Academy of Fine Arts, from August 2 to September 11, and the winning submission will be selected and announced at the gala announcement of the Parkin Drawing Prize exhibition on Monday, August 1.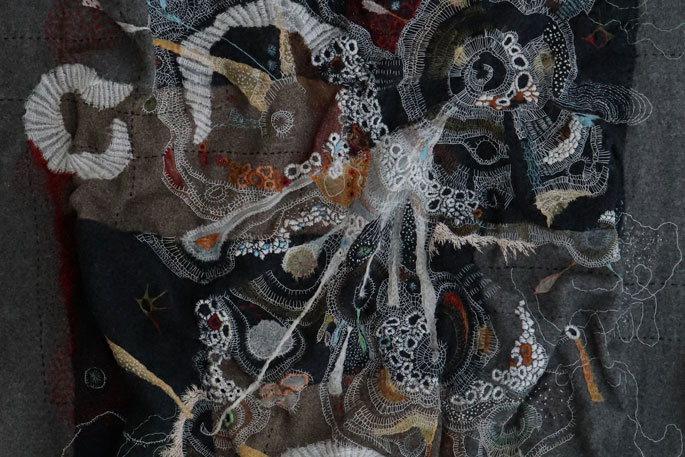 'Blessings Bequeathed' by Lea-Anne Sheather. Photo: supplied.
Works in the award exhibition range in size from the small (46mm x 46mm) to the very large (3000m x 3000m).
Entries have been received throughout New Zealand from Kaikohe to as far south as Dunedin and overseas including Australia and Hong Kong, and have used some unusual materials, including artist's hair, a bird's nest, harakeke, a wedding dress, recycled wire, marble, and hand stitching.
All the artworks in the 2022 Parkin Drawing Prize shortlist will be for sale giving admirers and collectors the opportunity to purchase some wonderful pieces which are unlikely to be seen again, given many of the finalists are not represented in any gallery.