Rain and snow are being forecast for the for first half of the week.
A frontal system located over southern New Zealand on Monday morning is expected to move slowly northwards over the remainder of the country, bringing a period of rain to most places and snow to inland parts of the South Island.
In Tauranga, fine weather is being forecast for most of the week.
The MetService is predicting rain for Friday and Saturday, but this could change as the week progresses.
MetService has issued a severe weather watch for heavy rain about Westland, and heavy snow about the Canterbury High Country.
Several higher South Island roads will also likely be affected by snow, and ski-fields will be ecstatic to receive a top-up of natural snow after the big dump earlier in their season.
"Snow is forecast to fall down to 400 metres over inland parts of the South Island during Monday and Tuesday, affecting many higher roads and high country farms, while the influence of the relatively warm ocean means the snow level will be a few hundred metres higher near the coast," says MetService meteorologist Peter Little.
The week starts off mostly fine over central and northern New Zealand, with frosty temperatures recorded inland on Monday morning.
"Saint Arnaud was coldest on Monday morning with a low of -3.7°C, while our weather station at Eastern Rangitaiki, near the western summit of the Napier-Taupō Road, dropped to -2.9°C."
The frontal system brings a change in weather pattern to the country, as mild northwesterly winds turn cooler southwesterly with the passage of this front.
Southwesterlies are expected to persist for the remainder of the week, bringing showers to southern and western regions, and mainly fine weather to eastern places.
Showers will be more frequent and heavier as weak cold fronts and troughs embedded in the southwest flow pass overhead, with showers also spreading to eastern areas for a time.
"Snow showers are forecast down to 400 metres over southern New Zealand on Thursday and Friday, which will once again affect some of the higher roads from Canterbury southwards."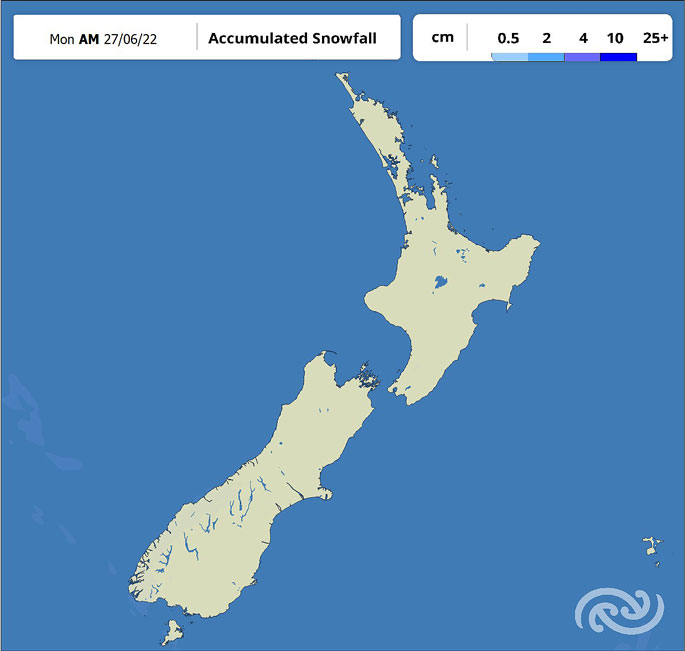 Image: MetService.