Tauranga vehicle retailers and commuters alike are positive about greener alternatives to petrol, which is hovering at just over $3 a litre.
The cost of fuel in New Zealand doesn't look it will drop any time soon and has Tauranga residents exploring greener transport options.
Callum McKenzie is a law student who, due to the current price of fuel, is considering a greener alternative.
"I quite like the Lime scooters- you can pay around $15 dollars for 24 hours unlimited. They're great for small trips. At the moment I have to ride-share with my sister because it's getting up there in terms of prices for students." says Callum.
Damian Fleming, the managing director of Bayride Motorcycles, has had a lot of unsolicited interest from potential motorcycle buyers over the last few weeks.
Damian explains that customers have been coming into the store, telling his staff about the fuel prices, and then looking at motorcycles or scooters as a cheaper alternative.
Petrol costs are not the only driving factor.
"Most of the people have never looked at motorcycles as an alternative before. Aside from the fuel price being a factor, parking and traffic management issues in Tauranga are also issues," says Damian.
Are motorcycles cheaper to drive than cars?
Damian points out that every motorcycle parking space in town is free and that while an average car uses 10 litres of fuel for every 100km, the average motorcycle uses two litres.
Dave Nelson is an engineer who believes the petrol price is due to the war in Ukraine.
Dave already owns an E-bike which he maximises his time on and says his wife is looking into buying a Vespa scooter.
Not all "green" transport providers have experienced a change in interest.
Alex West from Evo Cycles in Fraser Cove says he hasn't noticed any change with regards to interest in buying bicycles with the escalating petrol prices, but believes the first lockdown created a surge in E-bike sales.
Casey Harvey, a second-hand car salesman from Tauranga Cars, has noticed a drastic increase of customers coming into their store looking for hybrid cars.
Casey points out that, although the Toyota Prius is one of their best-selling models, not everyone wants it and they have started bringing in different models from Japan. 
"We're bringing in Subaru XVs which are becoming more popular and are bigger family-sized cars," says Casey.
Petrol prices are not the sole motivators of buying hybrid cars.
"There is a rising interest in hybrids. The gas price is a killer but on top of that we have up to $5000 taxes coming in for petrol vehicles from the start of April."
Emlyn Williams is a student at the New Zealand School of Radio who has used public transport for the past 10 years. 
Emlyn's last car cost $1200 and he points out that that was all he could afford at the time.
"I'm not really in the position of financial means to be picky with regards to it being greener," says Emlyn.
Mike Sheef is the branch manager for GVI Vehicles in Tauranga who solely sell electric and hybrid vehicles which include cars, scooters and motorcycles too.
Mike says, in light of the high petrol prices, that there had been a noticeable increase of people looking at buying either a hybrid or electric alternative.
"No question. The last three years has shown a slow but steady increase in demand for EVs (Electric Vehicles) but we can honestly say in the last month the inquiries have doubled."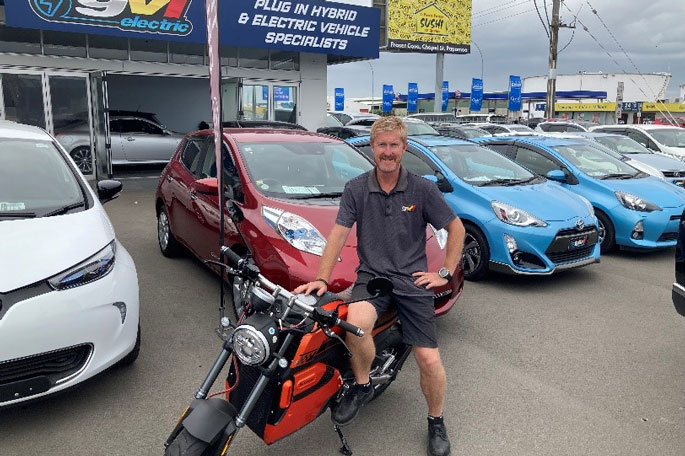 Mike Sheef.
Mike says that initially, it was the older generation who had shown interest in EVs but in the last few months there has been more interest from young families and commuters.
Distance range is still a major concern when buying an EV.
"We're still at the point where an EV is still primarily the second car in a family and that's due to the range of what people consider affordable EV's. They're great day to day runabouts and great in traffic- only a few dollars to get to work and back."
Mike says the most prevalent concerns about buying an EV is battery life and the distance range of the vehicle, but the biggest barrier to entering the EV market is the price.
"The more you pay for an EV the longer the battery life. If you want to do 400km on a single charge then you would be looking at spending $60,000-$80,000. The Nissan Leaf, which is our best seller, goes for between $15,000-$20,000 and the distance range is about 150-160km per charge." 
Thea Rickard and Amy Rutter are students at the University of Waikato and are very supportive of a greener option to commute with.
"Honestly? Probably- these petrol prices are no joke," says Thea.
Both women agreed that they were both considering getting a bus card seeing that they've had to walk for more than ever before.
Dr Tim Welch from the University of Waikato's school of Architecture and Planning believes it's a bit early to determine whether the petrol crisis will influence people's decisions to look at greener alternative transport.
"There isn't a lot of research out there on the relationship between price of petrol and an option of electric vehicles, and that would be because it's a longer-term reaction. The shorter-term reaction is 'What can you do today? What can you do tomorrow?'" says Dr Welch.