Motorists will soon be travelling over the new Te Maunga interchange at the intersection of SH2 and SH29A as Waka Kotahi prepares for the next stage of construction on the Bay Link project. 
The traffic switch is scheduled to take place overnight in late June (date will be advised) and the partially opened interchange will be used by people travelling on SH2 from Mount Maunganui and SH29A from Maungatapu.
The traffic switch and work leading up to it are weather dependent.
  The partial opening of the interchange will enable the next stage of construction at the Te Maunga end of the project, including the construction of the Truman Lane walkway, walking and cycling connections, the ramp approaching the interchange from Papamoa, and SH2 road under the interchange.    
Waka Kotahi NZ Transport Agency Regional Manager Infrastructure Delivery Jo Wilton says this is an exciting milestone for the Bay Link project.    
"Once fully operational, the interchange will carry all State Highway 29A traffic to and from SH2, removing the need for motorists to cross the railway line and allowing traffic to flow more freely onto the Tauranga Eastern Link.  
 "Upon completion, the interchange will transform the intersection of the two state highways and improve safety for all road users." 
Jo says the interchange will open under temporary traffic management with a 50km/h speed limit in place. Motorists travelling on SH2 from Mount Maunganui heading towards Tauranga Eastern Link, SH29A or Truman Lane, and from SH29A or Truman Lane heading towards Mount Maunganui or TEL will use the interchange.
Traffic traveling from Papamoa on SH2 towards Mount Maunganui would still be able to proceed straight through on the existing road (underneath the interchange).    
"We're asking people to take extra care when travelling through the new interchange as they get used to the new layout, especially during morning and evening peak times."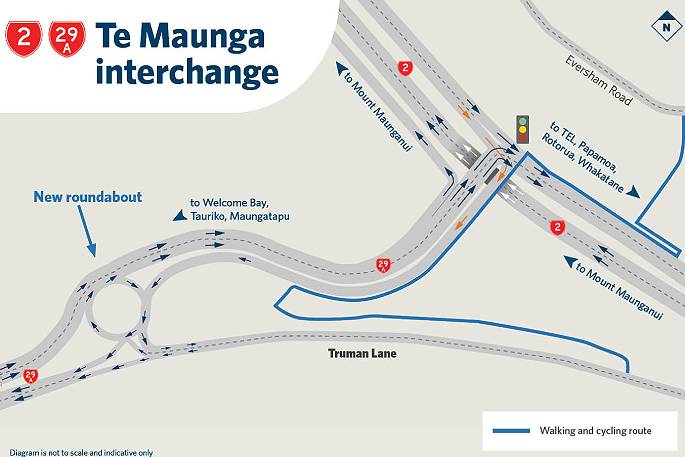 As part of this next phase, the Truman Lane roundabout will be removed and the new roundabout on SH29A commissioned.

While the final ramp approaching the interchange from Papamoa is constructed, people travelling from Papamoa via SH2 and SH29A to Maungatapu/Tauriko will detour via Sandhurst Drive, Mangatawa Link Road and Truman Lane. There will be no left turn available from SH2 onto SH29A.

The temporary 50km/h speed limit remains in place on Truman Lane and Mangatawa Link Road.

People are asked to adhere to the speed limit, share the road safely with trucks and oversized vehicles, and be aware of vehicle movements in and out of businesses along Truman Lane.

Access for walking and cycling will remain limited during this phase, however people can cross SH2 and access Baypark via Eversham Road, a new signalised crossing over the interchange and a temporary marked route towards Truman Lane.

The final walking and cycling connection between Bayfair and Baypark won't be available until the completion of the project.

Traffic flows will be proactively monitored, and the timing of the interchange signals adjusted to optimise traffic flows where delays are observed.  

Waka Kotahi thanks drivers, local residents and businesses for their patience.   

For more information, visit: Baypark to Bayfair Link project