It's still NZ Music Month, so this week is more of last week: local music, live and elsewhere...
First of all, how about starting your day with a little Kiwi music fun? That's the idea behind a new version of Heardle.
Recently Wordle has been all over the news because its ownership sold and millions of addicts worldwide were alarmed lest they be required to pay for a previously-free daily fix.
One spinoff of Wordle is Heardle – yes, it's a thing apparently – and Kiwi musician James Mac has created an NZMM version of that. Now you can test your knowledge each day by seeing if you can guess the particular Kiwi song in just one second.
One second? I guess many people have considerably sharper aural reflexes than me, since I must confess to being completely absolutely useless at this. Most songs I know could be anything after one second. But there you go – it's a high-pressure world. If you fancy a challenge, head to: https://nzmm-heardle.glitch.me
Right. Next, recording news...
I have been awaiting a rumoured new album from The Afrolites, purveyors of Afrobeat and futurist jazz grooves. This is a live-in-the-studio recording made at The Boatshed a while back and would be the band's fifth album. Previous outings are at Bandcamp and elsewhere.
Workhorse
Perhaps they plan to launch at the Port Of Tauranga National Jazz Festival, a popular strategy for bands. This year local favourites Kokomo are promising a new album, 'Workhorse', for the festival, a collection of original blues. This will be the band's first original album since 2019's 'Sunset Claws' and follows a NZMM single, 'Born To Bad Luck', released last week alongside an accompanying video filmed by local cameraman Mike Butler.
(Just on the Jazz Festival: tickets are now on sale for the most excellent run of concerts at Baycourt Theatre. There really is something for everyone so get on-line and check it out!)
Meanwhile, Rehaab, the new band from singer Roy Hudson (Hybrid Blues) have just finished a mini-tour, documented on video on their Facebook page, and final mixing is underway on a new set of original songs. Plans for a new video 'Twisted Fool' are already in motion and the band head to Rotorua at the start of June to play the Blues Club.
Also in the studio, this time The Colourfield in Welcome Bay, has been Gary Harvey, once of Auckland band The Night Owls and recent participant in the Incubator's Gig Photography exhibition. Gary has teamed up with the Brilleaux boys whose schedule has been a little sparse since frontman Graham Clark's relocation to Hawke's Bay a couple of years back.
Gary specialises in a particular brand of Americana rock – you can check it out on YouTube – so it'll be interesting to hear how his music changes now he is being backed by a band known for English-style rhythm 'n' blues...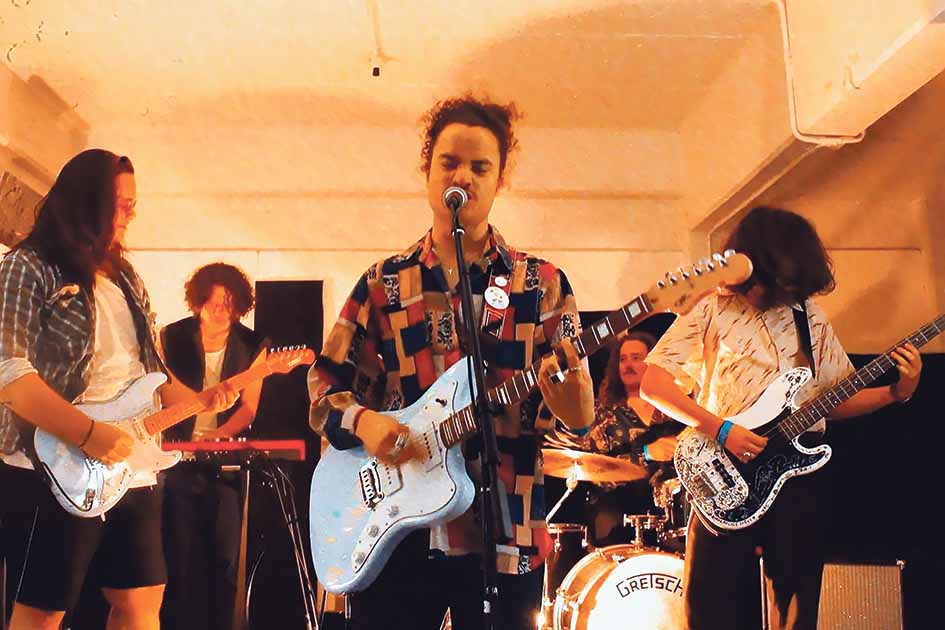 Marmalade Skies. Photo: Supplied.
Live Music
And, in closing, allow me to offer three very different gigs, all happening next week...
Wednesday night (25 May) at the Mount Social Club is the monthly Tauranga Jazz Society Jazz Jam. This has been somewhat Covid-impacted in recent times but I'm pretty sure it's all go now, kicking off at 6.30pm. There's always a good crowd and a good line-up of musicians. If you are a musician interested in jamming best to contact Jazz Boss Jeff Baker on 021 820 513.
On Friday (27 May) there's a cheap 'n' cheerful bash at The Jam Factory. Local Loudness is a three-band variety show spanning alternative music to '90s-inspired metal. Acts in question are Ed Gains, a stalwart of the local music scene, Bones Inc playing their unique brand of metal, and newcomers Overdogg. Music mayhem will commence at 7pm for the modest price of $5.
And the following night there's another three band extravaganza, this time at the Mount's Totara Street where local 5-piece Marmalade Skies will be joined by fellow indie-surf rockers, Auckland's Faxxies, and Albert Street (indie/rock/reggae/pop) from Hamilton for Boycott The Candy Shop, the climax of a run of shows across the North Island. You'll pay $20; 9.30pm start.