Residents of No. 1 Road in Te Puke are calling for safer road conditions following a car hitting a bus on Sunday evening.
Police say they received a report of a crash involving a car and the bus about 6.35pm on Sunday.
"There were no injuries," says a police spokesperson. "The car was reported to have kept driving."
Go Bus New Zealand's North Island Regional general nanager Stephen Mckeefry says their bus was heading to pick up customers for a regular charter when the crash occurred.
"The driver confirmed that a car was travelling at speed on the other side of the road and struck the bus then left the scene without stopping.
"Our driver was uninjured. Emergency services were called to attend the accident."
Stephen says the bus sustained panel damage and is now out of service awaiting repair.
Local resident Tracey Wallace-Hutchins was indoors watching television at the time of the crash.
"Yet another car accident on No. 1 Road, at the S-Curves," says Tracey, who says there has been a recent crash at the same location on April 27.
"Just two and a half weeks ago a car crashed down the bank here, and now this one hits a bus and runs off."
A car crashed through a fence and down a bank on No.1 Road on April 27. Photo: Walkter Hutchins.
Tracey says on Sunday May 15 a driver of a Silver Subaru Legacy "was on the wrong side of the road' and "made impact with a green coloured bus" which was travelling in the opposite direction. Another neighbour picked up the debris from the car that littered the road.
"Luckily, the bus driver took evasive action…otherwise it could have been much worse," says Tracey.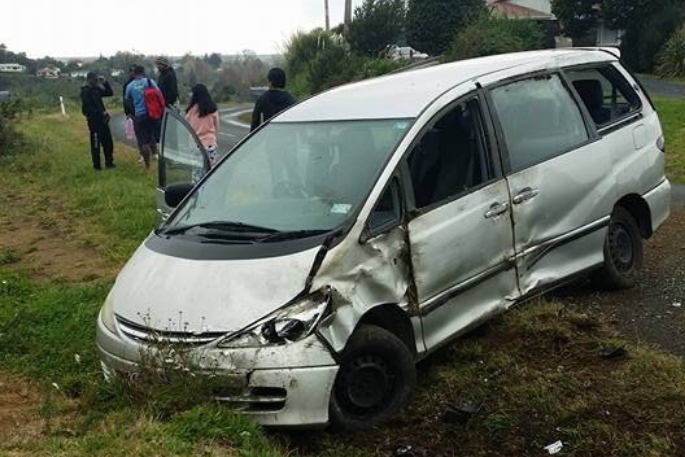 In 2017 a van left the road close to Tracey Wallace-Hutchins' property. Photo: Supplied.
"I am one of many No. 1 Road residents worried there will be a serious life, threatening, or fatal accident," says Tracey.
"Other residents say our road is used like a race track, and ask for police to set up speed cameras, before people are killed."
She says that the bus is one they're used to seeing as it transports kiwifruit workers to their workplace.
"A few moments later this could have been a fully laden bus as it was on route to pick up kiwifruit workers to deliver them home," says Tracey.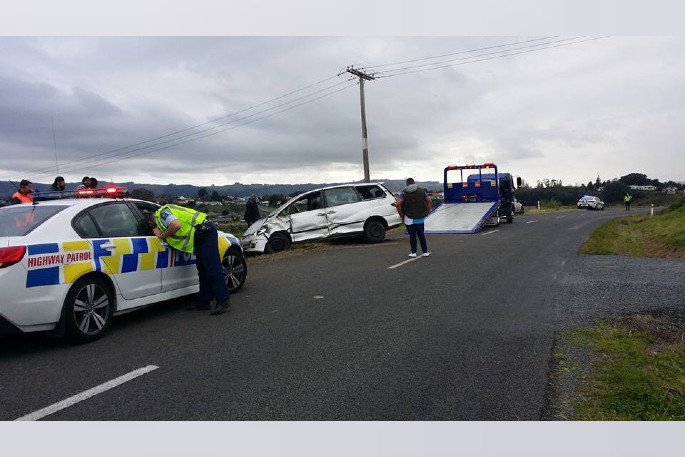 In 2017 a van left the road close to Tracey Wallace-Hutchins' property. Photo: Supplied.
Tracey says there has been ongoing discussions with Western Bay of Plenty District Council about the road since 2016.
Western Bay of Plenty District Councillor Grant Dally has been made aware of the local concerns about the road.
"I invited Tracey and neighbours come to our Performance and Monitoring Committee at Council on May 5," says Grant.
"Tracey, Helen Potter and Dave Lenton came and put their concerns forward to the public forum.
"Council did a speed limit review about a year ago and the speed limit area was changed from where it used to be."
Grant says a 50km/h speed limit that originally stopped at around 30 No. 1 Road was pushed out to 90 No. 1 Road following the review.
This equates to around 950m up No.1 Road from the main highway.
"Vehicles come down No. 1 Road off a big downhill straight into the S-bend. Most of the accidents that have happened – they're all coming down the road. The 50 km per hour zone starts about 200 metres before the S-bend, so cars should be slowing down but they're continuing to speed through there. If everyone was driving at 50 km per hour there wouldn't be a problem."
Grant says Council will be putting up new signage soon.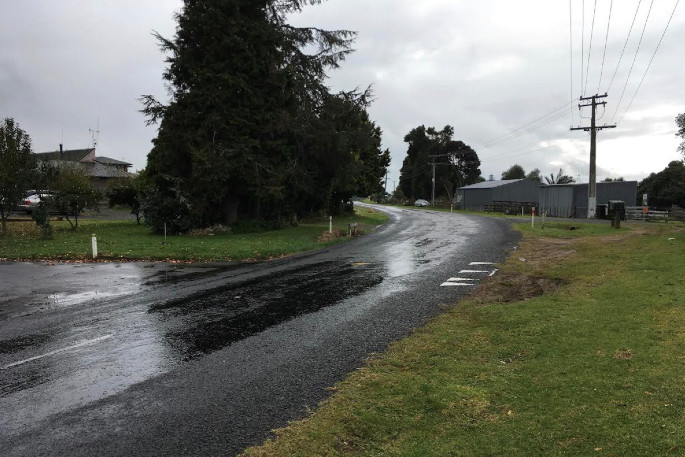 No. 1 Road S-bend. Photo: Tracey Wallace-Hutchins
Tracey also says as well as high speed vehicles travelling, many drivers are not aware that the road is a 50km/h zone, that it has a hazardous S-curve, and is also a residential area.
"This section needs multiple highly visible warning signs. Considering the high intensification over recent years the road has a no longer fit-for-purpose-bend, and there are also safety issues with the road itself," says Tracey.
"The road is too narrow, has no side road markings, it's difficult to see the centre line, no room for error, and so easy to slip into metal and lose control."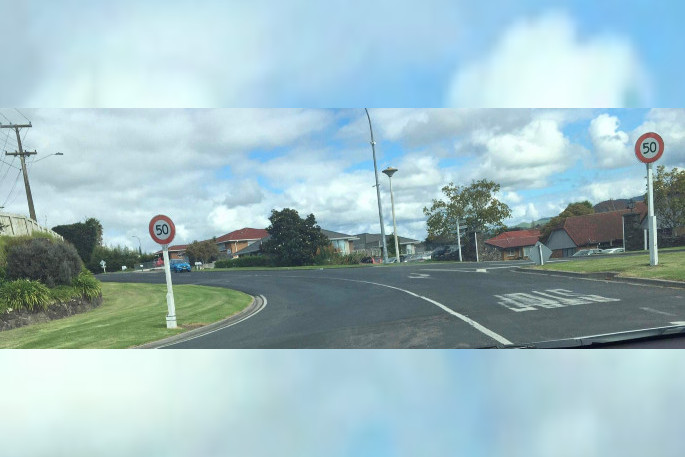 The main highway end of No 1. Road has 50 km per hour signs. Photo: Supplied.
"Sunday night, the road was dry. Road safety measures to slow traffic are urgently required.
"[There are] no warning signs of the corner, nor of the speed zone or that it is a residential area with 18 residences and that there is an Urupa [Māori burial site / cemetery] entrance and exit on this section of the road. And a school bus stops along this road."
Tracey says that when coming into No. 1 Road from the main highway, the 50km sign isn't probably noticed by many drivers who are busy turning.
"We would like to see a sign that says 'residential area ahead' similar to what they have on No. 3 Road," says Tracey.
"We need this road made wider and safer for all. We need action now."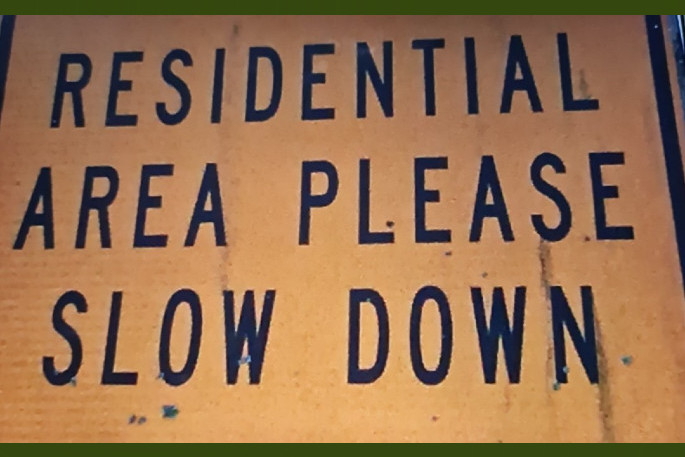 A 'Residential Area Please Slow Down' sign that Tracey Wallace-Hutchins would like to see installed on No. 1 Road. Photo: Tracey Wallace-Hutchins.
Western Bay of Plenty District Council transportation manager Jim Paterson says xouncil staff have been working with residents since 2016 and have changed the location of the 80/50km/h speed limit boundary to 950m south of Te Puke Highway intersection, through council's speed limit bylaw review in 2020.
"Larger and more visible signs will soon be installed at the start of the 50km per hour zone and warning signs will be installed 250m in advance of the 50km per hour zone to warn drivers about the change in speed limit," says Jim.
"Keeping everyone on our roads safe is our priority and we're investigating options for road improvements on No. 1 Road that would include a new, safe walking and cycling option for the people who work in the area.
"And we're planning to go a little further and include other road improvements such as seal widening, drainage upgrades and road rehabilitation."
Jim says the majority of No. 1 Road is wide enough for the volume of traffic that uses it but they'll be looking to widen a section that doesn't meet council's requirements.
"Widening the road will be undertaken as part of the road improvement project," says Jim.
"The centreline on No. 1 Road is planned for re-marking in the next three months. The current edge lines meet the requirements of the national Traffic Control Devices standard."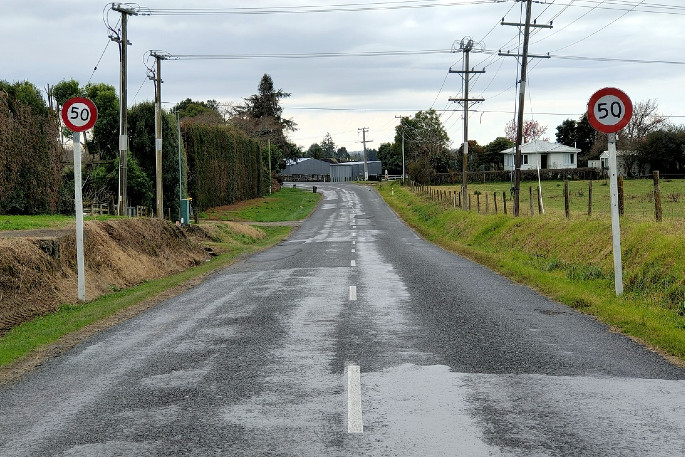 No. 1 Road. Photo: Grant Dally.