"It's high risk, high pressure all the time, for the staff."
Public Service Association organiser Nita Nooyen is speaking about the strain allied health workers employed by the Bay of Plenty District Health Board are constantly under.
The workers were striking today outside Tauranga Hospital for higher pay, action on safe staffing and retention and equal treatment with other health professions.
More than 400 allied health staff from Tauranga and Whakatāne Hospitals joined 10,000 PSA members striking around the country.
The 24 hour stop work strike was part of two weeks of action from allied health staff, from 70 professions including dental therapists, anaesthetic technicians and alcohol and drug counsellors.
The members are also working to rule, where they start and finish their shifts on time and take their allocated breaks.
Cherene, who works in mental health services and has asked for her last name not to be used, says working to rule has made them realise how much of their own time they sacrifice.
"We haven't always been the best at working to rule in the past," she says.
"We've always been accommodating patients first and that's been our priority."
She says in her unit having another five registered staff and three people in her occupational therapy assistant role would "really make an impact".
"We're well, and truly under resourced in all areas of allied health," says Cherene.
"We try as much as we can and we always try to give the best service we can, but we know that we are under-resourced.
"It's a hard ask sometimes, we go home thinking we haven't done our best job," she says.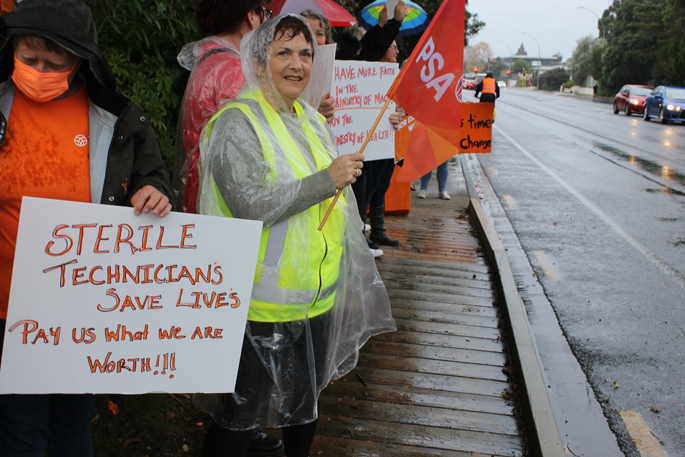 PSA organiser Nita Nooyen. Photo: Alisha Evans/SunLive.
Nooyen says there are a lot of job vacancies and if there aren't vacancies, staff with less experience are having to work to the "top of their scope".
"Which is really a big stretch because they haven't got the support of the senior staff ratio wise that they should have," she says.
"It's a bad way for the young ones to start their career, coming in and working in that sort of environment, where they're under such extreme pressure of having to make calls that really are at the top of the scope.
"It doesn't endear them to stay.
"It's the lack of support that's a real issue. We can't retain staff or recruit staff."
Nooyen says allied health workers often leave for private practice or to work overseas.
Pay is also an issue, she says graduates with student loans are being paid $22 or $23 per hour as a starting rate.
"We need fair pay. It's shameful that health professionals can't afford to put food on the table. It's just ridiculous."
People in other professions, but doing the same role as allied health staff can be earning at least $10,000 more than their allied health counterparts, says Nooyen.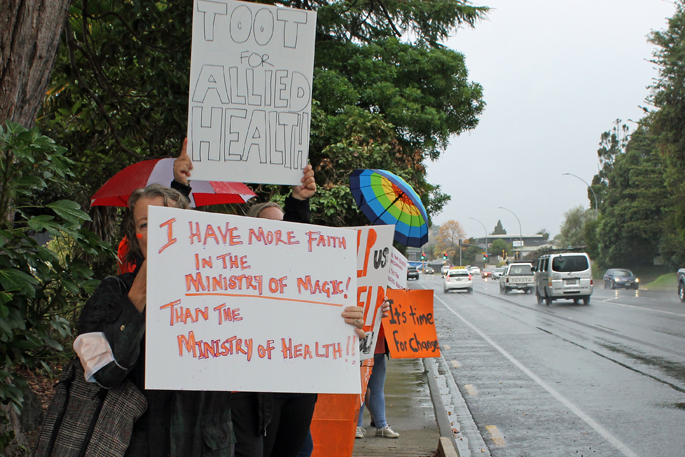 Allied Health workers gathered outside Tauranga Hospital today. Photo: Alisha Evans/SunLive.
The pay negotiations between PSA and the DHBs have been ongoing for 18 months and the latest offer on Friday was rejected as "completely inadequate".
The Employment Relations Authority has been facilitating the pay talks and made recommendations to the parties.
"We've maintained all along that if an offer came back that honoured, those recommendations we would take it to the members and we wouldn't be here today," says Nooyen.
"But the offer that we received on Friday, didn't meet those recommendations. So we're here, that's the reality of it.
"We want fair pay, pay that is fair for the qualifications and the expertise and the work that these people are doing.
"It's time it was sorted and it should have been sorted by now."
Public Interest Journalism funded through NZ On Air.